What's the Difference Between Fine Lines and Wrinkles?
December 08, 2022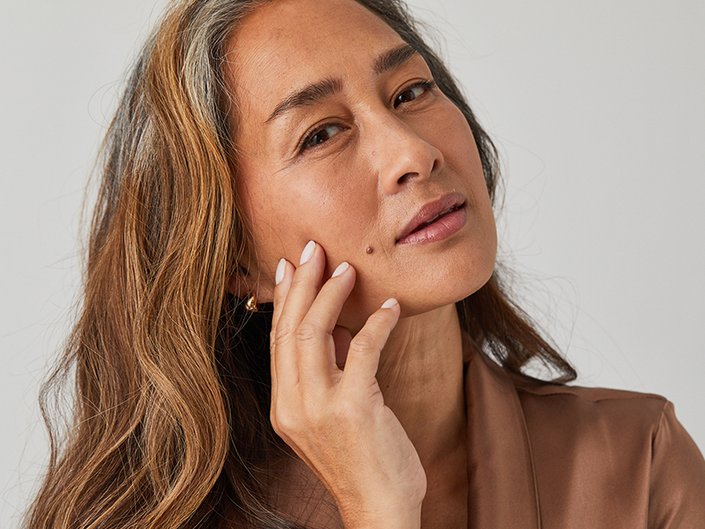 Of all the things that happen to our skin as we age (read: discoloration, loss of firmness, dullness), fine lines and wrinkles can be especially difficult to treat once they've developed. Before loading up on anti-aging serums and moisturizers, it's important to understand what causes these concerns. Here, Dr. Elizabeth Houshmand and Dr. Marisa Garshick, board-certified dermatologists and Skincare.com consultants, are explaining everything you need to know about fine and wrinkles, including how they differ and how to treat them.
What Are Fine Lines?
"Fine lines are early signs of wrinkle formation," says Dr. Houshmand, "They are tiny skin creases that usually occur in the most expressive areas of your face, like around the eyes, mouth and forehead." If you furrow your brow, squint or smile often, these repeated expressions with your face can cause creases or lines to appear over time, though Dr. Grashick notes that fine lines can also appear anywhere on the face. As you age, your skin's natural elasticity and collagen supply decrease, and as a result, these lines in your skin may have a hard time bouncing back into position.
What Causes Fine Lines?
"Fine lines and wrinkles can occur as a result of decreased collagen and elastin, which can occur with age and UV exposure," says Dr. Garshick. But, Dr. Houshmand explains that fine lines don't necessarily have to be a sign of aging.
In some cases, fine lines can appear as a result of excessive sun damage. That's another reason why wearing sunscreen is so important — aside from protecting against skin cancer, it can also defend against visible signs of aging.
Fine lines can also be a sign of a lack of moisture. While dry skin doesn't necessarily cause fine lines, it can make signs of aging (including lines and wrinkles) appear more prominent. "People with dry skin may show the signs of aging earlier than their oilier skin friends because dry skin needs hydration and moisturizers to soften the fine lines from aging," Dr. Susan Van Dyke, a board-certified dermatologist based in Arizona, previously told Skincare.com.
Common Areas for Fine Lines
Fine lines will typically show up in areas where you make a lot of expression, such as around your eyes, mouth and forehead. There are different types of lines that can be exacerbated by different causes — for example, smokers' lines, aka vertical lines around the mouth, are caused not just by smoking, but also by any repeated puckering movement with the lips.
You may also notice smile lines in the form of parentheses around your mouth and crinkles around your eyes, which are also referred to as crow's feet. According to Dr. Sheilagh Maguiness, board-certified dermatologist and co-founder of Stryke Club, "Almost everyone will have these small lines when their face is active and smiling." In fact, crow's feet are typically the first signs of aging that most people experience — this is because the skin around the eye area is thinner and more delicate than the skin on the rest of the face, which makes it more susceptible to causes of visible aging.
"Over time, the overlying skin loses its elasticity due to cumulative sun damage and the natural aging process," Dr. Maguiness previously told Skincare.com. "So, when you start to notice these 'smile line' wrinkles at rest, that's often when people want to take steps to minimize their appearance."
What Are Wrinkles?
Unlike fine lines, wrinkles are dependent on your age, and are often more noticeable than fine lines. "You can think of wrinkles as fine lines in the later stages of their life," says Dr. Houshmand. An important thing to keep in mind is that fine lines can eventually become permanent and transition into a deeper, more obvious groove, like a wrinkle.
There are also two different types of wrinkles: dynamic and static wrinkles. Dynamic wrinkles appear when you make certain facial expressions, such as smiling, squinting or raising your eyebrows, while static wrinkles are visible all the time, even when your face is at rest.
Although everyone will get some sort of wrinkle formation on their skin eventually, there are certain measures you can take to lessen their appearance and help keep them at bay (keep reading to find out how).
What Causes Wrinkles?
Natural aging, which results in skin losing its elasticity and bounce due to the passage of time, can cause wrinkles to form, and can contribute to fine lines transforming into wrinkles. Loss of moisture can also exacerbate the look of wrinkles — as we age, our skin's collagen and lipid supply gets lower. Collagen is what's responsible for keeping our skin bouncy and firm, while lipids are what keep the skin moisturized.
Additional factors that may cause wrinkles include UV exposure and smoking. According to the American Academy of Dermatology (AAD), exposure to UV rays breaks down the collagen and elastin fibers in your skin, which leads to more pronounced wrinkles and a loss of firmness and elasticity. Smoking also affects collagen, which speeds up the visible signs of aging, per the AAD.
Common Areas for Wrinkles
Wrinkles can happen anywhere on the face, but similar to fine lines, they typically pop up in areas where your face is particularly expressive. This includes around the nose and mouth, around the eyes, horizontally across the forehead and vertically between the eyebrows. If you have fine lines in a certain area now, over time those are likely to deepen into wrinkles.
Fine Lines vs. Wrinkles: What's The Difference?
Think of fine lines as the earlier version of wrinkles. They are embedded less deeply in the skin, which makes them less noticeable and sometimes easier to minimize than wrinkles.
How to Get Rid of Fine Lines and Wrinkles
When it comes to keeping fine lines and wrinkles at bay, the recommendation is the same for both. There's not always a guaranteed way to get rid of fine lines and wrinkles for good, though — some are permanently etched into our skin while others may form as a natural result of aging, expression and lifestyle habits. However, there are some tips and skincare ingredients that you can implement into your skincare routine to help prevent premature signs of aging as well as help reduce the appearance of existing fine lines and wrinkles.
Use Hydrating Skincare Ingredients
Hydrating your skin regularly with the right moisturizers and drinking the recommended amount of water daily can help prevent dehydration. Using topical ingredients, such as hyaluronic acid, in your skincare routine can also help to keep your skin hydrated and supple. "Hyaluronic acid, a humectant that draws moisture in, can help to plump, making fine lines and wrinkles less noticeable," says Dr. Garshick. We like applying the L'Oréal Paris Derm Intensives 1.5% Pure Hyaluronic Acid Serum to damp, freshly cleansed skin, and then layering a moisturizer on top.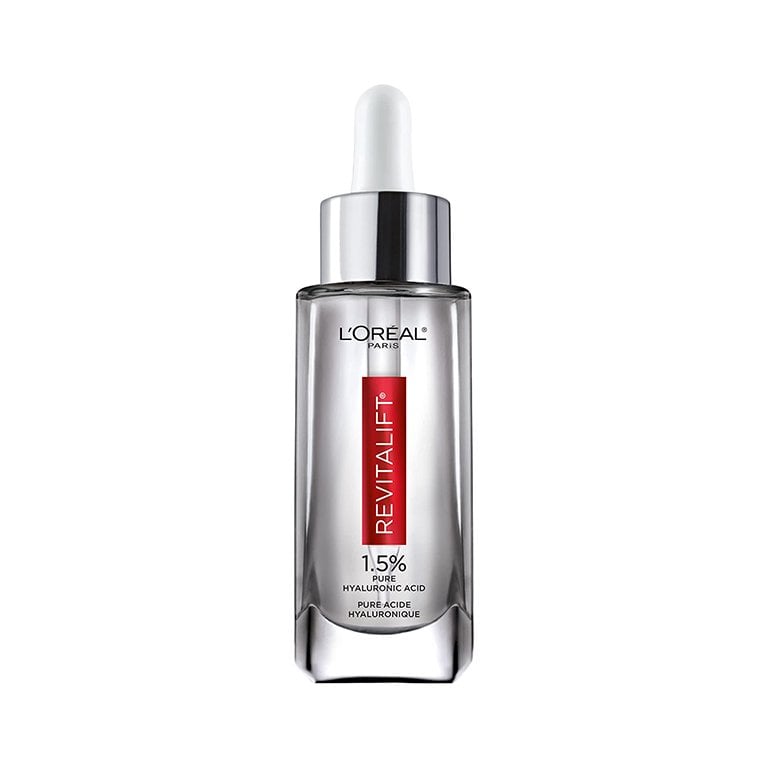 Wear a Broad-Spectrum Sunscreen Every Day
You should wear broad-spectrum sunscreen each and every day, no matter the weather or how often you plan to go outside. "Wearing a broad-spectrum sunscreen daily is number one so your skin isn't photo-damaged and prematurely photoaged," says Dr. Houshmand. Try the La Roche-Posay Anthelios Mineral SPF Moisturizer with Hyaluronic Acid or the Peter Thomas Roth Hyaluronic Cloud Moisturizer with SPF 45. "If you take preventative measures starting early, you can help slow the visible signs of the natural skin aging process," she says.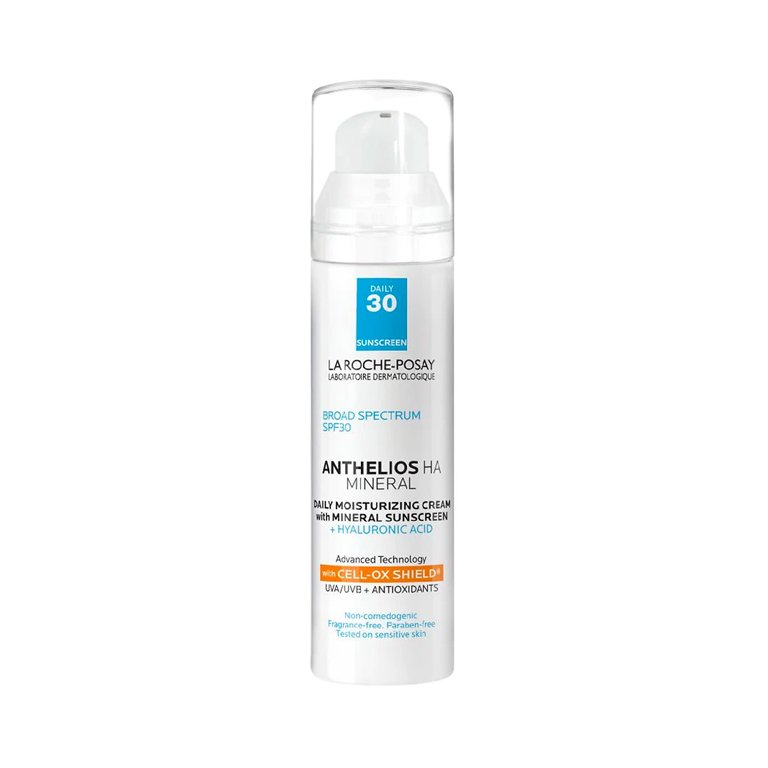 Start Using a Retinol
If retinol isn't already a part of your skincare arsenal, the time to introduce it is now. "Retinoids help to boost collagen production, which can improve the appearance [of fine lines and wrinkles]" says Dr. Garshick. Retinol is a form of vitamin A that is quite powerful, so most experts recommend starting with a low concentration of the ingredient twice a week, then slowly working your way up in usage and concentration. The SkinCeuticals Retinol 0.3 is a good place for beginners to start, but if your skin is already used to a mild form of retinol, you can consider using the Retinol 0.5 or the Retinol 1.0. Consult your dermatologist to find out which concentration of retinol is right for addressing your skin concerns — your healthcare provider may even provide you with a prescription-only retinoid, such as tretinoin.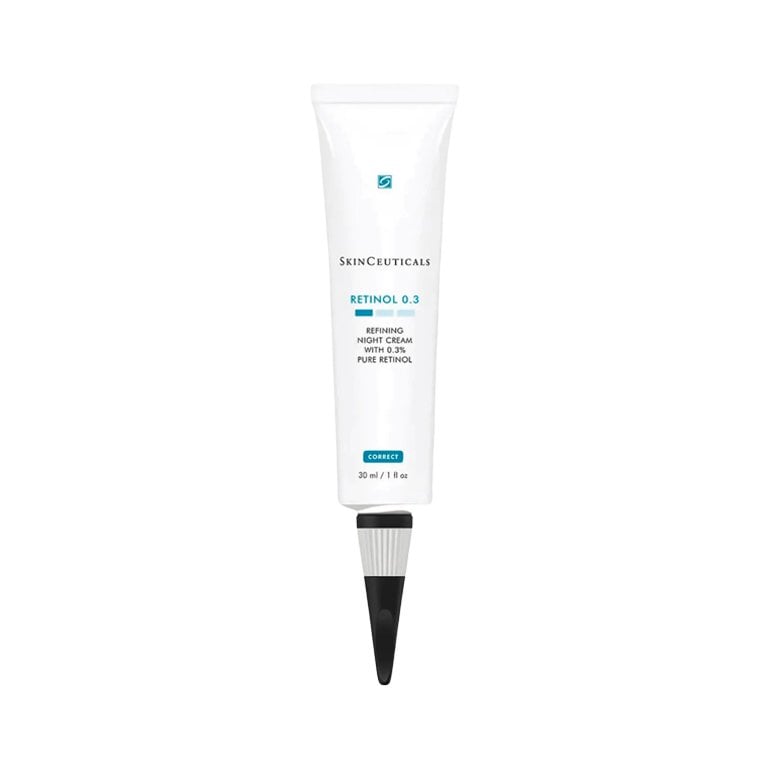 Add in Antioxidants
Antioxidants, such as vitamin C, are another key factor to fighting fine lines and wrinkles. According to the Cleveland Clinic, vitamin C is the only antioxidant proven to stimulate the building of collagen, which helps to address the look of fine lines and wrinkles. Look for products that contain L-ascorbic acid, a specific type of pure vitamin C that's been proven to work effectively in skincare. We recommend the Vichy LiftActiv Vitamin C Serum, which combines 15% pure vitamin C with vitamin E, another antioxidant that helps combat free radical damage.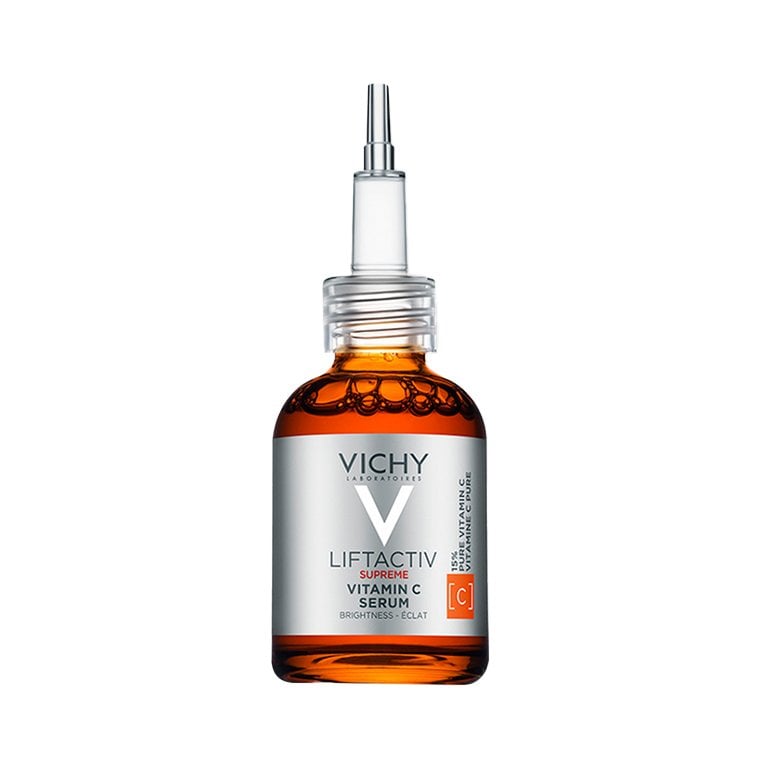 Peptides Are a Plus
Peptides are compounds made of amino acids. "They are smaller than a protein and are found in every cell and tissue in the human body," Dr. Erin Gilbert, a Vichy consulting dermatologist, previously told Skincare.com. "Peptides help to preserve the skin's youthful appearance, no matter what skin type you have." One of our favorite creams with peptides is the Youth to the People Polypeptide-121 Future Cream, a lightweight yet deeply nourishing moisturizer with peptides, plant proteins and ceramides.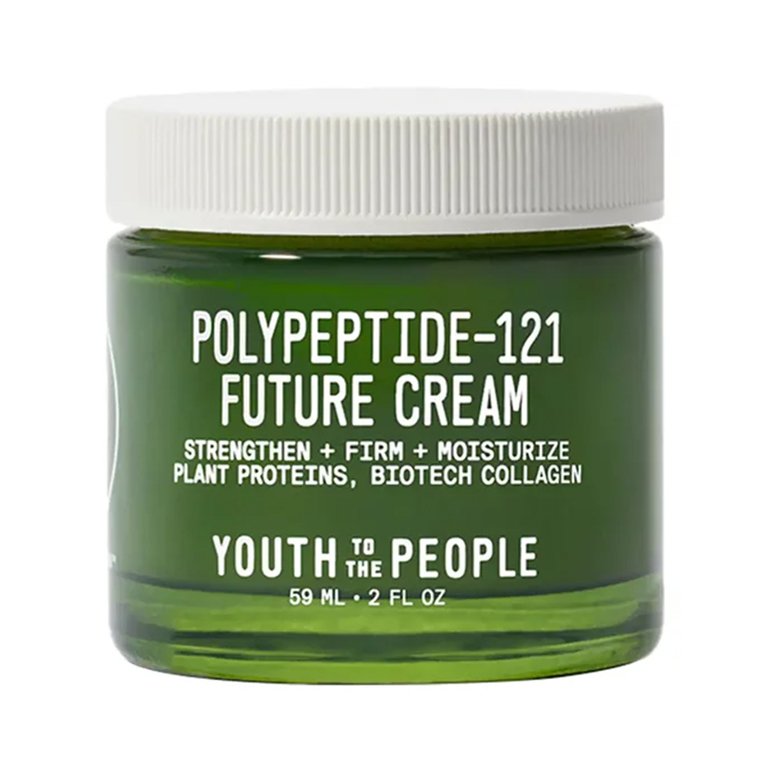 Photo: Chaunte Vaughn
Read more

Back to top