Frown Lines 101: Everything You Need to Know About Forehead Wrinkles
July 18, 2018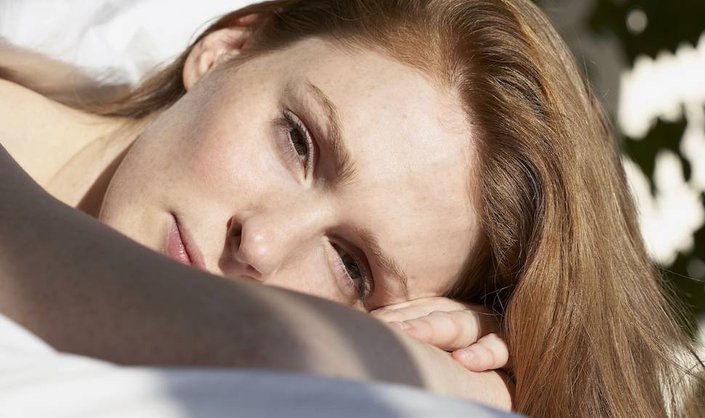 Frown lines, those pesky fine lines and wrinkles that gather between the eyebrows, are an inevitable part of aging. But why do they appear, and is there any way to smooth the appearance of these stubborn wrinkles? To find out, we tapped plastic surgeon, Skincare.com consultant, and SkinCeuticals ambassador Dr. Peter Schmid. Ahead, we discuss exactly what causes frown lines, and how they might be prevented. 
WHAT ARE FROWN LINES?
Frown lines are essentially forehead wrinkles, just above the eyebrows. These deep-set remnants of furrowed brows cause a lasting appearance of concern or discontent that is often attributed to aging, according to the American Society for Dermatologic Surgery (ASDS). Though forehead wrinkles are incredibly common, people often seek cosmetic treatments to avoid the resting, troubled look that these lines bestow.
WHAT CAUSES WRINKLES ON YOUR FOREHEAD?
Frown lines can be traced back to a myriad of origins, from aging to sun exposure to the simple composition of your skin. According to the ASDS, these wrinkles primarily result from age-related wear and tear. That's why your skin seems less supple and elastic with age, and why your forehead doesn't appear to "spring" back into place when pulled.
"Frown lines occur from the dynamic activity of a group of expression muscles situated between the eyebrows," Dr. Schmid says. "This area is called the glabella. Over time and with our natural aging process, the overlying skin loses its elasticity and wrinkles develop, etching mild to deep vertical lines between the eyebrows."
It's also true that frequent and exaggerated facial movements, like squinting and frowning, can exacerbate the appearance of frown lines by stretching the skin's surface over time, according to University of California Berkeley Wellness. Daily muscle movements put pressure on the skin to expand and contract, enhancing the visibility of creases. 
Another likely culprit is the sun. UV rays tend to accelerate visible signs of aging, including facial lines and creases, according to the Mayo Clinic.
CAN FROWN LINES BE PREVENTED?
As with any anti-wrinkle regimen, the best offense is always a good defense. While it's tricky to halt frown lines altogether, it's possible to reduce their appearance over time with a  solid skin care routine. Focus on hydration: water, moisturizer, and a good facial cream formulated with broad-spectrum sunscreen can go a long way in maintaining that supple look, the American Academy of Dermatology suggests.
If you noticed that your fine lines are already deepening, there are ways to help them from more prominent creasing. "One can help prevent frown lines from deepening by using proactive measures such as protective eyewear, sunscreens, a good skin care regimen and low stress lifestyles," says Dr. Schmid. Other options could include microneedling, chemical peels, fractional laser resurfacing, fillers, and more.
Also, remember to smile: gentle, relaxed expressions are easier on the face and don't cause the forehead to fold.
THE ULTIMATE ANTI-FROWN LINE ROUTINE
 A prevention plan is always better than a treatment plan, and that starts with your skin care routine. "A good skin care regimen is always key to address the appearance of fine lines and wrinkles," Dr. Schmid says. "A synergistic combination of topical vitamin C products such as SkinCeuticals Serum 15 AOX+, H.A. Intensifier and AOX+ Eye Gel combined with Physical Fusion UV Defense SPF 50 sunscreen can help to restore skin's healthy appearance while diminish the appearance of fine lines, wrinkles, discoloration, elasticity and loss of plumpness in the skin."
SKINCEUTICALS SERUM 15 AOX+
This daytime antioxidant serum is formulated with vitamin C and ferulic acid, and can help to neutralize free radical damage that could lead to premature signs of aging. It assists in improving the overall appearance of your fine lines and wrinkles, and is suitable for all skin types to use.
SkinCeuticals Serum 15 AOX+, $102.00 MSRP 
SKINCEUTICALS H.A. INTENSIFIER
One of the biggest factors that contributes to most types of wrinkles is skin dehydration, which is why it's so important to use hydrating products. That's where the SkinCeuticals H.A. Intensifier comes in: this corrective serum contains a multi-beneficial formula that's fortified with pure hyaluronic acid, Pro-Xylane, and purple rice extract, and can help support your skin's natural hyaluronic acid reservoir. The result is a minimized appearance of fine lines and wrinkles, resulting in a smoothened and refined complexion.
SkinCeuticals H.A. Intensifier, $98.00 MSRP
SKINCEUTICALS AOX+ EYE GEL
The skin around your eyes is much more delicate than the rest of your face, which is why it requires some extra attention. The SkinCeuticals AOX+ Eye Gel is exactly what you need to give your under eye area some extra TLC. This serum comes in a gel form and is formulated with pure vitamin C, phloretin, ferulic acid, and botanical extracts.
SkinCeuticals AOX+ Eye Gel, $95.00 MSRP
SKINCEUTICALS PHYSICAL FUSION UV DEFENSE SPF 50
UV rays can not only cause premature signs of aging like wrinkles and fine lines to appear, but can also lead to sun damage and even some skin cancers. That's why you should always keep your skin protected with a sunscreen like this one from SkinCeuticals. This sunscreen contains broad spectrum SPF 50 that protects your skin from UVA/UVB rays while enhancing your natural skin tone. Since sunscreen alone cannot fully protect your skin, make sure to take additional protection measures such as wearing protective clothing, seeking shade, and avoiding peak sun hours.
SkinCeuticals Physical Fusion UV Defense SPF 50, $34.00 MSRP
Read more

Back to top