What Are Crow's Feet and Can You Get Rid of Them? We Asked Dermatologists
November 30, 2022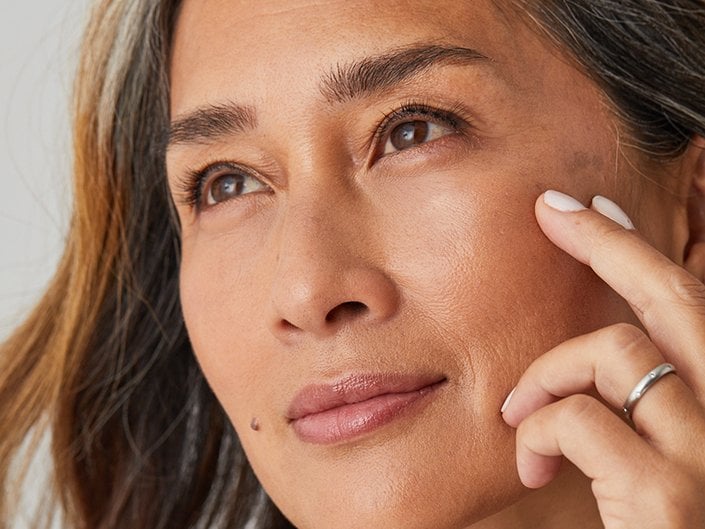 One morning, while doing your skincare routine, you may have looked into the bathroom mirror and noticed tiny, hair-thin lines surrounding your eyes. Although it may have seemed like it happened overnight, those small lines known as "crow's feet" can gradually crease overtime, creating noticeable, deep little wrinkles around your eyes. While pretty much everybody has crow's feet, some people have more apparent lines than others.
If you want your crow's feet to be a little less visible, there's good news — there are plenty of eye creams on the market that can help soften the appearance of eye wrinkles and crow's feet. We tapped two experts and Skincare.com consultants to give us the skinny on everything you need to know about this common skincare concern. Read on to see if you can get rid of crow's feet for once and for all — plus, our picks for the best eye creams to treat crow's feet.
What Are Crow's Feet?
"Crow's feet are the fine lines that appear around your eyes when you smile," explains Dr. Sheilagh Maguiness, board-certified dermatologist and co-founder of Stryke Club. "Almost everyone will have these small lines when their face is active and smiling."
Crow's feet are often one of the first signs of skin aging that many of us experience — some of us even experience them as early as our late 20s and early 30s. This is because the skin around our eye area, called the eye contour, is the thinnest, making it more susceptible to internal and external factors that can cause signs of skin aging. Given the name because of their tell-tale appearance (fine lines clustered in the shape of a bird's footprint), crow's feet can first pop up as just a few faint lines, but, with time,lifestyle factors and poor skincare habits, may deepen.
"Over time, the overlying skin loses its elasticity due to cumulative sun damage and the natural aging process," says Dr. Maguiness. "So, when you start to notice these 'smile line' wrinkles at rest, that's often when people want to take steps to minimize their appearance."
What Causes Crow's Feet?
We know you may be clutching your pearls in anticipation of a solution to your crow's feet, but we should look at the causes of them first. "Lateral canthal lines, commonly known as the crow's feet, are caused by both dynamic (movement) or static (resting) wrinkles and lines," says plastic surgeon and SkinCeuticals ambassador Dr. Peter Schmid. "Dynamic muscle activity such as squinting serves to protect the eye from sunlight or foreign bodies, aid in focusing the sight better or reflect the emotions of happiness or pain. As ultraviolet light, environmental irritants, and the aging process take their toll, these delicate eye tissues lose collagen and elastin, eventually resolving in reduced tissue elasticity, irregularities, skin excess, wrinkles and folds."
In other words, crow's feet are often caused by repetitive motions of the eye skin, like squinting. They're also expressive wrinkles that can give your face more personality when showing emotions. While we believe that everyone looks beautiful because of and not in spite of their imperfections, we know that some would rather address their wrinkles. Additional contributing factors to crow's feet can include:
UV Rays:
UVA and UVB rays are typically the number one reason we wrinkle. These damaging rays break down the necessary collagen and elastin that gives youthful skin its plump appearance and fast bounce-back rate. As those fibers break down, wrinkles and sagging skin can start to appear. This is why wearing broad-spectrum SPF each day is so important. In fact, some eye creams are formulated with SPF so you can help to visibly diminish any existing fine lines while preventing new ones from forming.
Environmental Aggressors:
Did you know that pollution may contribute toward skin aging? Pollution causes free radicals to form which — when separated from oxygen molecules — attach to and can break down collagen. Everything from city smog to second-hand smoke to car exhaust can lead to air pollution. To protect your skin, consider layering an antioxidant under your SPF each day.
Menopause:
Yep, menopause can also affect your skin. During menopause, many women experience a drop in estrogen. This deficiency can weaken your body's defense against something called "oxidative stress." A natural part of the aging process, oxidative stress causes your skin to lose elasticity and become thinner, increasing wrinkling.
Intrinsic Aging:
While premature signs of skin aging are caused by external factors, intrinsic aging causes the signs of skin aging that occur simply by the passing of time. As we age, our skin can lose moisture. Plus, its desquamation process (the shedding of dead skin cells to reveal new ones) slows down, and the fibers necessary for youthful-looking, wrinkle-free skin can start to break down.
How to Prevent Crow's Feet
While you can't stop time from ticking or the sun from shining — and you certainly shouldn't stop yourself from smiling –—there are steps you can take to help reduce the likelihood that crow's feet will prematurely make a mark on your skin. In addition to broad-spectrum SPF and antioxidants, you'll want to incorporate a daily eye cream (that you can use at morning, at night, or both) into your skin care routine.
If your crow's feet haven't popped up just yet, you can take preventative measures to keep them at bay. "Preventing or minimizing the appearance of crow's feet can be as simple as daily sun protection with broad spectrum SPF 50 such as the SkinCeuticals Physical Fusion UV Defense and the Physical Eye UV Defense, regular usage of polaroid eyewear and a medical grade skin care regimen that contains antioxidants," says Dr. Schmid. We also love the La Roche-Posay Anthelios UV Correct Face Sunscreen. Formulated with niacinamide, this sheer, non-greasy sunscreen works to even out your skin tone and tackle fine lines and rough skin texture.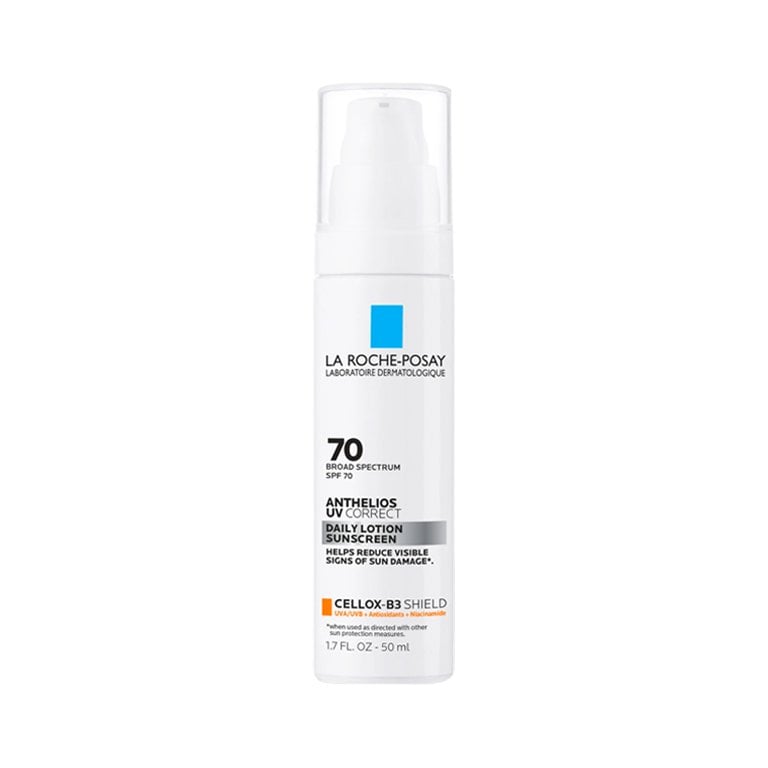 According to Dr. Maguiness, however, your sun protection regimen should go beyond wearing sunscreen every single day (yes, even in the winter). "Protective clothing is also key, such as broad brimmed hats and UV protective sunglasses," she says. "These can both also help reduce overall photo exposure and photoaging, and make a difference when worn regularly."
Dr. Maguiness also recommends incorporating a prescription strength retinoid cream or over-the-counter products with ingredients like retinol and alpha-hydroxy acids into your skincare routine to prevent and treat crow's feet. Just remember to be careful when using these stronger ingredients around your eyes, since the skin in that area is thinner, and when in doubt, schedule an appointment with a dermatologist to find the right regimen for you.
How to Treat Crow's Feet
While there are ways to help reduce the appearance of crow's feet, there aren't really any ways to make them disappear completely. And that's a good thing, because crow's feet give expression to your face. So, don't be afraid to embrace your beautiful crow's feet the way they are!
But, that being said, if you would like to reduce their appearance, there are definitely some steps you can take to help fade the look of eye wrinkles, according to Dr. Schmid. "The fundamental formula for crow's feet reduction should always include quality topical skincare that rehydrates the skin, restores lipids and hyaluronic acid and minimizes wrinkles," he says.
Crow's feet can also be treated by in-office procedures such as injectable medications and laser treatments, all of which should be performed by a board-certified dermatologist, explains Dr. Maguiness.
Our Favorite Eye Creams for Crow's Feet
The CeraVe Skin Renewing Eye Cream, developed with dermatologists, features a combination of anti-aging ingredients including hyaluronic acid, niacinamide, peptides, ceramides and caffeine. In addition to visibly reducing fine lines, wrinkles and crow's feet, it works on other eye woes like puffiness and dark circles. The delicate skin around your eyes will be looking brighter and firmer in no time.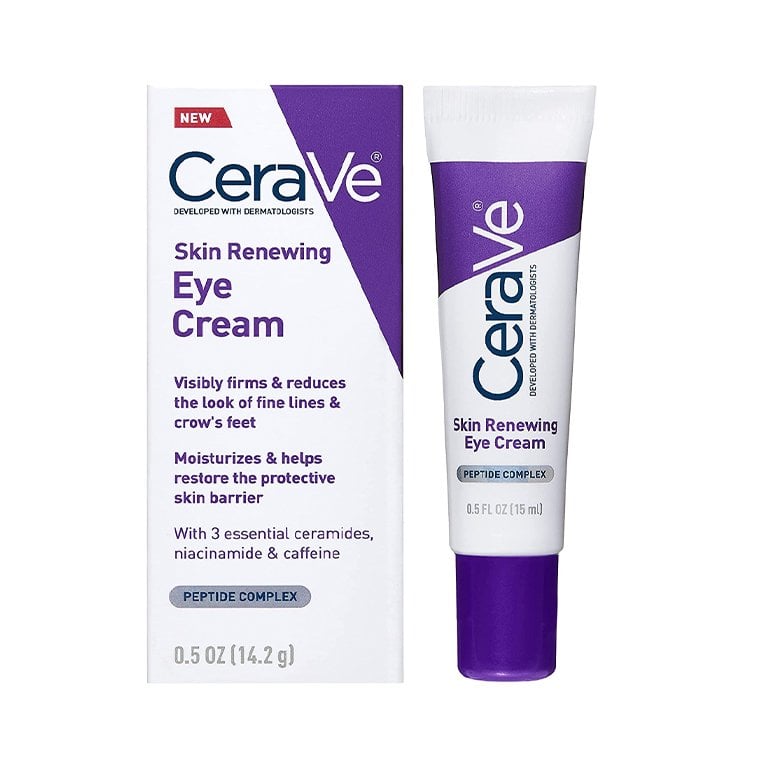 This advanced technology eye cream from Lancôme is a suitable option for people of all ages, whether you're hoping to treat visible signs of aging or to get ahead of them early. Immediately after you start using it, you'll notice the skin around your eyes looking brighter and more hydrated. With continued use over time, it targets wrinkles and dark circles, too.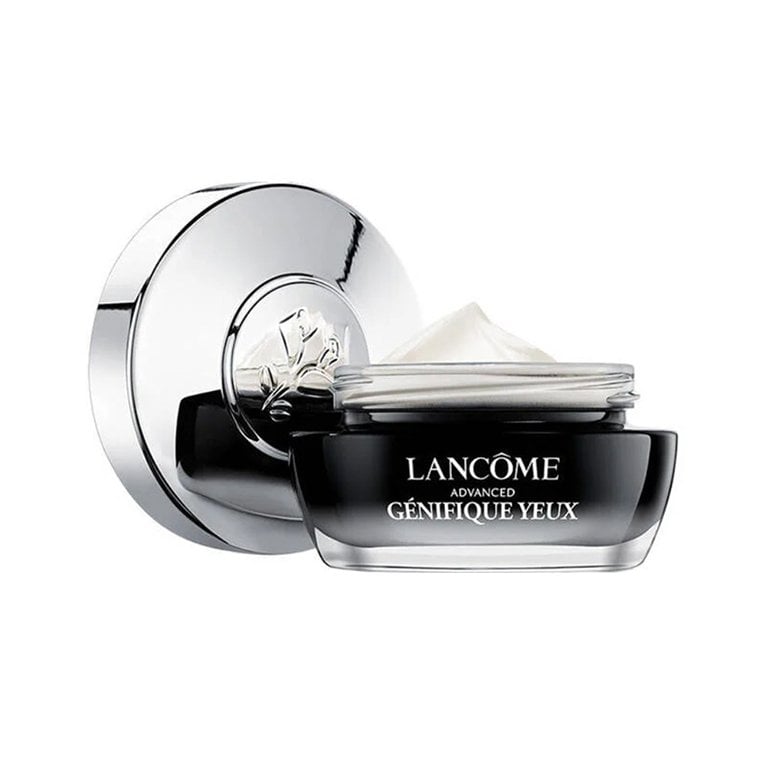 Use the Superberry Dream Eye Cream as part of your nighttime skincare routine before you go to bed. It's packed with hyaluronic acid and vitamin C to improve the plumpness and firmness of the skin around your eyes. It also contains goji stem cell, an ingredient that stimulates skin renewal to smooth and minimize the appearance of fine lines and wrinkles.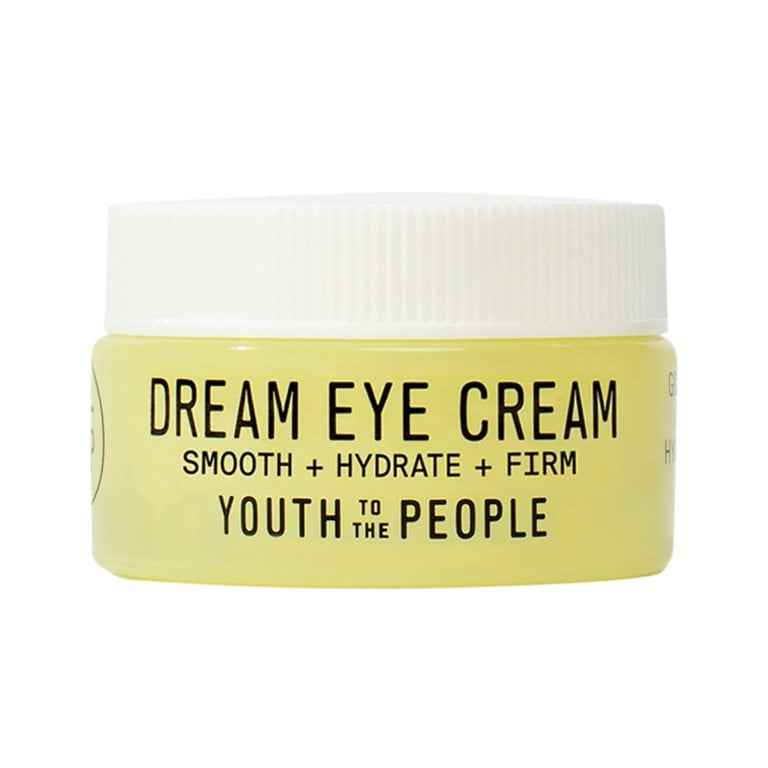 This three-dimensional eye cream is specially formulated to improve the visible effects of glycation around the eye area — read: the creping and sagging appearance of skin that often accompanies getting older — while simultaneously hydrating the delicate skin of your eye contour. Use once or twice daily to help improve the look of dark circles, puffiness and wrinkles.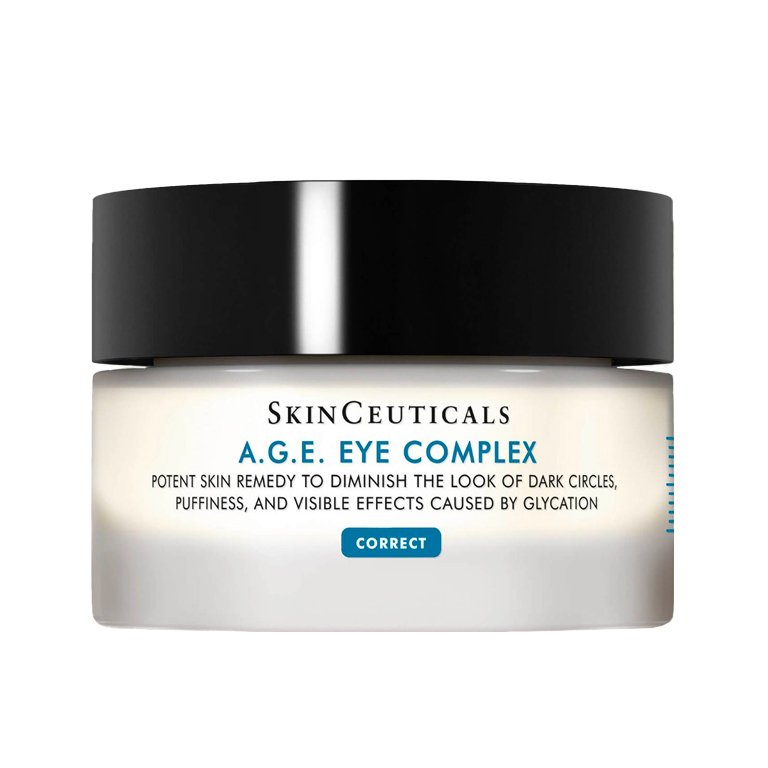 We can't get enough of IT Cosmetics' incredible lineup of anti-aging skincare products, including this peptide-infused eye cream. It promises visible improvement of skin concerns including crow's feet, dark circles, lack of firmness and dryness in just four weeks. You can use this eye cream in both the morning and the evening as the post-cleanser step in your skincare routine. Follow it up with the moisturizer of your choice.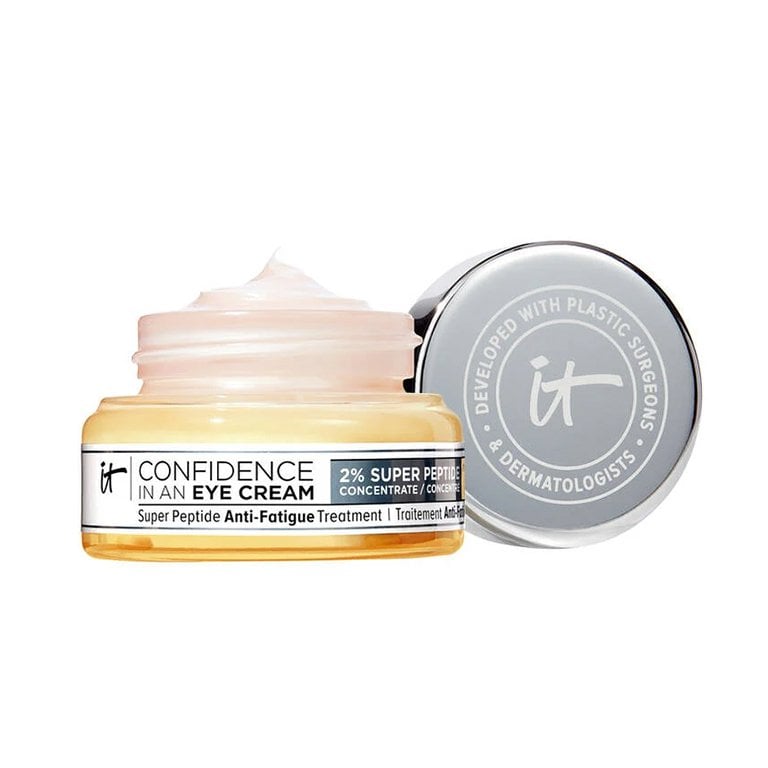 As the name suggests, this eye cream is specifically developed to improve skin elasticity around your eyes to address wrinkles, fine lines and crow's feet. It also works to reduce puffiness around your eyes, so you can say goodbye to those frustrating undereye bags.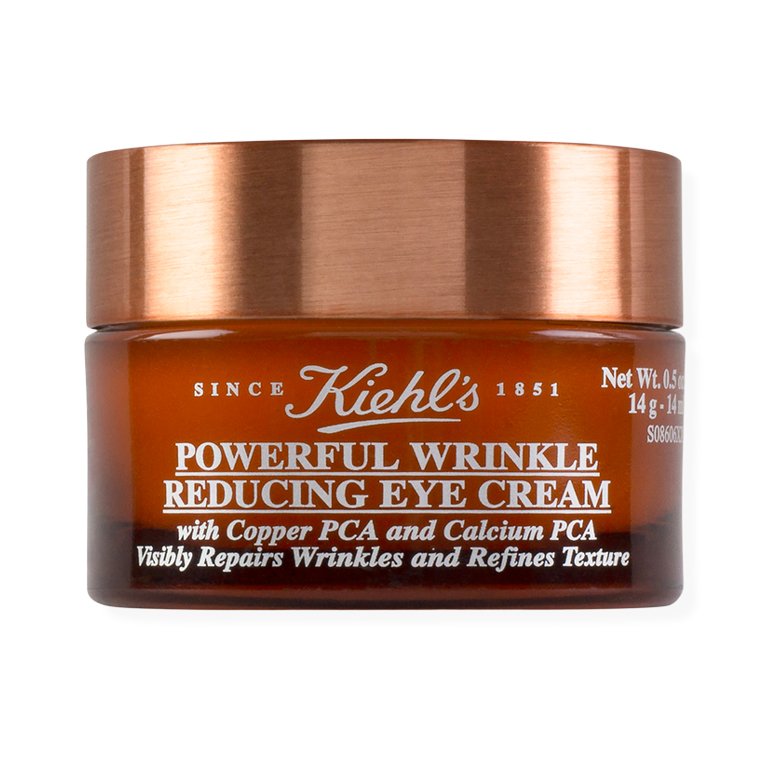 The L'Oréal Paris Revitalift Anti-Wrinkle + Firming Eye Cream contains retinol, one of the ingredients recommended by Dr. Maguiness to prevent and treat crow's feet. For best results, dot it around your eyes with your ring finger and tap to gently help absorb it into your skin.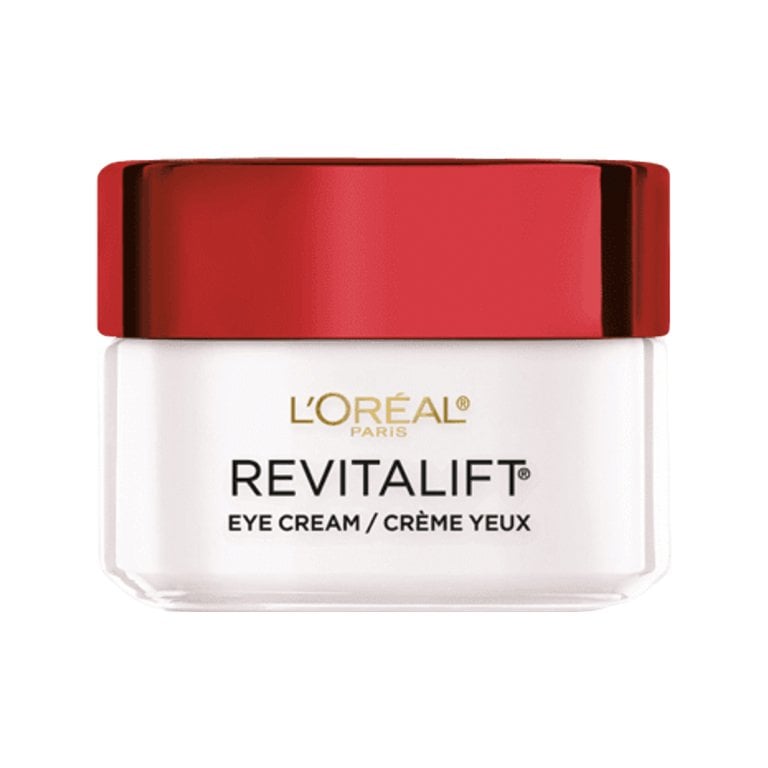 Though definitely more of a splurge, The Eye Cream by Augustinus Bader does it all. Not only does it help diminish the appearance of fine lines and wrinkles, but it also eliminates dark circles, increases the firmness of your skin, protects against environmental stressors to prevent future damage, offers hydration and brightens the area around your eyes.
Photo: Chaunte Vaughn
Read more

Back to top