How to Get Rid of Forehead Wrinkles, According to a Dermatologist
October 24, 2022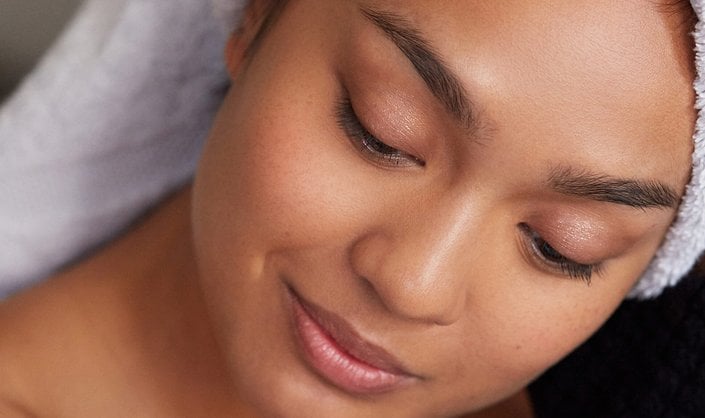 Whether you have eleven lines deepening between your brows or horizontal lines across your forehead, forehead wrinkles are a common part of aging and expressing ourselves. If they bother you, there are ways to make the fine lines less prominent, such as implementing anti-aging ingredients like retinol into your skincare routine. Below, we asked three medical professionals for their tips for smoothing the appearance of forehead wrinkles.
What Are Forehead Wrinkles and Fine Lines?
According to the Cleveland Clinic, fine lines are the start of wrinkles. They sit close to the surface of the skin, whereas wrinkles are deeper-set. Wrinkles look like deeper, more pronounced folds than creases.
Forehead wrinkles can occur between your eyebrows (also known as eleven lines), as well as in horizontal lines across your forehead. They may become more pronounced with certain facial movements, such as squinting your eyes or raising your eyebrows.
What Causes Forehead Wrinkles and Fine Lines?
Forehead wrinkles can develop as a result of repeated facial movements, loss of elasticity, sun damage, free radical damage and natural aging. Lifestyle habits like smoking and tanning can accelerate signs of aging, as can heightened cortisol levels due to stress. Wrinkles are not caused by dry skin, but having dry skin can accentuate wrinkles.
How to Get Rid of Forehead Wrinkles and Fine Lines: 12 Tips
Editor's note: Keep in mind that it's easier to take steps to prevent the signs of premature skin aging than it is to fully get rid of fine lines and wrinkles. Many products and routines may help to soften the appearance of fine lines and wrinkles, even if they can't cancel them out entirely. These tips may help reduce the appearance of fine lines and wrinkles and help prevent new ones from forming. It's important to speak with your dermatologist to determine what skincare routine is right for you.
Protect Your Skin From Sun Damage
Sun damage is the number-one cause of aging, so we recommend applying a broad-spectrum SPF 30 (or higher) each day. We recommend applying (and re-applying) the La Roche-Posay Anthelios Melt-In Milk SPF 100 every two hours (or more frequently if you're swimming or sweating) for maximum protection. Sun protection is also a key measure in preventing skin cancer. You should also try to stay in the shade during peak hours of sunlight — 10 a.m. and 2 p.m.
Avoid Tanning
Similarly, there is no such thing as a safe or healthy tan (unless it comes from a bottle of self-tanner). Tanning your skin in the sun or under a tanning bed could help accelerate signs of aging and increase your risk for skin cancer.
Wear Sunglasses
A quick and easy way to avoid squinting and causing eleven lines between the brows is to wear sunglasses when it's sunny out, says Dr. Ellen Marmur, a board-certified dermatologist and founder of MMSkincare. This will also add another line of UV defense.
Wear a Hat
In addition to sunglasses, wearing a wide-brim hat can help shield your eyes and forehead from the sun's damaging rays.
Switch Up Your Sleep Position
"Sleeping on your side or face could cause vertical wrinkles on your face if your skin is pressed into the pillow, causing folds while sleeping," says Jennifer Weiss, PA at Marmur Medical. "It is best to try to sleep on your back."
Manage Stress Levels
We know it's easier said than done, but lower stress levels could equal less wrinkles. "Consistent worry and stress will release high levels of cortisol in the body which can break down the skin's elastin and collagen, leading to wrinkles," says Weiss.
Quit Smoking
Studies show a strong correlation between cigarette smoking and wrinkles, not just on the forehead, but all over the face. In addition to causing premature signs of aging, tobacco use is also linked to various forms of cancer.
Use a Retinol
Consider incorporating retinol into your routine to help reduce the look of forehead lines. "Retinol, the active form of vitamin A, works to increase cell turnover and improve discoloration and target wrinkles," says Dr. Dendy Engelman, a board-certified dermatologist and Skincare.com consultant based in New York City. "By replenishing the skin with vitamin A, lines can be minimized." Because retinol can make skin more photosensitive, it's important to apply retinol products at night and remain extra vigilant about SPF use during the day. While you can't spot treat wrinkles, applying a retinol serum or cream all over the face can help target forehead wrinkles and more.
Moisturize, Moisturize, Moisturize
"Moisturize your skin twice a day," says Weiss. "Look for a moisturizer with hyaluronic acid. Hyaluronic acid absorbs and retains water which will help plump fine lines and wrinkles." Try the MMSkincare Revive Serum for a lightweight serum-moisturizer hybrid during the day, or the Youth to the People Polypeptide-121 Future Cream for a richer option at night.
Use Products That Encourage Collagen and Elastin Production
While the molecules in topical collagen creams are too large to penetrate the skin's surface and actually increase your body's natural collagen production, they can still provide a host of benefits. We like the L'Oréal Paris Age Perfect Collagen Expert Night Moisturizer for Face, which deeply hydrates and firms the skin. Dr. Marmur suggests the MMRepose Face Mask to give dull, tired skin an extra boost of hydration.
Ask Your Dermatologist About Lasers
Dr. Marmur recommends the Clear + Brilliant Touch Laser in combination with a chemical peel (she likes the Jessner's Peel, a chemical peel that helps treat the surface layer of the skin). Ask your dermatologist if a laser treatment or chemical peel is right for your skin concerns.
Ask Your Dermatologist About Cosmetic Injectables
If you have deep-set wrinkles, sometimes a topical retinoid and sun protection can only do so much. Certain cosmetic injectables administered by a licensed medical practitioner could help soften the look of fine lines and prevent new ones from forming. Ask your dermatologist if cosmetic injectables are right for you.
The Best Products for Reducing the Appearance of Forehead Wrinkles
Formulated with 0.1% retinol and ceramides, this anti-aging serum is a great introduction for those who are new to using the ingredient or who have sensitive skin. It helps lessen the appearance of wrinkles and pores while strengthening the skin's moisture barrier.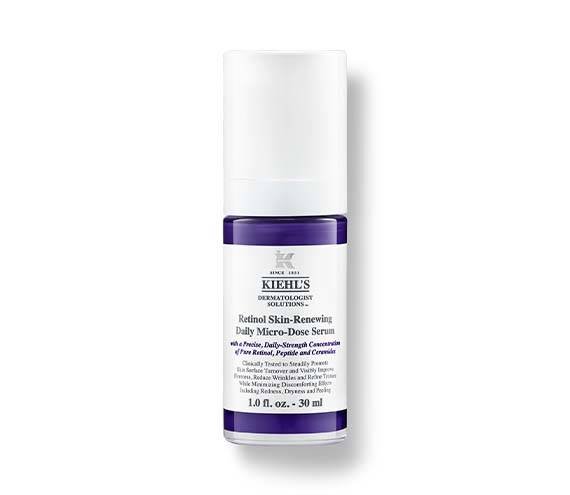 This futuristic-looking serum combines a complex of hyaluronic acid, C+ niacinamide (that's a cocktail of vitamin C and niacinamide) and ferulic acid to target the look of wrinkles, dark spots and loss of volume. The triple-chamber packaging allows for all three serums to be dispensed at once for maximum potency.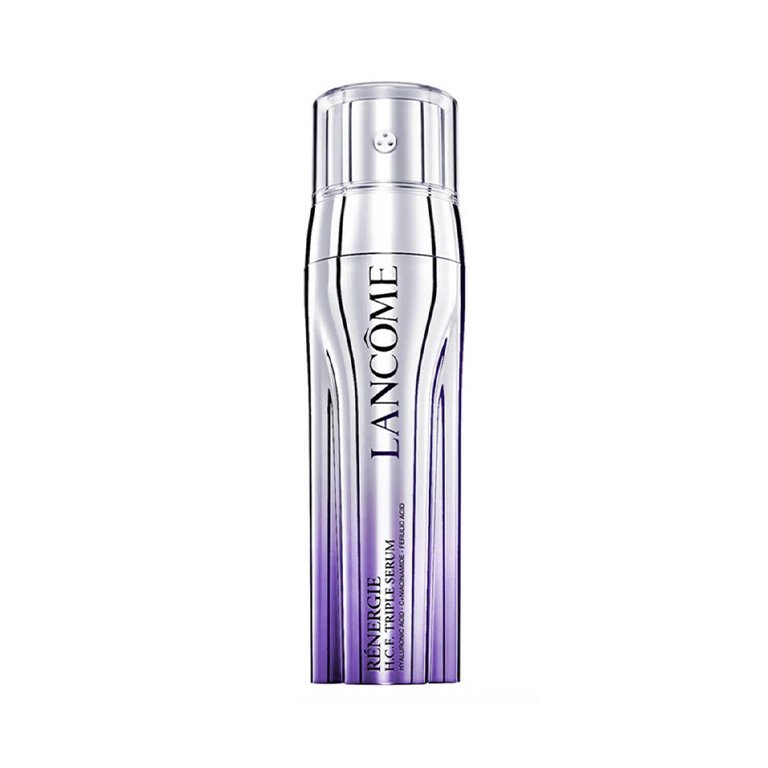 Visibly fade dark spots and reduce the look of wrinkles with this gently exfoliating serum. It's powered by niacinamide and glycolic acid, which leave your skin looking smoother and more even. It's also fragrance-free, allergy-tested and suitable for all skin types.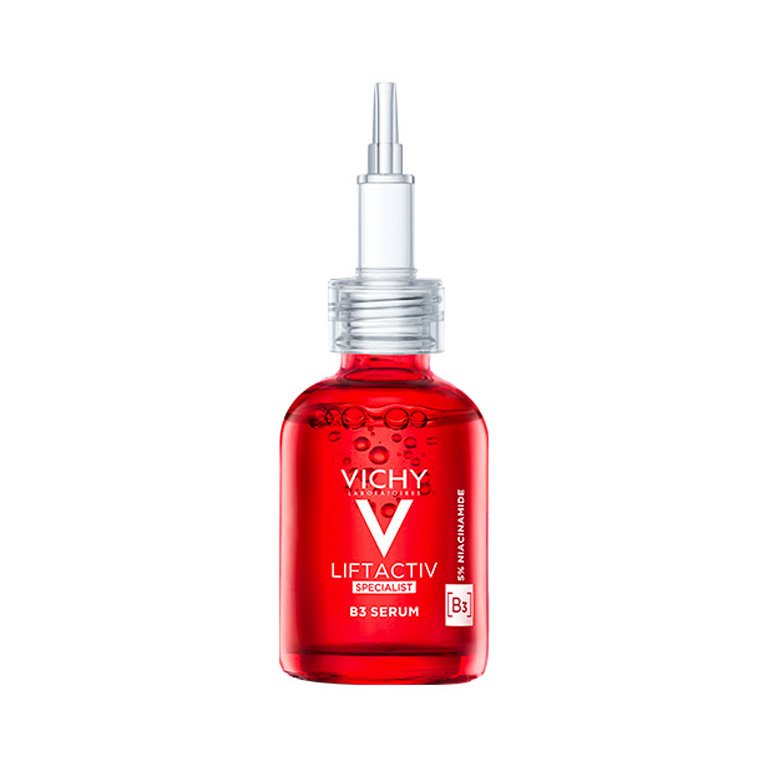 Hyaluronic acid is key to softer, plumper-looking skin. This serum combines the ingredient with peptides and vitamin B5 to hydrate all skin types and visibly plump the skin.
If dark circles are a concern in addition to fine lines, you'll appreciate that this multitasking product acts as a retinol-infused moisturizer, serum and eye cream. The gentle formula helps smooth the skin and promises a softer, more radiant complexion in just three days.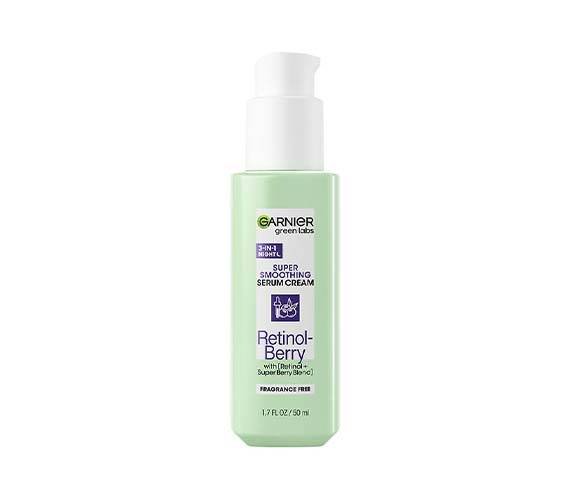 This cream delivers on some seriously impressive claims: It provides up to 48 hours of hydration and tackles 10 signs of aging, from fine lines and wrinkles to loss of elasticity and firmness, in as little as two weeks. It contains hyaluronic acid and a peptide-lipid complex along with soothing niacinamide, squalane and ceramides.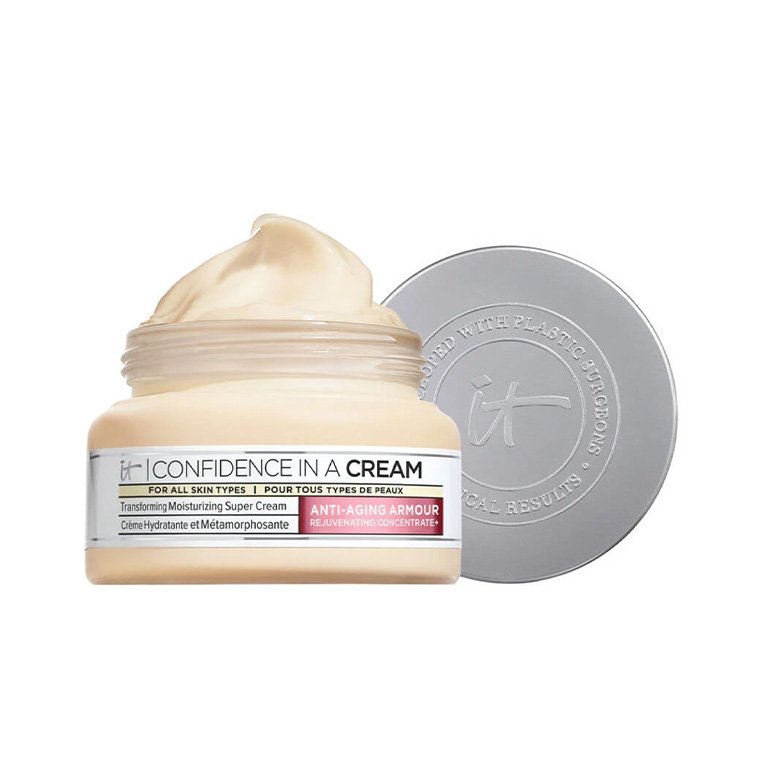 If you're worried about retinol over-drying your skin, look to the hydrating ingredients in this cream. It's packed with soothing niacinamide as well as hyaluronic acid and glycerin to help attract moisture to the skin and create a softer, plumper appearance.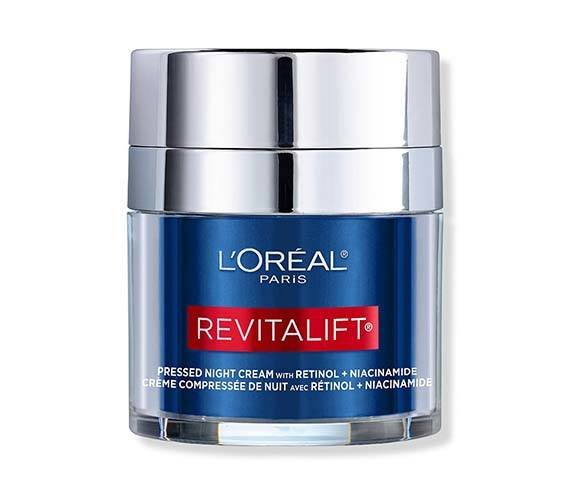 This gentle formula helps reduce fine lines and wrinkles, improves skin's texture and boosts overall radiance. Plus, ingredients like hyaluronic acid, niacinamide and ceramides help prevent irritation and dryness.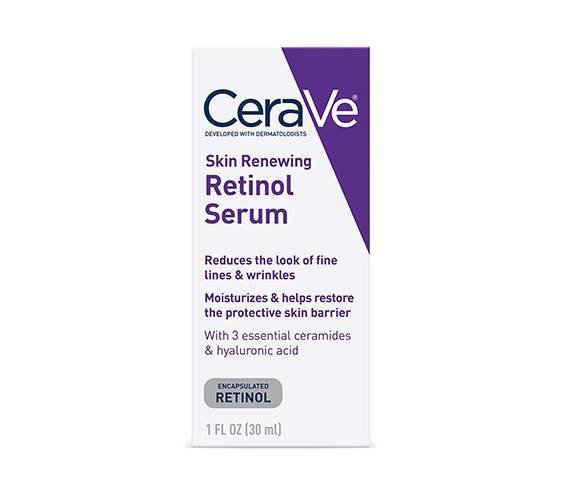 More experienced retinol users can benefit from using SkinCeuticals Retinol 1.0, a refining night cream with 1% pure retinol. It's a high concentration of retinol, so if it's your first time using the ingredient, opt for the brand's >Retinol 0.3 or 0.5 first to build up your skin's tolerance.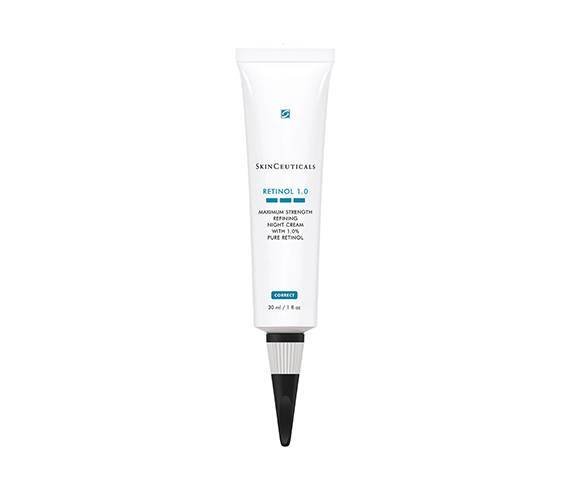 If you're looking for a retinol product that will give you (and your forehead!) all the anti-aging benefits without being too drying or irritating, pick up this La Roche-Posay serum at the drugstore. It's formulated with vitamin B3, so your skin feels soothed and soft after use. If you find your skin is too sensitive for daily retinol use, try using the product every other day as your skin gradually builds a higher tolerance.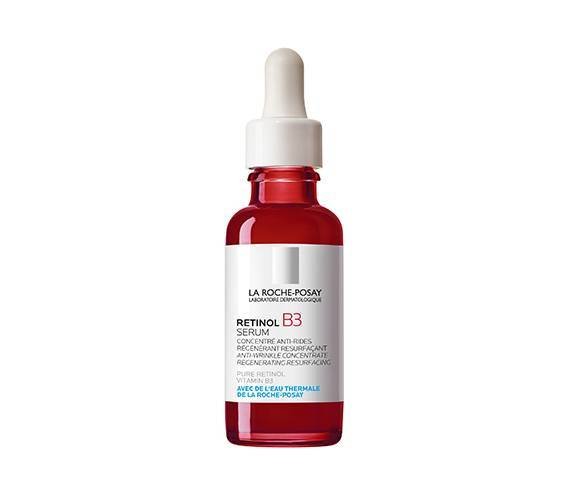 Photo: Chaunte Vaughn
Read more

Back to top