The Difference Between Over-the-Counter and Prescription Retinol — Explained
June 25, 2020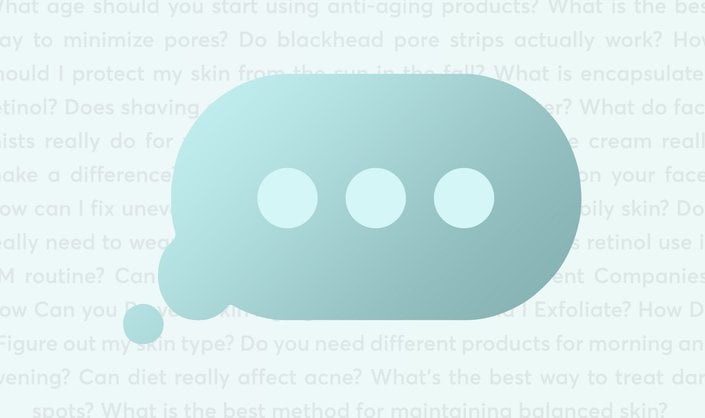 In the world of dermatology, retinol — or vitamin A — has long been considered a holy-grail ingredient. It's one of the most powerful skin-care treatments available, and its benefits — such as increasing cellular turnover, improving the appearance of pores, treating and improving signs of aging and fighting acne — are backed by science. 
Dermatologists often prescribe retinoids, a potent derivative of vitamin A, to treat acne or signs of photoaging like fine lines and wrinkles. You can also find forms of the ingredient in over-the-counter products. So what's the difference between the retinol products you can find at the store versus retinoids that must be prescribed by a doctor? We consulted with Dr. Shari Sperling, a New Jersey-based board-certified dermatologist, to find out. 
What's the Difference Between Over-the-Counter Retinol and Prescription Retinoids?
The short answer is that over-the-counter retinol products are generally not as strong as prescription-grade retinoids. "Differin 0.3 (or adapalene), Tazorac (or tazarotene) and Retin-A (or tretinoin) are the most common prescription-strength retinoids," says Dr. Sperling. "They are more aggressive and can be irritating." Note: You may have heard a lot about adapalene going from prescription to over-the-counter, and that's true of the 0.1% strength, but not the 0.3% one.
Because of the strength, Dr. Sperling says that it typically takes a few weeks to see results with a prescription retinoid, while with over-the-counter retinols, you should expect to be more patient. 
So, Should You Use an OTC Retinol or a Prescription-Strength Retinoid? 
Make no mistake, both forms of retinol are effective, and stronger isn't always better, especially if you have sensitive skin. The decision really depends on your skin type, concerns and skin's tolerance level. 
For a teen or young adult with acne, Dr. Sperling typically recommends using prescription-strength retinoids because of their efficacy and because those with oily skin can usually tolerate a stronger dose of the product than those with dry, sensitive skin. "If an older individual wants anti-aging benefits with limited dryness and irritation, OTC retinols work well," she says. 
All this being said, Dr. Sperling recommends consulting with a dermatologist to determine which is right for your skin type, concerns and goals. No matter which product you use, keep in mind that they increase skin's sensitivity to sunlight so it's important to be diligent with your sun protection each and every day.  Also, it's recommended to start with a lower percentage of the ingredient and gradually build up to higher percentages based on your skin's tolerance level.  
Our Editors' Favorite Over-the-Counter Retinols
If you're interested in giving retinols a try and your dermatologist gives you the green light, here are some great options to consider. Remember, you can always start with an OTC retinol and move up to a stronger retinoid, particularly if you're not seeing desired results after continued use and if your skin can tolerate it. 
With just 0.3% pure retinol, this cream is perfect for first-time retinol users. The percentage of retinol is just enough to be effective in improving the appearance of fine lines, wrinkles, acne and pores, but has less potential to cause major irritation or dryness.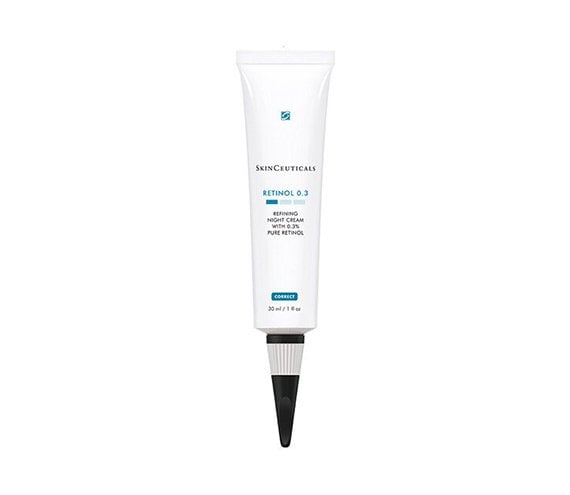 This serum is formulated to help diminish the appearance of acne scars and enlarged pores with continued use over time. In addition to retinol, it contains ceramides, licorice root and niacinamide, this formula also  helps moisturize and brighten the appearance of skin.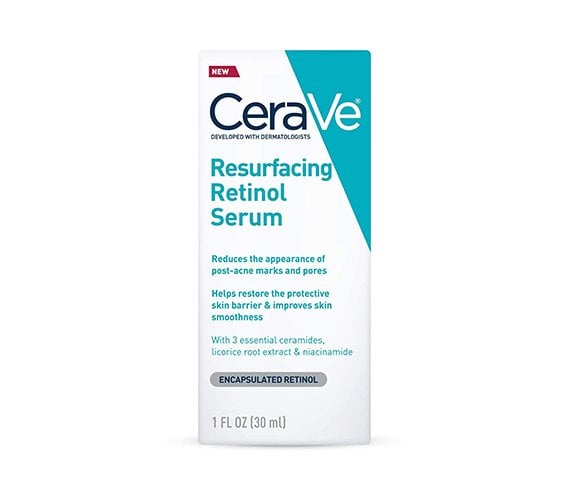 For a prescription-strength product without the prescription, try this gel that contains 0.1% adapalene. It's recommended for the treatment of acne. To help fight irritation try using a moisturizer and following usage instructions carefully.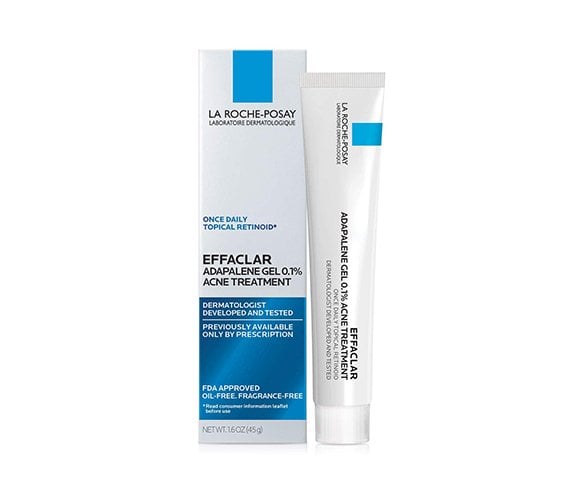 Design: Hannah Packer
Read More: 
Black-Owned or Founded Skin-Care Brands to Shop and Support
How to Protect Your Hair and Scalp From Pollution
8 Face Washes for People With Oily Skin
Read more

Back to top