Here's Why You Should Apply Retinol at Night
January 12, 2021
Retinol is a powerful anti-ager that helps reduce the appearance of fine lines and wrinkles, diminish acne and reveal glowing, supple-looking skin. Because of its potency, however, there are a few cardinal rules surrounding how and when to apply it. The biggest directive? Apply retinol only in the evening.. We tapped Dr. Kenneth Howe of Wexler Dermatology to learn more about why retinol has optimal efficacy during the nighttime hours. 
Why Do You Recommend Applying Retinol at Night?
According to Dr. Howe, the main reason you should use retinol only at night is because the ingredient can be broken down by ultraviolet light. "If you apply retinol in the morning, you risk inactivating it before it has time to exert its beneficial effects," he says. While you theoretically could apply it in the morning, the knowledge that you will be decreasing the retinol's effectiveness should probably stop you.
Pick A Retinol Product For You 
We recommend applying all types of retinol during your evening skin-care routine, whether it's a retinol-packed serum, moisturizer or eye cream. Looking for recommendations? We've been loving the L'Oréal Paris Derm Intensives 0.3% Night Serum With Retinol, the L'Oréal Paris Revitalift Triple Power Anti Aging Moisturizer and the Glow Recipe Avocado Melt Retinol Eye Sleeping Mask. But no matter what type of retinol product you use, Dr. Howe recommends locking it in with a moisturizer afterwards to help minimize any dryness or flaking that may occur.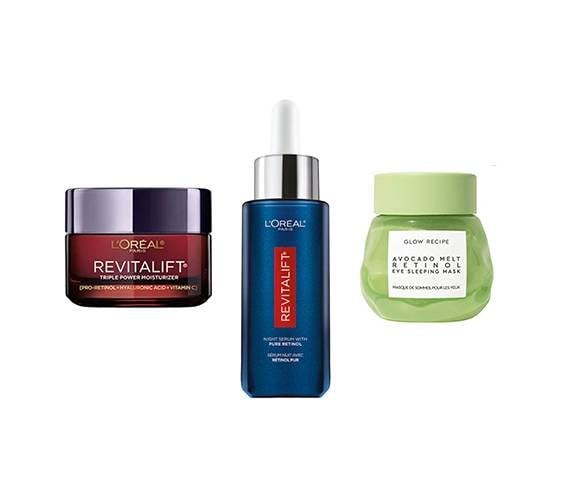 And Don't Forget: SPF Is a Must
Even if you apply your retinol as recommended at night, using a broad-spectrum SPF in the morning is an absolute must. Retinol may cause overall skin sensitivity when introduced into your routine, so applying a thick layer of sunscreen before you head out in the morning is vital. We love completing our morning skin-care routine with a layer of the Biossance Squalane + Zinc Sheer Mineral Sunscreen or the CeraVe AM Facial Moisturizing Lotion SPF 30.
If you're new to retinol, Howe advises building up your skin's tolerance to it slowly. "As beneficial as retinol is, it is important to remember how and when to add it into your routine," he says. "Start out by adding a little to your nighttime routine, very few times a week and about a pea-size amount." Increase the frequency every few weeks as your skin adjusts and becomes more tolerant of it. 
Photo: Jonet Williamson

Read More:
Best Affordable Retinol Products
I Put This New Drugstore Retinol Serum to the Test
Read more

Back to top