A Simple Morning and Evening Anti-Aging Skin-Care Routine for Younger-Looking Skin
October 21, 2020
If you're looking to keep fine lines and wrinkles at bay for as long as possible, we say it's never too soon to invest in an anti-aging skin-care routine. If you're wondering what products and ingredients to include, we got you covered with a morning and evening skin-care routine that's made specifically to prevent premature signs of aging. 
An Anti-Aging Morning Skin-Care Routine
Morning Skin-Care Routine Step 1: Wash Your Face
In the morning, we recommend giving your skin a gentle cleanse with a face wash like the CeraVe Hydrating Cream-to-Foam Cleanser. It's suitable for normal to dry skin types and starts off as a hydrating cream texture and then transforms into a gentle foam that effectively removes oil and impurities that might have accumulated during a long night of sleep. 

Morning Skin-Care Routine Step 2: Incorporate an Antioxidant Serum
Free radicals are unstable molecules that can be found through environmental aggressors, such as UV rays, pollution and smoke. If free radicals latch onto your skin, they can cause damage in the form of wrinkles, loose skin and deterioration of collagen. You can fight against free radical damage by incorporating an antioxidant serum like the SkinCeuticals C E Ferulic into your routine. It's formulated with antioxidants like vitamins C and E to help reduce the appearance of lines and wrinkles and loss of firmness, all while brightening your complexion.

Morning Skin-Care Routine Step 3: Treat Your Eyes
The delicate area around your eyes is one of the first places to show visible signs of aging like fine lines and wrinkles. Ward off the signs of premature skin aging or minimize their appearance with the help of an eye cream. We recommend the Kiehl's Avocado Eye Cream for its rich, hydrating formula that also helps to reduce the look of puffiness and dark circles.

Morning Skin-Care Routine Step 4: Apply Moisturizer With SPF
When your skin maintains the proper moisture balance, the appearance of fine lines and wrinkles can be visibly reduced, which is why it's important to never skip moisturizer. During the day, opt for a formula with SPF to avoid sun damage. The Lancôme Absolue Velvet Cream is a luxurious anti-aging cream that has SPF 15. It's also formulated with hydrating hyaluronic acid, exfoliating glycolic and salicylic acids, moisturizing shea butter and rose extracts to unveil a complexion that's firm, plump, radiant and better-protected from premature signs of aging.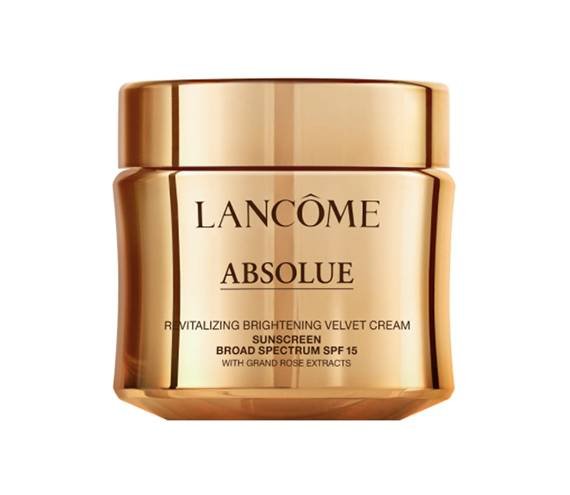 Anti-Aging Evening Skin-Care Routine
Evening Skin-Care Routine Step 1: Double Cleanse
After a long day of oil accumulation, makeup wear and exposure to environmental aggressors, washing your face in the evening is imperative. To get a deep clean, we recommend double cleansing, starting with an oil cleanser, like the Kiehl's Midnight Recovery Botanical Cleansing Oil, and then following up with a gentle cleanser. You can use the same formula as the morning or opt for a new one that's specifically targeted for your skin type if you prefer. A few times per week, swap in an exfoliating cleanser, like the SkinCeuticals Glycolic Renewal Cleanser, to remove dead skin cells that can build up on the surface and give your skin a dull appearance. 

Evening Skin-Care Routine Step 2: Apply Retinol
Retinol is the gold standard when it comes to anti-aging. It's known to reduce the appearance of fine lines, wrinkles and age spots from both environmental and intrinsic aging. Experts recommend incorporating a retinol product at night because it's photosensitive and breaks down in UV light. The SkinCeuticals Retinol 0.5 is formulated with 0.5% pure retinol to help promote cell turnover, improve the appearance of fine lines, wrinkles, discoloration, pores and blemishes. If you're new to retinol, start with lower concentrations of the ingredient two or three times a week. You can gradually increase the percentage used and the frequency as tolerated by your skin.

Evening Skin-Care Routine Step 3: Moisturize with Night Cream  
Instead of using your moisturizer with SPF from the A.M., reach for a night cream that's formulated with anti-aging ingredients like hyaluronic acid, glycolic acid, lipo-hydroxy-acid and/or retinol. We like the IT Cosmetics Confidence In Your Beauty Sleep Night Cream because it improves surface cell renewal through exfoliation and visibly improves the top signs of aging skin, such as wrinkles, dryness, dullness and loss of firmness.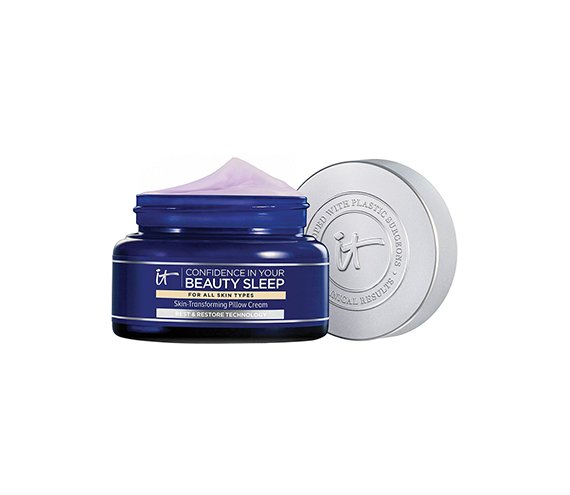 Evening Skin-Care Routine Step 4: Treat Your Eyes
Before bed, apply the same eye cream you used in the morning to maintain a youthful-looking appearance. Whether you have young or mature skin, an eye cream is an important step in your skin-care routine that can help to keep your eyes looking bright in the long-term.
Photo: Melissa San Vicente-Landestoy
Read More:
The 7-Step Anti-Aging Hand-Care Routine You Need to Try
The Best Anti-Aging Serums for Mature Skin, According to Our Editors
7 Neck Creams You'll Want in Your Anti-Aging Arsenal
Read more

Back to top