Antioxidants + SPF: Why This Anti-Aging Skin Care Combination Is Key
July 11, 2016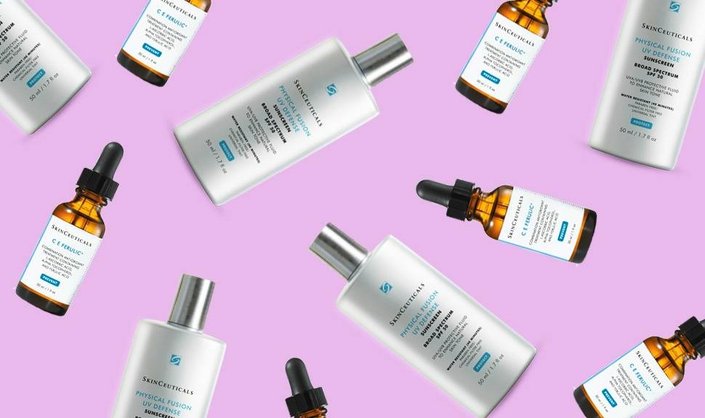 Metaphorically speaking, if SPF is peanut butter, then an antioxidant is jelly. Sure, you can slather some peanut butter on toast sans jelly, but when the two are combined, it's just a darn better sandwich. Period. That analogy holds true with SPF and antioxidants, too; you could technically use them void of one another, but when they collide, it's simply an elevated experience (for your skin, that is). Here's why:
WHY YOU NEED SPF + ANTIOXIDANTS IN YOUR REGIMEN
To dive deeper into the symbiotic relationship between antioxidants and SPF, we tapped board-certified dermatologist, cosmetic surgeon, and Skincare.com expert Dr. Michael Kaminer. "Antioxidants work great [in tandem with your sunscreen] at preventing future skin damage and 'scavenging' free radicals created by sun exposure—vitamin C especially does this," Kaminer says. "So using a sunscreen to help block the damaging sun effects, and then having an insurance plan behind that of antioxidants, to sift any damage that actually sneaks through the sunscreen, is ideal."
We all use broad-spectrum, SPF-packed sunscreen every day (right?!) to help filter out the harmful effects of UVA and UVB rays, which can include premature skin aging and even some skin cancers. SPF is our first line of defense against the unwanted side effects of sun exposure. But even SPF could use some reinforcements sometimes—a back-up plan, if you will—in case the bad guys (aka free radicals) manage to slip through the cracks. That's where antioxidants come in. They have each other's backs and work in unison to provide the maximum possible protection for your skin.
WHAT TO USE 
Got that all down? Good. Now, it's time to gear up with the right antioxidant and SPF combo. "I like SkinCeuticals CE Ferulic in the morning, along with any broad spectrum SPF of 15 or higher in the summer months," says Kaminer. 
SKINCEUTICALS C E FERULIC
This daytime vitamin C serum features an antioxidant combination of pure vitamin C, vitamin E, and ferulic acid to help strengthen your skin's natural protection from free radicals induced by environmental stressors—think: pollution— which may lead to visible signs of accelerated skin aging. Use it in the morning after cleansing and toning by applying 4-5 drops to a dry face, neck, and chest. Follow up with a broad-spectrum sunscreen, like the one below.
SkinCeuticals C E Ferulic, $163
SKINCEUTICALS PHYSICAL FUSION UV DEFENSE SPF 50
Formulated with zinc oxide, this weightless tinted sunscreen provides broad-spectrum UVA/UVB protection, enhances a natural skin tone, and boosts radiance for a more even, luminous complexion. Apply liberally 15 minutes before sun exposure to face, neck, and chest. Be sure to reapply at least every two hours, or sooner if you swim, sweat, or towel dry.
Read more

Back to top