3 Kiehl's Influencers Share the Products They Can't Live Without
May 22, 2018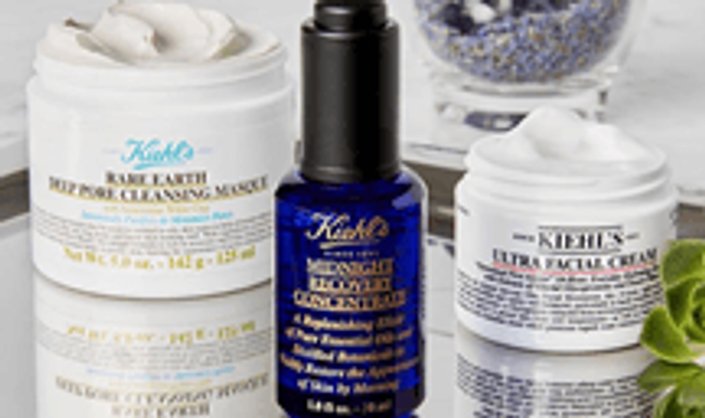 Kiehl's Global Makeup Artist, Nina Park, and fitness gurus Alex-Silver Fagan and Remi Ishizuka have partnered with the New York-based apothecary and are sharing their top skin care tips (and some of their secret weapons!) with Skincare.com's audience. 
Their Top Beauty Tips
TIP #1: LESS IS MORE
When it comes to her beauty regimen, Nina Park is all about the "less is more" concept. "If you're taking proper care of your skin, the less products you need to put on," she says. "Always wear sunscreen and don't forget to re-apply at least every two hours. When you're in a rush, curled lashes, groomed brows, lip balm and the Kiehl's Glow Formula Skin Hydrator are all you need."
TIP #2: APPLY WITH PURPOSE
Another tip Park likes to share has to do with skin care application itself. "Massage in serums and moisturizers," she says. "Press facial oils with palms gently on your skin, tap eye cream in circular movements around the eye area. Give a little love to your skin and it will love you back."
TIP #3: PAMPER YOURSELF FROM THE INSIDE OUT
Alex Silver-Fagan is all about taking care of your inner beauty to let your outer beauty shine, "Sleep, water and good food," she says. "These three elements are necessary to life, so make sure you treat yourself well and give yourself the proper rest and nourishment in order to glow from the inside out."  
TIP #4: DON'T CROWD YOUR ROUTINE
"Less is more," says Silver-Fagan. "Less ingredients, less fuss, less stress! Applying 20 different types of serums and creams will get you nowhere. Find some good quality products and stick with them. Also, the less you wear a lot of makeup the less you'll feel like you need it!"
TIP #5: PLACE EMPHASIS ON YOUR SKIN CARE ROUTINE
When it comes to her beauty routine, Remi Ishizuka is all for skincare. "I emphasize my skin care routine so I don't have to rely on makeup to cover up blemishes, dry patches, or texture issues," she says. "If I take care of my skin and make sure it's always hydrated, then all I'll need is an eyebrow pencil, flick of an eyeliner, and lip stain." 
TIP #6: MAKE SUNSCREEN YOUR BEST FRIEND 
Ishizuka suggests guarding your skin from the sun's harmful rays to help prevent against skin damage. "Once you damage your skin from the sun it is irreversible, so take care of it everyday with sunscreen," she says.
The Top Skin Care Products They Can't Live Without
Need to stock up on some new skin care goodies? Then try out some of these favorites!
Face Masks
Face masks are one of the most popular skin care products around. There's a face mask out there for just about every skin type, and nothing beats ending your day with a quick skin refresh. Here are three Kiehl's masks their global influencers are loving right now.
Kiehl's Turmeric & Cranberry Seed Masque: This mask invigorates and brightens your skin's appearance, and energizes the look of dull, fatigued skin to restore a healthy-looking, rosy appearance. 
Kiehl's Calendula & Aloe Soothing Hydration Masque: This mask helps to soothe, hydrate, and reduce the signs of distress, and is great for all skin types. It's formulated with hand-picked Calendula flower petals and aloe vera to give your skin a refreshing surge of cooling hydration. 
Kiehl's Instant Renewal Concentrate Mask: This advanced oil-infused hydrating sheet mask can give your skin a boost of intense, dewy hydration. It's formulated with cold-pressed Amazonian Oils, and can help smooth and soften skin, creating a glowing look.
Dark Spot Corrector
Do you have stubborn dark spots that won't seem to fade? Try one of Park's favorite dark spot correctors, the Kiehl's Clearly Corrective Dark Spot Solution. This serum—with Activated C, White Birch, and Peony—is clinically-demonstrated to help correct dark spots and discoloration for visible correction and clarity. 
Face Wash
One of the most essential steps in a skin care routine is cleansing. A face wash is one of the best ways to remove unwanted impurities, so put down the bar soap and grab Silver-Fagan's favorite face wash: the Kiehl's Calendula Deep Cleansing Foaming Face Wash. This foaming cleanser replenishes and soothes skin, and works to gently remove impurities without stripping skin of its essential moisture. 
Kiehl's Influencer tip: After washing your face, try using a toner for extra cleansing power. Silver-Fagan recommends using the Kiehl's Calendula Herbal Extract Alcohol-Free Toner, which is formulated with select herbal extracts to gently cleanse and soothe normal to oily skin types without alcohol or harsh synthetics. "This just adds that extra 'AHH' feeling of being clean," she said.
Serum
There are tons of serums out there for every skin type to address a wide range of concerns. One of Ishizuka's top serums is the Kiehl's Midnight Recovery Serum. The formula is a replenishing elixir of pure essential oils and distilled botanicals that can help visibly restore the appearance of skin by morning.
Moisturizer
One of the best ways to keep your skin hydrated is to apply a daily moisturizer. Park and Ishizuka are fans of Kiehl's classic Ultra Facial Cream. The light-textured face cream offers continuous moisture replenishment for dry skin throughout the day. As for Alex, she loves using the Kiehl's Ultra Facial Moisturizer SPF 30. She recommends mixing in a tiny bit of your foundation to create a tinted moisturizer for the day.
Read more

Back to top