Your Favorite Skin Care Brush is Getting a Makeover: Clarisonic Smart Profile Uplift
February 14, 2017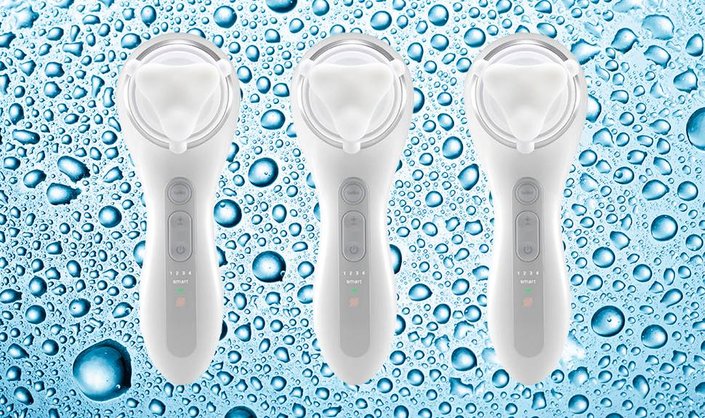 Have you heard? Clarisonic's Smart Profile Brush just got an uplifting upgrade! Find out more about the new Clarisonic Uplift—and learn a few of the benefits of this massaging brush head thanks to co-founder Dr. Robb Akridge—below!
What if you could visibly improve signs of skin aging, cleanse, and help get better absorption of skin care products? Clarisonic's new launch aims to take skin care to the next level with micro-massaging. Smart Profile Uplift is the brand's new 2-in-1 sonic cleansing and firming massage device designed for a youthful-looking face, neck, and décolleté. You'll not only get brush heads for face and body, you'll also get to enjoy the most unique aspect of the Smart Profile Uplift, the new firming massage head. Shaped to glide over facial contours, the Smart Profile Uplift turns your skin care routine into a spa-like experience, allowing you to massage your face with your favorite anti-aging creams, serums and oils.
The Clarisonic Smart Profile Uplift
"[The device] helps to visibly improve 15 different signs of skin aging so that you can experience more youthful-looking skin," Clarisonic co-founder Dr. Robb Akridge told Skincare.com. Among those signs of aging are firmness, smoothness, radiance, facial wrinkles, cheek wrinkles, forehead fine lines, and more. "The impact on sagging in particular is pretty exciting as that's a huge problem for most women," Dr. Akridge said.
The first time you use a Clarisonic you'll see softer, smoother skin and the benefits build over time, helping you look more youthful. Clarisonic's studies show that using the Smart Profile Uplift daily over 12 weeks helps to improve the look and feel of the skin.
How to Use the Clarisonic Smart Profile Uplift
If you're curious to know the science behind the funky-looking, three-prong massage head, the applicator uses 27,000 micro-firming motions to help smooth fine lines, wrinkles, and helps the absorption of your daily skin care better than fingers alone. "We recommend you use it twice a day for three minutes," Dr. Akridge says. "That includes the face, neck, and décolleté area. Who doesn't have a few minutes a day to dedicate to more youthful-looking skin?" 
The device—at $349 MSRP—is certainly a splurge. If you already own a Smart Profile device, however, you can simply purchase the new firming massage head separately and swap it into your existing Smart Profile handle. The frequency will adjust automatically.
To learn more about the device and how exactly it should be used, follow along in our video below! 
Clarisonic Smart Profile Uplift Review 
After hearing all of the benefits this device could provide, I couldn't wait to give it a try for myself. Thanks to our friends at Clarisonic, who sent the Skincare.com a complimentary device, I was able to give the Smart Profile Uplift a whirl on my own skin. When it comes to applying the serums and creams in my routine, clean fingers are typically my vehicle of choice. But this time, I gave my paws a break and swapped in the device's firming massage head. The experience was nice and relaxing (spa-like, if you will), and the massage head glided over my skin with ease and comfort. After my first use, I could definitely notice softer, smoother skin. I look forward to using the device up to twice per day to experience all the benefits it has to offer. Because let's face it—I was more than intrigued at the sound of "visibly improve 15 different signs of skin aging." Who wouldn't be?
Read more

Back to top