Men's vs. Women's Skincare Products: Is There Really a Difference?
March 24, 2022
It's clear that there is a distinctly different market for men's and women's skincare products, but when you really get down to it, is there that much of a difference in the formulations? If you asked any of our female beauty editors to trade skincare routines with the men in their lives, most would laugh at the idea. Aside from the most obvious contrasts — like packaging, fragrance and product names — Dr. Ted Lain, a Texas-based board-certified dermatologist and Skincare.om consultant, says that the formulas in men's products often differ from those geared towards women, too. Read on to find out how. 
How Does Male and Female Skin Differ?
"Men's skin has many attributes that allow it to age differently than women's skin," says Dr. Lain. "First, men's skin is 25% thicker due to higher collagen content. Second, the oil glands in men are more active, allowing for greater innate moisturization over the adult years. The aging process is more gradual from a young age in men, whereas women's skin maintains thickness and moisture content consistently until menopause, when decreasing estrogen levels cause dramatic changes."
Is there a difference between male and female skincare?
So what does this all mean when it comes to the products we buy? "Women's products focus more on moisturization than men's, in an attempt to compensate for their lower sebum production," says Dr. Lain. Because women are more likely to experience adult acne from hormonal changes, many women's products often account for that by including exfoliants, calming and acne-fighting ingredients in the formulations. 
For men, Dr. Lain recommends using products that contain retinol earlier than women. "This is because of the gradual decline in collagen levels starting at a young age in men," he explains.
The key takeaway? Although some products are, in fact, unisex, depending on your skin's specific needs, you should always pay attention to who the product is intended for and what ingredients are in it.
For example, when it comes to toners, we recommend the Lancôme Tonique Confort Hydrating Facial Toner for women because it is formulated with ultra-hydrating ingredients like hyaluronic acid, acacia honey and sweet almond oil. For men, we like the Baxter of California Herbal Mint Toner because it wipes away excess oil without stripping the skin.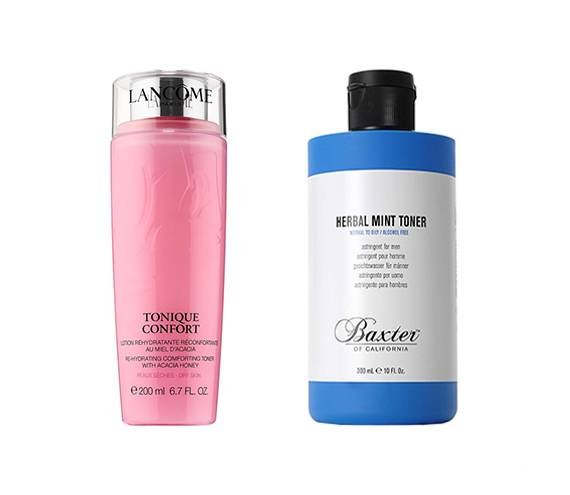 Photo: Chaunte Vaughn
Read More:
A Complete Guide to Men's Winter Skincare
The Ultimate Guide to Men's Grooming
Read more

Back to top