5 Things People With Dry Skin Should Never Do
July 27, 2016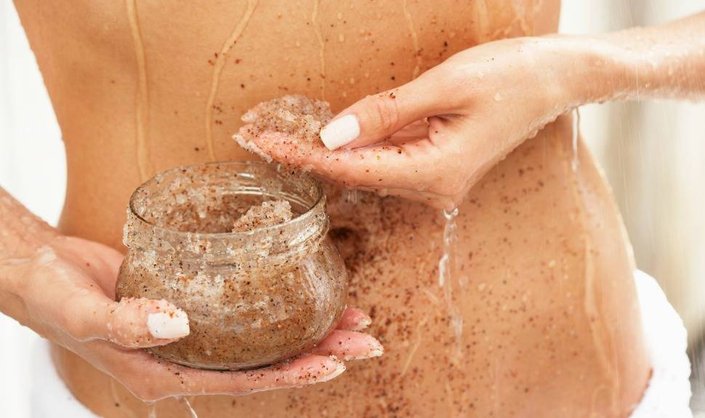 Dry skin is temperamental. One minute it's calm and itch-free, and the next it's an angry shade of red, flaking uncontrollably, and extremely uncomfortable. Thus, it's one of the trickiest skin types to deal with, and requires patient, tender care to protect it against environmental aggressors—think: a cold, wintry climate—dehydration, harsh beauty products, and moisture loss. If you have dry skin, there are rules to keep in mind to help calm the storm, or, better yet, keep one from brewing altogether. Ahead, five things you should never (ever!) do if you have dry skin. 
1. OVER-EXFOLIATE 
If you have dry, flaky skin, do not—we repeat, do not—exfoliate more than twice a week. Over-exfoliating is only going to dry skin out further. Avoid formulas with large beads or grains and instead use a gentle exfoliating scrub, like The Body Shop Aloe Gentle Exfoliator. Massage in light, circular motions over the face and neck and always moisturize once you're done.
2. IGNORE SUNSCREEN
This actually holds true for all skin types and not just dry, but ignoring an application of sunscreen each and every day is a big no-no. Not only has UV radiation been proven to cause skin damage, like premature skin aging and skin cancer, excessive time outdoors in the sun can dry your skin further…especially if you take an unexpected trip to sunburn city, so don't underestimate the harm in going sunscreen-free while outdoors. Try SkinCeuticals Physical Fusion UV Defense SPF 50, formulated with artemia salina and translucent color spheres that adapt to every skin tone for a radiant finish. Extend the love below your chin to your neck, chest, and hands, too; they're the areas that show signs of aging first.    
3. SKIP MOISTURIZER
All skin needs moisture, but dry skin arguably needs it the most. Stick to a thick, rich formula for evening use after cleansing, and opt for a lighter blend with SPF in the morning (especially if you're wearing makeup.) We recommend using Kiehl's Ultra Facial Moisturizer SPF 30 in the morning, and Vichy Nutrilogie 2 at night. Similar to sunscreen, make sure you don't neglect your delicate neck, chest, and hands! 
4. USE PRODUCTS WITH IRRITATING INGREDIENTS 
All it takes is one application of a harsh formula to exacerbate the feeling of irritation. If you have dry skin, steer clear of powerful facial cleansers that can strip the skin, making it feel tight and itchy. Reach for products that are gentle, safe for dry and sensitive skin, and free or common irritants like alcohol, fragrance, and parabens. Dry skin types should also be careful when using retinol, a potent anti-aging skin care ingredient that has the potential to be drying. Follow up any use with a rich moisturizer. 
5. TAKE PROLONGED HOT SHOWERS
Hot water and dry skin are not friends. It can make dry skin irritated by allowing the moisture it needs to escape the skin. Consider reducing the length of your showers—no more than 10 minutes—and switching the water from scalding hot to lukewarm. Once you're out of the shower, immediately apply moisturizer or lotion to your skin while it's still damp to reintroduce some of the lost moisture. Or, reach for some coconut oil. It feels extremely nourishing on the skin post-shower—trust us. 
Read more

Back to top