7 Bath Bombs That Will Take Bath Time to the Next Level
February 09, 2018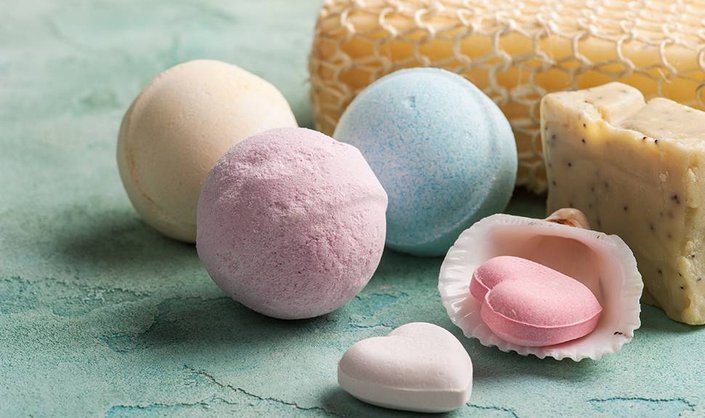 Baths are on the rise. Instead of rushing through a shower, it's en vogue to take a slower approach and soak in the tub. But we aren't talking about drawing up a basic bath with sudsy bubbles. Nowadays, it's all about creating a personalized bath time experience by tossing a bath bomb into the tub. One bath bomb and suddenly you have a colorful and fragrant bath. Of course, that begs the question of which bath bombs you should be using to upgrade your bathing. As you can expect with any intensifying trend, there are more than a few options to pick from. To make it a little easier to choose, we've rounded up our picks of the best bath bombs for making your bath, well…the bomb.
No matter how tempting it may be to start every day with a delicious donut, we know it's probably not the best choice. But there's a solution. While a doctor may frown upon consuming donuts on the daily, there's no harm in using a donut-like bath bomb. You can bathe in your breakfast, which is almost as fun as eating it—for none of the calories. Besides satisfying your sweet tooth, this vanilla and strawberry jam donut bath bomb will leave skin feeling soft and smooth.
If you recognize that the best part of a fortune cookie is the fortune—not the cookie—this is the bath bomb for you. Instead of a message tucked inside of a cookie, you get a relaxing bath bomb with a bonus message inside. Drop the lavender bomb into the water and watch as it fizzes and dissolves. With a little patience, it won't be long before you're left with a special message floating in the tub. 
We all have someone in our life who's nearly impossible to pick presents for, but we're pretty sure we've found a foolproof gift. Combine two things almost everyone loves—sweet treats and spa days—and give them this birthday cake-scented bath bomb. They'll be able to pop on a face mask and slip into the tub for an at-home spa day, all the while indulging in a "slice" of cake.   
Geodes and gemstones are no doubt beautiful, that's why they've become a home décor hit. If you aren't ready to redecorate, but still want to test out the trend, your bath can provide the perfect opportunity. Inspired by the look and feel of crystals, this sparkling geode bath bomb is meant to look like morganite. What's more, each bath bomb also promises to deliver a surprise—a cute ring—once it finishes fizzing.
Certain childhood experiences are universal, including using your imagination to spice up an otherwise boring bath. Every little girl has tried to make bathing more fun by pretending to be a mermaid, but it's not a game you have to abandon as you age. To play the grown-up version, toss this mermaid-inspired bath bomb, complete with sea foam green sea salt and mermaid scale glitter, into the tub and enjoy.
You've surely seen your fair share of round bath bombs, but those aren't your only option. If you're feeling romantic, you can opt for a heart-shaped bath bomb. Perfect for treating yourself, or a loved-one, the sweet shape of this bomb is paired with an equally sweet vanilla scent.  
We've seen the unicorn trend takeover everything from hair color to highlighters, so it should come as no surprise that the mythical creatures would be a part of bath time too. Shaped like a unicorn horn, this glittery bath bomb adds a touch of whimsy to any bath, while offering a moisturizing dose of coconut milk and coconut oil. 
Now, go ahead and draw yourself a bath.
Read more

Back to top