Does Stress Cause Acne? The Answer May Surprise You
March 09, 2018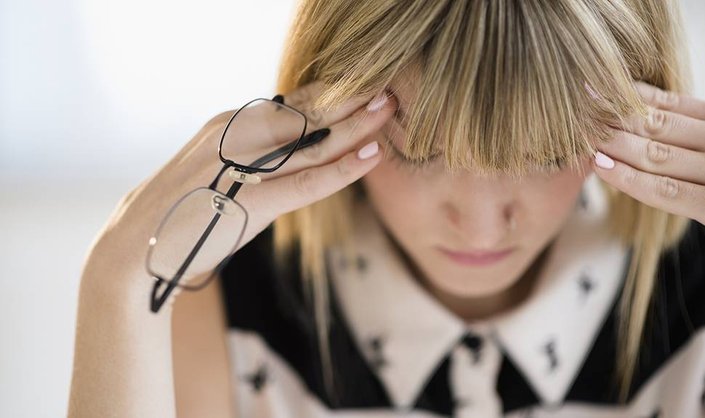 From busy schedules to hard-to-reach deadlines, we've all dealt with some form of stress in our lives at one point or another. As if finding ways to manage our stress wasn't already hard enough, we often have to tend to a sudden crop of pimples appearing on our complexion at the same time. Is it just a coincidence that our skin becomes laden in zits during times of immense stress, or could our stress actually be causing acne to erupt? To discover whether or not there's a correlation between stress and acne, we tapped board-certified dermatologist, and Skincare.com consultant, Dr. Joshua Zeichner.
HOW STRESS AFFECTS THE SKIN
Ever notice an uptick in pimples during finals week when you're feeling overwhelmed and cramming for your exams, or prior to a big presentation that's keeping you up at night? Your stress levels could be to blame. According to Dr. Zeichner, stress can definitely take a toll on the appearance of skin. "Stress can promote inflammation and lead to breakouts of a variety of different skin conditions including acne," he says. What's more, "stress can lead to an increase in hormone levels that cause oil glands to rev up production of pore-clogging sebum, which can cause breakouts." 
WHAT YOU CAN DO FOR STRESS PIMPLES
The good news is that there are ways to help reduce the appearance of stress-induced acne. "For stress related break-outs, which is often characterized by a surge in oil production, salicylic acid is a go-to ingredient for your skin," Dr. Zeichner says. "This beta-hydroxy acid helps exfoliate dead cells from the surface of the skin as well as remove excess oil, which can help prevent breakouts. Even if you are not using the ingredient regularly, you can switch out your cleanser for one that's formulated with salicylic acid during times of stress." Dr. Zeichner also recommends addressing your entire face during your skin care routine and not just your problem areas. "Rather than just treating pimples you have, prevent new ones from popping up to begin with," he says.  
Another option? Camouflage the look of stress-induced acne while targeting them at the same time with IT Cosmetics' Bye Bye Breakout Concealer. The full-coverage, treatment concealer—with skin-loving ingredients including witch hazel, kaolin clay, sulfur, tea tree, peptides and more—can calm and cover the look of blemishes, acne-related redness, and discoloration for complexion perfection in just one use. Best of all? The formula won't crease or crack, and you can build up on it until you reach your desired coverage! Our editor took Bye Bye Breakout for a test-drive and is sharing her full review, here! Click through to find out if Bye Bye Breakout lives up to its claims.
WHAT NOT TO DO FOR STRESS PIMPLES
The last thing you want to do when dealing with a breakout is make matters worse. For that reason, be sure to keep your hands off your face, and do not pick at your pimples. "Inevitably you will do it the wrong way leading to more harm than good," Dr. Zeichner says.
HOW TO HELP MANAGE YOUR STRESS LEVELS
One of the best things you can do for your skin is to help reduce or eliminate the stressors in your life. Easier said than done, right? Feelings of stress can often be difficult to let go of. We might not be able to control all parts of our lives that trigger stress, but we can still take a few self-care steps to ease the situation. The Mayo Clinic recommends pinpointing your stress triggers and coming up with solutions for dealing with them. If your stress keeps you up at night, try to stay away from your phone and TV screen for a couple of hours before you go to sleep. If you rarely make time for yourself, now's the time to start. Take advantage of downtime and focus on relaxation. A good place to start is easing your muscles with a massage, or pampering your skin with a face mask while taking a bath. If booking a massage is out of your budget, read up on how you can have an inexpensive spa day, here.
Above all, the ways in which you help manage your stress should be ongoing. Maintaining a healthy lifestyle and practicing ways to unwind can help counter some of the negative effects of stress before it takes a toll on your mind, body, and skin.
Read more

Back to top