How to Get Rid of Dry Skin Patches
February 18, 2021
Whether you experience dryness on specific areas of your face like around your nose or all over your body,  dry skin patches are anything but comfortable. Between the itchiness, flaking and peeling, it's easy to feel discouraged in finding a solution. We tapped Dr. Peter Schmid, board-certified plastic surgeon and SkinCeuticals ambassador for the 411 on dry skin patches, from what causes them to how you can help combat them once and for all.
What Are Dry Skin Patches?
"This condition may present as localized patches of dry skin on the face or body, as generalized skin redness with itching, flaking and peeling," says Dr. Schmid."Typically, the knees, elbows, lower legs and heels are most affected with dry, scaly skin and a build-up of dead skin cells." 


What Causes Dry Skin Patches?
There are many triggers that can cause dry skin patches, ranging from environmental factors to certain in-office procedures. "Arid living conditions, wind exposure, temperature extremes, UV radiation and frequent bathing can alter the protective outer skin sebum layer, resulting in peeling of the skin,"says Dr. Schmid.


What Can You Do to Help Avoid Dry Skin Patches?
Your morning, nighttime and in-shower routine can make a world of difference in how your skin retains its moisture. "Certain soaps, astringents and alcohol-based cleansers may reduce the skin's natural oil barrier and dehydrate the surface leading to an adverse drying effect on the skin," says Dr. Schmid. It's a good idea to decode product labels before diving into new formulas and avoid anything that may irritate your skin. 


What Is the Best Way to Combat Dry Skin Patches?
"My first recommendation is to avoid harsh soaps and detergents or products containing alcohol which can strip the skin's lipid layer (the barrier that keeps natural moisture in the skin)," Dr. Schmid says. "For the face, I recommend SkinCeuticals Gentle Cleanser or the brand's Soothing Cleanser followed by an exfoliating product such as the SkinCeuticals C + AHA, which contains vitamin C and an alpha-hydroxy-acid." Finish with a hydrating moisturizer or balm like the CeraVe Healing Ointment. And, as always, apply sunscreen during the daytime hours. Try the La Roche-Posay Anthelios Mineral Sunscreen which is formulated with hyaluronic acid.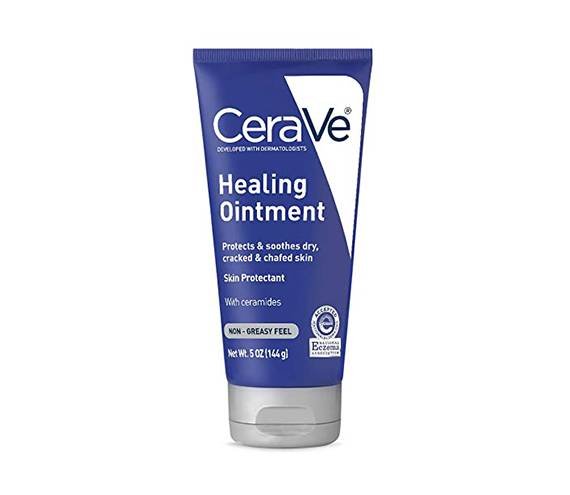 Photo: Chaunte Vaughn 
Read More: 
Why You Get Dry Skin in Your Ears — And What to Do About It
Does Dry Skin Cause Wrinkles? The Answer Might Surprise You
Dry Skin vs. Dehydrated Skin: What's the Difference?
Read more

Back to top