French Girl Skin Care: How We're Celebrating Bastille Day
July 13, 2018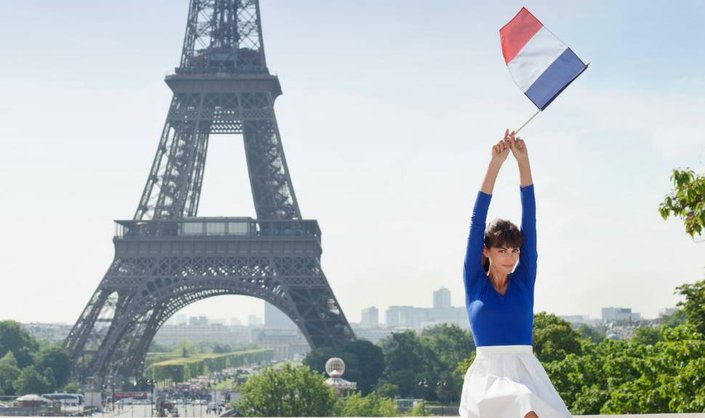 At Skincare.com we freely admit to our Francophile-status. From the food—rosé, all day!—to the fashion, we simply can't get enough. And while Bastille Day isn't exactly a holiday we revel in Stateside, with our self-proclaimed fascination with all things French, we can't help but want to celebrate…skin care style. Read on for the French beauty products we hold in the highest regard.
French women are known for their certain je ne sais quois. She is effortless, her skin is flawless, and, frankly, we'll take a heaping side of whatever she's having. Thankfully, the French approach to skin care—in sharp contrast to the 10-Step Korean beauty routine—is minimalistic. Why take 10 steps if you can achieve a gorgeous—glow from the inside, out—complexion in half the time? What we're even more grateful for is the fact that French girls' cult-favorites—here, here micellar water!—have caught on in the States, and many are available at a drugstore or department store near you.
STEP 1: CLEANSE YOUR SKIN
Cleansing in a French beauty routine is key, but the water in France is notoriously known for being on the alkaline side—we share a deep dive on how hard water can affect your skin, here. Enter: micellar water. An innovative liquid that uses micelle molecules to attract, trap, and wipe away makeup, dirt, and other impurities from the skin's surface, without ever needing to turn on the tap! One of our favorite micellar waters is from a brand with deep French roots: Vichy. The Pureté Thermale 3-in-1 Micellar Water not only acts as a gently cleansing micellar water, but can also be used as a soothing toner and an eye makeup remover. This triple-action formula will leave your skin perfectly cleansed while leaving your skin feeling soothed and calm.
STEP 2: TONE YOUR SKIN
Next up, reach for a toner—but first, forget everything you think you know about these liquids. While popular belief may have you thinking that a toner is attune to an astringent, this couldn't be farther from the truth. A toner, is in fact, quite moisturizing for the skin and helps to remove any leftover impurities your micellar cleanser may have left behind while leaving your skin feeling soft and hydrated. We love the beloved French brand Vichy for all of our toning needs. Its alcohol-free Pureté Thermale Toner is formulated with the brand's exclusive mineralizing water from the French volcanoes and glycerin, to leave skin refreshed, fortified, and hydrated—sans sticky finish.
STEP 3: APPLY SERUM
No matter what type of skin care routine you follow, you're going to want to use a serum. While you can find formulas that address wrinkles and fine lines, if we're following a French skin care routine we're going to want to double-down on hydration. We love Vichy's Aqualia Thermal Dynamic Hydration Power Serum which offers lightweight, long-lasting moisture. 
If you're in need of a powerful hydration boost from your serum, then look no further than the Vichy LiftActiv Vitamin C Serum. This serum fuses pure vitamin C and hyaluronic acid and can give your skin a plumped, firmer-looking texture. It's the perfect addition to a moisturizing skin care routine.
STEP 4: MOISTURIZE YOUR SKIN
What good is a hydrating toner and serum if you don't take the time to seal in that moisture? Day and night we like to reach for Vichy's top-rated liquid moisturizer, Minéral 89. This fortifying and plumping daily booster combines 15 minerals with hyaluronic acid and can fortify your skin as it strengthens it from aggressors. The results: a vibrant, radiant glow to your skin that's prepped and ready for makeup application.
STEP 5: PROTECT YOUR SKIN
Whether you're spending hours basking in the sun, or you're just planning to take a short walk into the office from your car, you can't skip an application of Broad Spectrum SPF. From an early age French women are taught the importance of wearing Broad Spectrum SPF to protect their skin from the early signs of skin aging. To get the protection you need—rain or shine—reach for the Vichy Capital Soleil SPF 60 Sunscreen. This ultra light, sheer sunscreen lotion can keep your skin protected from UVA/UVB rays and harmful radical damage.
But wait—there's more! This Bastille Day we're celebrating with great sales. Vichy is offering customers 30% off all products starting July 13 when you use the code "Bastille18" at checkout. If that's not enough incentive to snag these must-haves ASAP, we don't know what is!
Read more

Back to top