Go for the Glow: The Facial Oil Your Skin Needs This Spring
March 29, 2017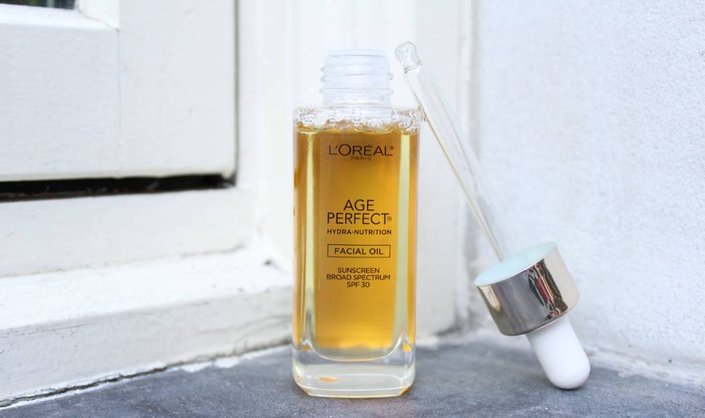 Because of the lack of moisture in the air during the winter months—plus the excessive time spent in artificially heated environments—chilly temps do a number on our skin, often causing a dull skin tone and dryness. Now that those harsh, cold temperatures are long-gone, it's time to get to work on renewing our skin's healthy glow. Our favorite way to go for the glow? Using this nourishing drugstore facial oil from L'Oréal Paris.
A Hydrating Blend
Featuring a blend of eight essential oils—plus a broad spectrum SPF 30—L'Oréal Paris' Age Perfect Hydra-Nutrition Facial Oil is the TLC that dry, lackluster skin needs. The lightweight, nourishing oil not only helps you achieve that facial glow you're after, it also helps to give your skin the hydration it needs after winter. These moisturizing effects also make the facial oil ideal for mature skin, which can become more dry and less radiant over time.
A Spa-Like Experience
The blend of eight essential oils gives the product a spa-like aroma, so it's only natural there's a spa-like ritual for application. Each morning, take 4-5 drops into your hands and massage the oil onto your skin with your fingers. Start at your nose and sweep your fingers towards your ears and outer eye area, then gently massage the skin from your eyebrows to your hairline in an upward motion, finally smooth the oil from your neck to your jawline and finish with your upper chest. 
Hydration Plus Protection
One of the things we love most about this hydrating drugstore facial oil is that in addition to its moisturizing blend of essential oils it is formulated with broad-spectrum SPF 30, so it helps to offer our skin the protection it needs against the harsh—and skin aging—effects of UV rays. While we spend a lot of time indoors during the winter months, once things warm up many of us shed those cold weather layers and head outside to bask in the sunshine—making now the time to get (even more) serious about daily sunscreen application and re-application. To refresh yourself all things SPF read this!
Read more

Back to top