Dry, Uncomfortable Heels? These Products Can Help
December 28, 2017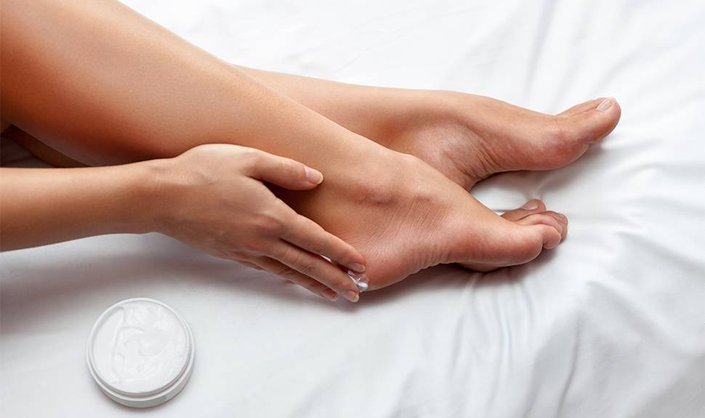 Once winter hits, we're never caught without hand cream. There's a tube in every purse and on every desk. When you're looking at your hands all day—whether that's typing on a computer or handling things around your house—it's easy to be reminded when they are in need of a little extra pampering. Feet, on the other hand, are a totally different story. Most of the time, you aren't getting a good look at the bottoms of your feet—that is, until your heels are suddenly so dry it's completely uncomfortable.
The solution? Stow a hydrating foot cream by your bedside for late night repairing. We've rounded up three of the best products—from the L'Oreal portfolio of brands—for taking care of dry and uncomfortable feet, and we're sharing them right here.
Carol's Daughter Lavender Mint Foot Cream
When it comes to body products, scent isn't all that matters, but it's certainly something. After all, you wouldn't want to coat your feet in a fragrance that's less than pleasant. Formulated with peppermint oil and lavender, the delightful scent is just one of the reasons we're fans of the Carol's Daughter Lavender Mint Foot Cream. The addition of lavender to the formula has us feeling instantly relaxed as if mid-spa day, while the scent of peppermint is quick to put us in the holiday spirit. Beyond the aroma, the invigorating foot cream hydrates and helps to soothe tired feet, toes and heels, making it perfect for use after a long day on your feet.
Carol's Daughter Lavender Mint Foot Cream, $12 MSRP
CeraVe Renewing SA Foot Cream
Salicylic acid isn't only for your face. You may be familiar with seeing the ingredient in the formulas of your favorite spot treatments, but did you know salicylic acid can also be used to treat your feet? Sometimes your feet need more than moisture, and that's when you may want to look for a cream that lists salicylic acid in its ingredients. The CeraVe Renewing SA Foot Cream fits the bill, boasting salicylic acid, along with ammonium lactate and ceramides. Meant for extremely dry, rough, and cracked skin, the cream helps to exfoliate, soften, and smooth skin—without irritating.
Editor's tip: You may not realize, but your feet need a skin care routine all their own. For the best results, CeraVe suggests cleansing with a hydrating cleanser before applying the foot cream.
CeraVe Renewing SA Foot Cream, $8.18 MSRP
Kiehl's Intensive Treatment and Moisturizer for Dry or Callused Areas
If you're looking to really make the most of your foot-focused product, opt for one that can lend a helping hand to not just your feet but dry elbows, knees, and other parched patches of skin as well. That way you won't need to tote around separate creams for your elbows and feet. The Kiehl's Intensive Treatment and Moisturizer for Dry or Callused Areas is an extremely thick, emollient treatment for very dry or callused areas—including but not limited to your feet—that require intense moisturization. Enriched with avocado oil and shea butter, the special formulation helps to soften and soothe dry, cracked or parched skin. For an extra boost of hydration, you can apply the treatment to your feet before slipping on a pair of socks and catching some Zzz's. The same goes for your hands and a pair of cotton gloves.
Kiehl's Intensive Treatment and Moisturizer for Dry or Callused Areas, $26 MSRP
Read more

Back to top