The Kiehl's Midnight Recovery Botanical Cleansing Oil Made Me an Oil Cleanser Convert
March 19, 2020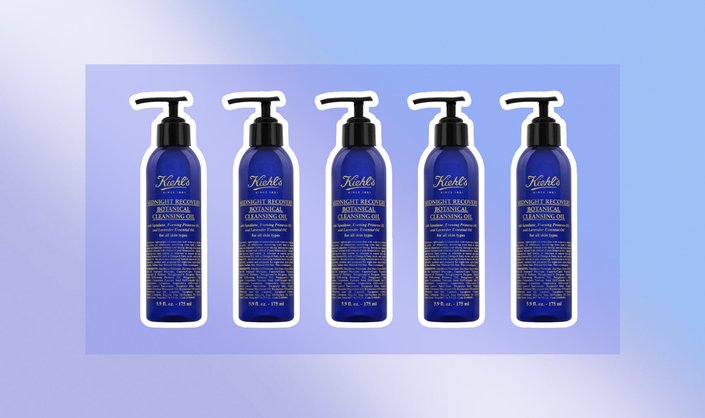 It's no secret that cleansing oils have taken the beauty world by storm. I keep hearing about people who are slathering their skin in all kinds of oils like argan, camellia and grapeseed and are reporting more radiant-looking, softer skin as a result. Admittedly, as someone with a pretty clear complexion and combination skin, I've been skeptical about introducing products with "oil" in their name into my routine for fear of breaking out. But after consulting board-certified dermatologist, and Skincare.com consultant, Dr. Dhaval Bhanusali on the cleansing oil trend, I decided to bite the bullet. Lucky for me, Kiehl's sent over a sample of the Midnight Recovery Botanical Cleansing Oil to try and review. Will it remove my stubborn makeup and be kind to my combination skin? Spoiler alert: Yes and yes. 
 
Kiehl's Midnight Recovery Botanical Cleansing Oil Review
First, I dispensed three to four pumps of the oil into my hands and massaged the formula onto my dry skin, including the eye area. Then, I added water and massaged my skin to emulsify the oil into a gentle cleansing milk. The first thing I noticed when I started my review was how lightweight this oil felt. The slippery elixir is enriched with an aromatic blend of pure botanical oils, including evening primrose, lavender essential oil and squalane, which is a plant-derived lipid that is known to help keep the skin soft, supple and moisturized.  Together, these oils are formulated to leave the skin feeling clean, replenished and smelling fresh. After just one use, I noticed that my makeup was fully dissolved from my skin without any black smears or slick residue left behind. My skin was incredibly soft, supple and hydrated as well. If you're looking for a cleanser that'll lift away impurities and dirt while respecting and nourishing your skin barrier, I highly recommend this.


Read More: 
Real Talk: Do Pores Open With Warm Water?
The Best Kiehl's Moisturizers for Your Skin Type
I Tried the Kiehl's Creamy Eye Treatment to Help With My Dry Under Eyes and It Worked!
Read more

Back to top