Editor's Pick: NYX Professional Makeup All Over Balm Review
December 19, 2016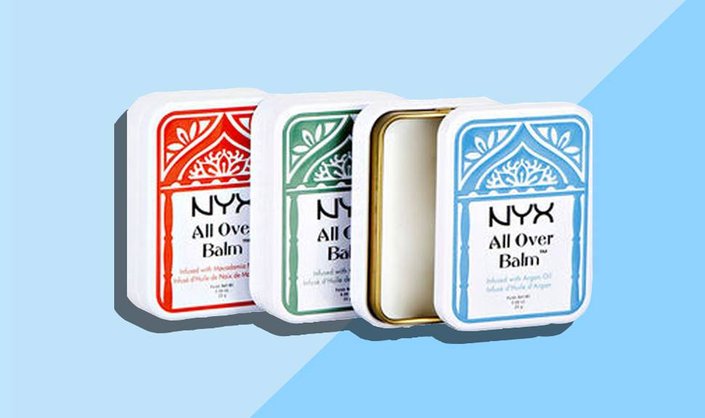 There's no time like the present to combat seasonal dry skin with skin hydrating balms, like NYX Professional Makeup's All Over Balm! Ahead, we share why one beauty editor can't get enough of these nourishing body balms, plus the many different ways you can use body balms in your beauty routine.
As a self-proclaimed lip balm addict, I find it merely impossible to stay away from any kind of skin hydrating balm—especially in the fall and winter months when my skin feels extra dehydrated. So, when NYX Professional Makeup sent us a few complimentary samples of their All Over Balms to try and review, you bet I called first dibs on these ultra-hydrating multi-purpose balms. Spoiler alert: They did not disappoint.
The best part about these balms is that you can choose between three different scents—coconut oil, argan oil, and macadamia nut oil. I decided to use each balm in a different way to prove just how multi-purpose these travel-friendly balms are!
Coconut Oil
While all three All Over Balm scents would be an excellent addition to any fall beauty arsenal, the All Over Balm from NYX Professional Makeup infused with Coconut Oil is my personal favorite— what can I say? I'm a coconut kind of gal. When testing it out, I used the Coconut Oil All Over Balm as a makeshift cuticle cream to moisturize and nourish my drab-looking cuticles in between manicure appointments and even applied a little to the tops of my hands before bed each night.
Argan Oil
The All Over Balm infused with argan oil is perfect for busy girls who want to the benefits of this balm on the go! When taking this skin balm out for a test drive, I used it to tame any flyaways—this comes in handy when you're trying to rock a sleek ponytail on a windy day—applied it to my eyelids for a glossy, runway-inspired makeup look and dabbed a little over my favorite lipstick to give my pout some extra shine. In addition to these beauty hacks, you could also use it to tame your eyebrows and highlight your cheekbones, too! 
Macadamia Nut Oil
Last but certainly not least is the All Over Balm infused with macadamia nut oil. Because my hands and feet tend to feel extra parched in the fall and winter months, I decided to use this All Over Balm to deep condition my hands and feet. To do so, I simply applied a liberal amount of the balm on both my hands and feet, wrapped them in plastic wrap, and covered them in fuzzy socks. I then sat on the couch and binge watched TV for a couple of hours before removing the socks and plastic wrap. The results? Silky smooth feeling, hydrated palms and soles! If you prefer to do this hydrating trick overnight, go right ahead! Just be sure to use gloves on your hands (instead of socks) to ensure that everything remains in place while you snooze. 
Final thoughts: Even though I did choose a favorite, I believe that all three All Over Balms can be used interchangeably for many of your dry skin needs—it really just depends on what scent you prefer!
Read more

Back to top