Career Diaries: How Glowbar Founder Rachel Liverman Adapted Her Business in Response to COVID-19
June 17, 2020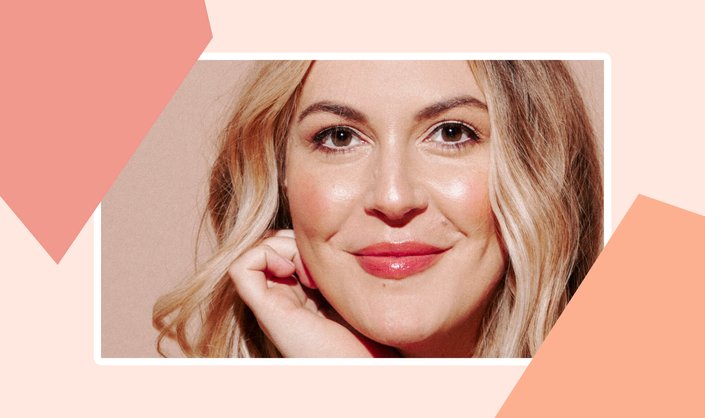 Last year, I had one of the best facials of my life, and it was only 30 minutes long. It was at Glowbar, a skin-care destination that opened in 2019 in New York City. The spa offers efficient yet effective treatments that are performed by seasoned estheticians. The best part? The treatments are affordable. Glowbar's mission is to help people take care of their skin on a more consistent level, and in my opinion, the company is succeeding. I recently checked in with Glowbar founder Rachel Liverman to find out more about how Glowbar was born, how she's pivoted the business after being forced to close due to the COVID-19 pandemic, plus some of her skin secrets. 
Tell me a little bit about your background in relation to the beauty world — I know it's a family business of sorts.
Beauty has always been in my blood! It started with my grandmother, Catherine Hinds, who founded the first accredited esthetics school in the U.S. called the Catherine Hinds Institute of Esthetics in the '70s. She traveled overseas regularly and recognized how behind the US consumer was in taking care of their skin, both at home and in a salon/spa setting. So, like a true girl boss, she decided to take it into her own hands. 
In 1988, my mom took over the institute and was focused on modernizing the curriculum by implementing cutting-edge treatments, technologies and advanced equipment. At that time, there were no tech treatments available such as peels or LED, which are common treatments today. 
Prior to Glowbar, I worked in the beauty industry for ten years at companies such as Birchbox and Beautyblender, both of which taught me so much about starting Glowbar.
I tell everyone that my grandmother pioneered skin care, my mom advanced it, and I'm re-inventing it. 
What's your skin-care routine? Has it changed at all since social distancing began? 
My skin-care routine consists of five easy steps: cleanse, tone, treat, moisturize and SPF (during the day). The irony is that I changed my routine very temporarily when quarantine started, and by changed, I mean I was skipping my morning wash — a big mistake and one that we are noticing with so many of our clients. I am now back to my normal skin-care routine, and my skin is noticeably more clear and glowy. 
Considering that I can't get my regular Glowbar treatments, I've been continuing to follow the five steps, in addition to doing a mask once a week, which helps exfoliate and keep my skin hydrated. Here are some of my go-to products, which are all available for purchase through Glowbar by emailing [email protected]. We're shipping products out every day.
iS Clinical Cleansing Complex: I love this cleanser because it's a 3-in-1 makeup remover, cleanser and toner. It saves me so much time, which is what I'm all about.
Environ Botanical Infused Moisturizing Toner: Toner at the end of the day is so vital to make sure you really cleansed your skin and removed any excess residue and tightens your pores.
Environ Vita-Peptide C-Quence Serum 4: This is the Rolls-Royce of retinol if you ask me. This is where I get a highly effective dosage of vitamin A to help ward off aging and breakouts. 
Environ Antioxidant Defense Creme: I use this as my moisturizer as it's chock-full of antioxidants to help combat free radicals and hydrates all at the same time.
How did you conceive Glowbar?
A few years ago, I realized that I wasn't taking proper care of my skin and seeing an esthetician as often as I knew I should, which is crazy given my background and that I am a trained esthetician. I knew that if I was facing this concern, the average consumer was, too. For me, it boiled down to two main things: time (facials are lengthy) and money (they're also expensive), and I knew that there could be and should be a more efficient and effective option for the consumer to help them take better care of their skin, consistently. 
How have you pivoted the business in response to COVID-19? 
While our Tribeca studio in New York City is temporarily closed, we still wanted to be there for our clients, and anyone else who wanted guidance. Immediately, we began virtual skin consultations with our estheticians, and launched Skindex, a digital index for all things skin care. It's definitely not the same as an in-person treatment, but we can help advise on skin-care solutions and routines, which is so important, especially now.
We also know that people still need products during this time, and we're fulfilling and shipping product orders every day, so you can keep glowing, whether you're in NYC or elsewhere. We've been doing complimentary skin consultations via FaceTime for new and existing clients.  
When you do reopen, how will the Glowbar experience change?
Inherently, esthetics has an extreme focus on sanitation and safety, which is woven into our existing practices at Glowbar. For example, all our estheticians wore face masks and gloves prior to the pandemic, and after checking in, our guests go to a washing station where they wash their hands and face in advance of the treatment. Additionally, Glowbar operates in physical spaces with a smaller footprint — we have no more than four treatment rooms and ten people in the studio at a given time. This better positions us when we are allowed to open.
Finally, what advice do you have for aspiring beauty entrepreneurs as the industry adapts to a post-COVID world? 
The beauty industry is constantly changing, and now so is the world. I think it's so important for a beauty entrepreneur to be resilient and adaptable. If that isn't who you are, be honest with yourself. If it is, charge ahead and you can handle anything.
Read More:
Why Skin Care Is Stress Relief, According to skyn ICELAND Founder Sarah Kugelman
Career Diaries: Meet Tina Hedges, Founder of LOLI Beauty, A Zero-Waste Skin-Care Brand
SOS! Why Did I Break Out After My Facial?
Read more

Back to top