The Ultimate Skin-Cleansing Regimen
November 29, 2017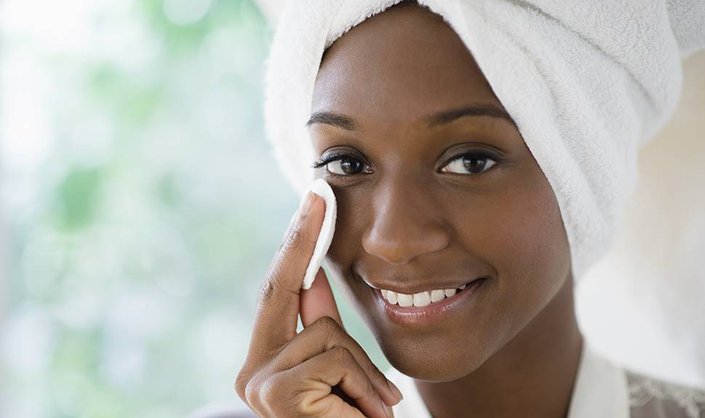 Looking to revamp your beauty regimen with products that cleanse your skin thoroughly? With the help of a few game-changing L'Oréal Paris products, we've created a foolproof guide to the ultimate skin-cleansing routine. Ahead, find the products you need to add to your arsenal, stat.
REMOVE IMPURITIES AND MAKEUP WITH MICELLAR WATER

 
By now you know we're big fans of micellar water—and for good reason. The gentle cleansing liquid, powered by tiny micelles, often works double or triple-duty to kick impurities to the curb, refresh, and tone the skin without stripping it dry. What's more, most micellar waters don't require follow up rinsing, meaning you don't have to be in close proximity to a sink to cleanse your skin. We store ours in our purses, gym bags, on our nightstands, and on our desks for convenient and quick cleansing virtually anywhere. Ahead, we share three L'Oréal Micellar Cleansing Waters that are formulated with your specific skin type in mind.
For normal to oily skin: If you're prone to breakouts and struggle with excess shine on your skin's surface, turn your attention to the L'Oreal Paris Micellar Cleansing Water Complete Cleanser — Normal to Oily Skin. This oil-, soap-, and alcohol-free micellar water removes makeup, dirt, and excess oil in one step, and leaves the skin looking purified and mattified.
For normal to dry skin: If excess oil isn't one of your skin care concerns, but dry skin is, reach for the L'Oreal Paris Micellar Cleansing Water Complete Cleanser — Normal to Dry Skin. This formula removes makeup and cleanses dirt and impurities off the skin's surface, while hydrating and soothing the skin.
For all skin types: If removing waterproof mascara is a chore for you, take the last micellar water of the trio—L'Oreal Paris Micellar Cleansing Water Complete Cleanser Waterproof — All Skin Types—for a spin. Suitable for all skin types, even sensitive, this makeup remover can show waterproof mascara who's boss without harsh rubbing or rinsing. Use it on your face, eyes, and lips.
REACH FOR GENTLE CLEANSERS

 
If you prefer to wash your face with a traditional cleanser that rinses off in the sink, you'll want to make sure the formula is gentle and non-drying, and will effectively remove makeup and impurities. Our pick? L'Oréal Paris' Age Perfect Nourishing Cream Cleanser. This daily cream cleanser with replenishing oils cleanses the skin without over-drying for softer, smoother, and more supple-looking skin. Upon use, the skin is perfectly cleansed and feels soft, smooth, and comfortable.
EXFOLIATE WITH A SUGAR SCRUB

 
A few times per week, swap in an exfoliating product to help slough away dead skin cells that can be piling up on your skin's surface and dulling its natural glow. Good news: L'Oreal Paris recently unveiled a new facial sugar scrub dubbed Pure-Sugar Purify & Unclog that's formulated with three pure sugars and—wait for it—kiwi seeds. Using dry fingers, smooth a small amount onto clean, dry skin, avoiding the eye area. Massage it over your face with wet fingers and rinse with warm water. After you finish scrubbing, you'll notice that dead skin cells are gently polished away and skin feels baby-soft. For best results, use it three times a week. 
Editor's note: You can also use this scrub to smooth and refine your lips, too.
MULTI-MASK
If you have multiple skin concerns, multi-masking is an efficient way to tackle problem areas. Maybe you have large pores and oil around your T-zone, fine lines peeking on your forehead, and dryness on your cheeks. With L'Oréal Paris' Pure Clay Mask range, you won't have to break the bank to target each area. Each of the Pure-Clay masks features a combination of clay plus its own unique ingredient formulated for specific skin needs:
Pure-Clay Purify & Mattify Mask: Use this mattifying mask on areas that show excess shine. Formulated with clay and eucalyptus, this mask helps draw out build-up of impurities, dirt, and oils, refreshing the skin and allowing it to breathe.
Pure-Clay Detox & Brighten Mask: To illuminate dull, tired-looking skin, reach for this charcoal-infused mask. After one use, you'll notice your skin looks revitalized with a fresh glow. 
Pure-Clay Exfoliate & Refine Mask:  Exfoliate areas of rough, congested skin with the Pure-Clay Exfoliate & Refine Mask. This orange-toned mask—with red algae—helps polish the skin, minimize the look of pores, and smooth the complexion.
Pure-Clay Mask Clear & Comfort Mask: This blue-hued mask is enhanced with seaweed and helps to visibly reduce the appearance of imperfections, clear the look of congested pores, and cleanse stressed areas. After just one use, you'll be left with a complexion that appears more even and decongested.
Pure-Clay Clarify & Smooth Mask: And last, but certainly not least, meet the newest addition to the Pure-Clay family. This mask helps shed rough, dead skin cells, draw out impurities and gives the skin a healthier, more beautiful appearance over time. 
Read more

Back to top