The Beauty Essentials No Commuter Should Be Without
August 31, 2016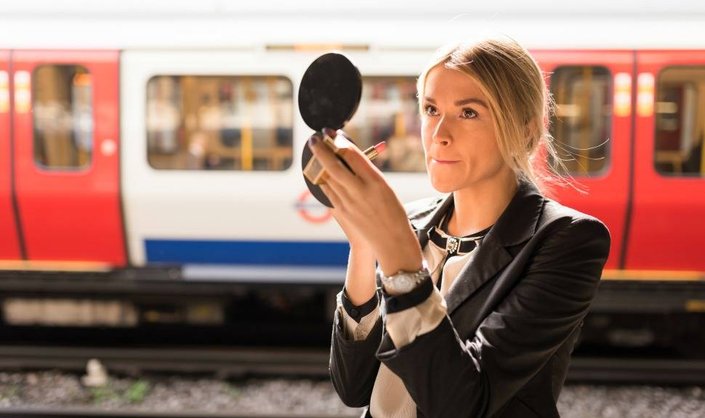 If we had a dollar for every time our early morning public transit commute made us feel some type of way, we'd be millionaires by now. Heck, even 25 cents would suffice. Train delays, over-packed subway cars, large crowds, traffic…not to mention, fellow commuters sandwiched between your stomach and your back. Let's face it: All of it can really test your patience (and your claustrophobia!) day in and day out. That said, there is a perk to traveling to work via train, bus, or subway that can make all the pain and strife worth it. You see, what public transport commuters have that non-commuters don't is extra time in the transit period to beautify. In fact, with so many convenient and compact items out there small enough to fit snuggly in your purse, it's never been easier to treat your skin on the move. Hey, if you have no choice but to endure the inevitable struggles of a daily commute, you might as well look pretty while…right?
A COMPACT CONCEALER
If you're a commuter (morning person, you don't count), chances are you're begrudgingly waking up a bit earlier to stay on schedule. And if you didn't sleep much the night before, dark under-eye circles may be what you're faced with come morning. But don't fret! Stash a trusty, natural-coverage concealer in your bag to mask what nobody needs to see. We're fans of Maybelline Super Stay Better Skin Concealer + Corrector because it's formulated with ACTYL C—an ingredient known for its antioxidant benefits—and helps to conceal dark circles, spots, and imperfections and correct them at the same time.
AN SPF-PACKED HAND CREAM
This one's a biggie, especially if you reach for the window seat during your commute where the sun's harmful UV rays can penetrate and damage your paws. Lancôme Absolue Hand helps lessen the look of age spots, while providing replenishing moisture and SPF 15 protection. Plus, it absorbs quickly so you can continue to scroll through your phone or apply more goodies to your skin without a lingering greasy feel.
A NOURISHING LIP BALM
Applying lip balm is so easy we could do it in our sleep. Packed train? No problem. Whip out a hydrating lip balm—The Body Shop Vitamin E Lip Care Stick SPF 15 has SPF benefits, and you already know how we feel about that—and coat a few layers on your pout. Follow up with your favorite lipstick or stain. If you want some 2-in-1 action, use Yves Saint Laurent Beauté Rouge Volupté as it offers SPF 15 in nine to-die-for shades.
A REFRESHING FACE MIST 
No doubt a long commute can suck the life right out of you (and your skin). When you're starting to slump into your chair, spritz yourself with Vichy Thermal Spa Water 50G to perk right up. It feels really refreshing and gives skin a much-needed boost at any hour of the day.  
OIL-SUCKING BLOTTING PAPERS 
If your face is prone to an oily T-zone, pack no-frills blotting papers to whisk away grease without ruining your makeup. NYX Professional Makeup Blotting Papers are available in four types, each designed to absorb excess oil and leave skin looking matte and fabulous. They're also only $6 for about 100 sheets—can you say major bargain!?
P.S.—Don't forget a mirror! 
Read more

Back to top