Facial Serum For Men: Should You Be Using It?
August 20, 2018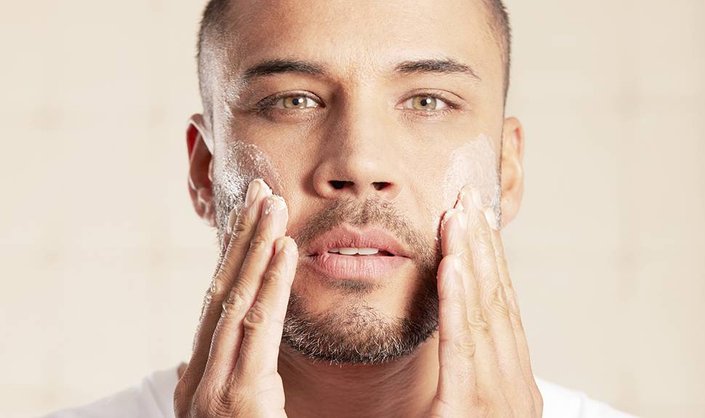 The men's grooming, and skin care industries have reached a revolutionary point. If you've browsed through any personal care aisle in the past few years, then we're sure you've noticed that the choices are no longer exclusive to basic 2-in-1 dandruff shampoos and no-frills moisturizers. With all the new launches and formula revamps going on regularly, are you up to speed on it all? In other words, are you utilizing all of the right skin care products to meet your goals?
Let's start with facial serums for men. Are you using one? If the answer is no, we urge you to reconsider. Serums are highly-concentrated formulas that can act on multiple concerns, be it dryness or signs of aging. When paired with the essentials of a routine (cleanser, moisturizer, and sunscreen), serums can deliver a noticeable improvement in the look and feel of your skin. So, fellas, to answer the question of whether or not you should be using a facial serum, the answer is a resounding yes. 
What Is a Facial Serum?
How can you feel motivated to use a product if you don't know what it is and what it can do for your skin? That's why we're clearing the air on what a facial serum is. Think of a serum like the vitamins you add to your morning smoothie, or the wheatgrass shot you take before enjoying a cold-pressed green juice. A serum is a highly concentrated add-on, which encourages and boosts your other skin care products. It's often applied onto the skin after cleansing but before moisturizing. Most serums are formulated to target specific concerns like dry skin or fine lines and wrinkles. Because of their concentrated formulas, serums can often be expensive but if it's results you're searching for, this isn't a step you're going to want to skip. 
Facial Serum for Men: What Are the Benefits?
Arash Akhavan, MD, FAAD, and founder of Dermatology & Laser Group admits that serums are not an absolutely necessary step for men or women. As we mentioned, the non-negotiable skin care products in a routine are often said to be cleanser, moisturizer, and broad-spectrum sunscreen. That said, many people like to incorporate additional products, whether it be a serum or essence, to help take things to the next level. Dr. Akhavan tells us that while serums are not a must, they are a great way to introduce valuable ingredients into a daily skin care routine and are typically very well absorbed. He continued, "Some serums are also very hydrating for the skin, producing immediate skin benefits."
Our Favorite Facial Serums for Men
Now that you've discovered what exactly a facial serum is and determined that you should incorporate it into your routine, we've gathered our picks of the best facial serums for men from the L'Oréal portfolio of brands for you to try out for yourself.
Kiehl's Age Defender Power Serum
For an anti-aging serum, look to this anti-wrinkle treatment for men. It boasts Cypress Extract and can help visibly firm sagging skin and reduce the appearance of wrinkles. The result? More youthful and resilient-looking skin.
Kiehl's Age Defender Power Serum, $50 MSRP
SkinCeuticals Serum 20 AOX+
This daytime antioxidant serum is formulated with vitamin C, an antioxidant which has been proven to help neutralize damage from UV-induced free radicals. Ferulic acid also makes a cameo, only furthering this serum's antioxidant appeal.
SkinCeuticals Serum 20 AOX+ $121 MSRP
Biotherm Homme Micro-Peel Serum
This micro-peel serum boasts a mixture of sea minerals and fruit acids and delivers a gentle peeling action. It helps to reduce the appearance of pores, smooth rough patches, and diminish excess shine. As for the texture, this serum is an ultra-fresh gel concentrate that's easy to use and light to the touch.
Biotherm Homme Micro-Peel Serum, $48 MSRP
Read more

Back to top