A Simple Korean Skincare Routine for Men
November 12, 2021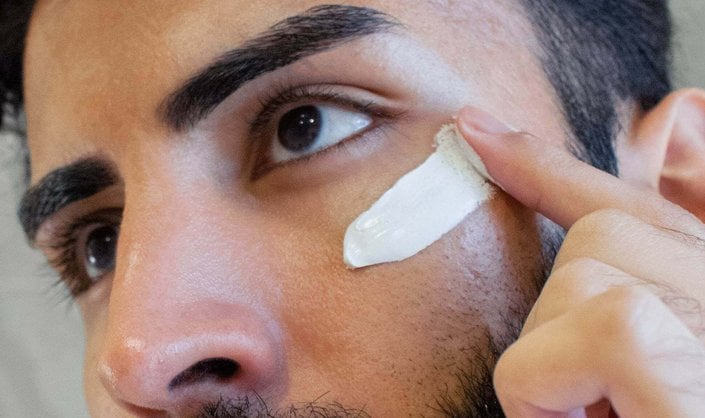 Step 1: Cleanse

In K-beauty, it's common to use a cleansing stick as your face wash. They're multifaceted and can target several skincare concerns at once. One we love? The Neogen Real Fresh Green Tea Cleansing Stick. Created by Cho, this all-in-one cleanser is formulated with natural green tea to gently clean skin and reveal a brighter and clearer complexion.

Step 2: Exfoliate

Cho suggests incorporating a facial exfoliator into your routine to help slough away dead skin and other impurities that are sitting on top of your skin. We like the Kiehl's Facial Fuel Energizing Scrub, which alleviates roughness and softens the skin. Use this exfoliator two to three times a week or before shaving.
Step 3: Toner

According to Cho, toners are a key part of any skincare routine. Not only do they have hydrating properties, but they can also assist in rebalancing the skin's pH level, soothing the skin and refining pores. One of our favorites is the Thayers Cucumber Facial Toner. The formula, which contains cucumber extract, aloe vera and witch hazel, works to hydrate, balance oil production, brighten skin and minimize the look of pores.

Step 4: Moisturize

Using a great moisturizer morning and night is key to any skincare routine. Cho says that moisturizers are extremely important because they assist in strengthening the skin barrier and help lock in hydration. Try the Ghost Democracy Clean Lightweight Daily Face Moisturizer for an option that's lightweight, fast-absorbing and safe for sensitive or freshly-shaved skin.
Step 5: Apply Sunscreen

The final step? Make sure to apply sunscreen every morning, no matter the weather. Using SPF will protect your skin from the sun's UV rays and prevent premature signs of aging. "Sunscreen is the best anti-aging cream on the market," says Cho. For a lightweight option, we suggest the CeraVe Hydrating Sunscreen Face Lotion. It has broad-spectrum SPF 30 and is suitable for all skin types.
Read more

Back to top