10 Easy-to-Follow Skin Care Tips for Men
August 21, 2018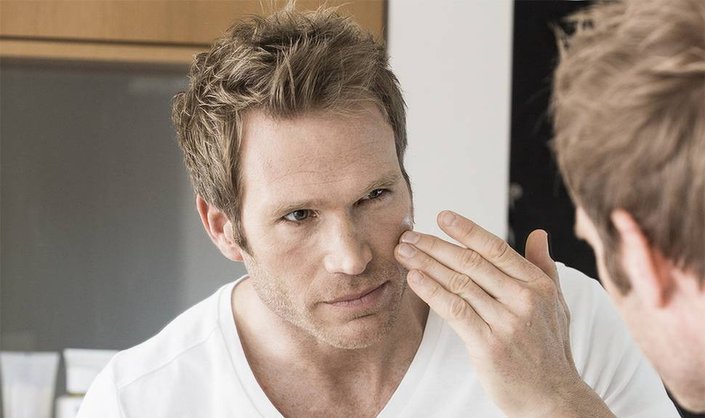 Here's how the story goes. Women are traditionally more likely to spend a good chunk of time perfecting the appearance of their complexions. Some will obsess over a small blemish or dark spot, and others will scroll through countless articles teaching them how to cover up pesky dark circles. Of course, there are exceptions to every story, but the moral of this one is: Many men prefer simple over complicated when it comes to skin care. With this in mind, we sought out basic good-skin tips that men can easily follow. Ahead, 10 dermatologist-recommended skin care tips for men.
TIP #1: WASH YOUR FACE DAILY…ESPECIALLY AFTER A WORKOUT
Fellas, ditch the bar soap. Regular bar soap often can contain harsh ingredients that can dry out your skin. Instead, wash your face daily with a mild cleanser designed for facial cleansing. Board-certified dermatologist, founder of Dermatology & Laser Group, and Skincare.com consultant Dr. Arash Akhavan suggests cleansing twice a day. Always rinse with lukewarm water (not hot!) and pat—don't rub—dry with a washcloth. After a workout, hop into the shower to rinse off any sweat and bacteria lingering on your skin. If you can't make it to the shower right away, give your face a quick wipe-down with cleansing wipes stored in your gym bag. This small step can help keep post-workout acne causing bacteria at bay. 
TIP #2: CONSIDER PRODUCT LABELS AND INGREDIENTS
Yes, it's easier to pick up any cleanser or moisturizer off the drugstore rack without taking a second glance. However, it's not a smart move. Skin care products should always be suited for your specific skin type, so they can work the most effectively for you. If you have acne-prone skin, scan the label for words like "non-comedogenic" so you can rest assured that it won't clog your pores. For sensitive skin, steer clear of formulas with potential irritants, like astringents or fragrance.
Oily skin types should reach for products that are oil-free and dry with a matte-looking finish. And lastly, dry skin types should look for hydrating ingredients, like hyaluronic acid and ceramides.
TIP #3: BE GENTLE WHILE SHAVING
Are you prone to razor bumps, razor burn, and/or ingrown hairs? It might be time to switch out your blade and change up your technique. For some men, multi-blade razors are too harsh. Try a single- or double-blade razor and make certain not to stretch your skin while shaving. Prior to the act, wet your skin and hair to soften it up a bit. Lather shaving cream and shave in the direction of hair growth. Rinse with each swipe of the razor and immediately toss out any blade that has become dull (after about five to seven shaves) to reduce the risk of irritation. Follow up with after-shave gel or balm to soothe and hydrate the area.
TIP #4: NEVER FORGET MOISTURIZER
A common misconception is that only dry skin needs additional moisture. All skin needs moisture—even oily! Not only can moisturizer hydrate your skin, it can also help reduce the appearance of fine lines and reveal younger-looking skin. After cleansing, showering, or shaving, apply moisturizer to your face and body while your skin is still damp. 
TIP #5: SELF-CHECK YOUR SKIN
Unfortunately, no one is safe from skin cancer. But, when caught early, skin cancer can be treatable. In addition to visiting a dermatologist for a yearly skin check, scan your skin every few weeks for any new or suspicious-looking moles or lesions. Any spots or moles that itch, bleed, or change color should get a second look by a professional.
TIP #6: PROTECT WITH SUNSCREEN
Speaking of the sun, wrinkles, fine lines, dark spots, can all be signs of aging that are not issues only women have to deal with. To help prevent sun damage that can cause premature signs of skin aging, apply broad-spectrum SPF 15 or higher to all exposed areas of skin before going outdoors. You can also opt for a moisturizer formulated with SPF. Make sure to reapply every two hours. It's wise to invest in protective clothing, hats, sunglasses, and more to protect your skin even further. 
TIP #7: INVEST IN A RETINOL CREAM
At this point, we know that retinol creams can deliver a wide range of skin benefits. Dr. Akhavan thinks of the ingredient as a necessity. "Retinol remains the most impressive over-the-counter ingredient in terms of anti-aging," he says. "A little bit goes a long way with this powerful ingredient and side effects include sun sensitivity and irritation when over used, but if you stick with retinol cream for the long term, your skin will slowly become accustomed to it." If you're dealing with wrinkles and fine lines, Dr. Akhavan calls retinol one of the best over-the-counter ingredients to help prevent and address them.
Editor's note: Retinol can cause skin sensitivity to sunlight, so be sure to apply it at night followed by broad-spectrum sunscreen during daytime hours. To build up your tolerance to retinol, start with a lower concentration and work your way up over time. If any excessive dryness or peeling occurs when using retinol, stop use and consult your skin care provider.
TIP #8: APPLY A SERUM
Facial serums are a fantastic way to introduce valuable ingredients into your skin care routine. There are serums that can address signs of aging, tone, texture, and more. "Some serums are also very hydrating for the skin, producing immediate skin benefits," Dr. Akhavan says. For a list of our favorite facial serums for men, click here! 
TIP #9: EXFOLIATE YOUR SKIN
Exfoliating is vital for anyone, regardless of skin type. Doing so regularly helps to remove dead surface cells that can cause a rough texture, leading to skin that feels smoother. Choose from a physical exfoliator (like a scrub) or a chemical exfoliator (like an acid) depending on your skin type and preferences. Follow the advice listed on the product packaging for information on how often to use it.
TIP #10: SCHEDULE IN-OFFICE TREATMENTS
In addition to sticking to an at-home skin care routine, talk to your skin care provider about in-office procedures, such as facials or laser, that can help you address your concerns. Pairing a well-rounded skin care routine with in-office care can often deliver strong results.
Editor's note: Skin care is never one size fits all. When in doubt, consult a dermatologist for a specialized regimen to fit your skin's needs. 
Read more

Back to top