Double-Duty Products That Will Make Your Life So Much Easier
March 08, 2017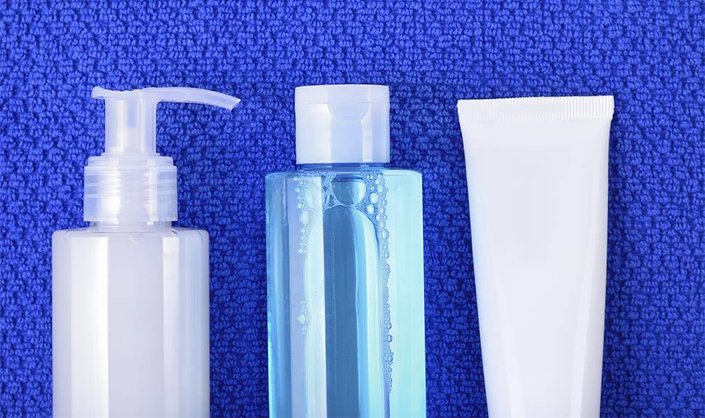 We know, we know—you're busy. Join the club. These days, multi-tasking has become a superpower we all know too well. But why are we to be the only masters of doing two—three, four, five even—things at once? Wouldn't it be nice if our beauty products could tackle multiple concerns or jobs in one fell swoop as well? Not only can multi-purpose products shave some precious time off our skin care regimens—which, for the record, we'd never skip no matter how overwhelmed we are—but they can also save space in our cabinets, vanities, desks, cars, purses…you get the idea. So, in honor of making our lives (and last-minute mornings) a wee bit easier, we've rounded up four products from serum to cleanser that work double-duty, if not more. If your skin doesn't thank us, we bet your wallet will.
SERUM: KIEHL'S PRECISION LIFTING & PORE-TIGHTENING CONCENTRATE
Serums are hydration powerhouses thanks to their highly concentrated formulas. But why choose one that only hydrates when you can use one that tackles that plus more with the same level of effort? If signs of aging are an issue for you, reach for this visibly lifting and pore-tightening concentrate by Kiehl's. The formula—utilizing a triple-filtration process to obtain a highly refined Micro-Filtered Yeast Extract—has been clinically tested to noticeably lift the skin for a visible improvement in facial definition. But that's not all. The formula can also visibly reduce the size and appearance of enlarged pores, fine lines, and wrinkles. Apply it all over cleansed facial skin twice daily.
Kiehl's Precision Lifting & Pore-Tightening Concentrate, $64 MSRP
MOISTURIZER: LANCÔME BIENFAIT MULTI-VITAL SPF LOTION - SPF 30
By now you should know full well that moisturizer and SPF are two non-negotiable skin care products. Combine both benefits into one by opting for a moisturizer formulated with sunscreen. This non-greasy formula not only provides skin with long-lasting hydration, but with broad-spectrum SPF 30 and antioxidant protection to help shield skin against the sun's harmful UV rays and environmental damage.
Lancôme Bienfait Multi-Vital SPF Lotion, $49 MSRP
PRIMER: NYX PROFESSIONAL MAKEUP COLOR CORRECTING LIQUID PRIMER
Color correction has been a popular makeup technique for some time now. Essentially it involves using various colorful products—applied to corresponding areas of your complexion—to help camouflage anything from blemishes to dark circles. NYX Professional Makeup picked up on this trend and not only offers color-correcting concealers, but also color-correcting primers! Now you can prime your skin for a makeup application while hiding imperfections. Reach for the green liquid to help neutralize redness, yellow to help illuminate fair to medium complexions, blue to help brighten sallowness in fair complexions, peach to help restore a healthy glow in medium to dark complexions, and pink to help add luminosity to dull skin.
For tips on how exactly to color correct, check out our color-correcting cheat sheet, here!
NYX Professional Makeup Color Correcting Liquid Primer, $14 MSRP
CLEANSER: LA ROCHE-POSAY MICELLAR WATER ULTRA
As far as multi-tasking cleansers go, micellar water is second to none. The French-favorite cleansing liquid utilizes gentle micelles which help lift makeup, dirt, and impurities without irritation—and Micellar Water Ultra is no exception. The formula cleanses, removes makeup, purifies, and soothes, while respecting the physiological pH of the skin. What's more, you don't need close proximity to a sink since there's no rinsing required. Just a few quick sweeps of a cotton pad and you're good to go.  
But wait—there's more. Just when you thought micellar water couldn't possibly achieve more, we're here to tell you it certainly can. We share four unexpected ways to use micellar water beyond your usual skin routine, here!
La Roche-Posay Micellar Water Ultra, $19.99 MSRP
Read more

Back to top