Faux Glow or Faux Pas? How to Remove Self Tanner
April 17, 2017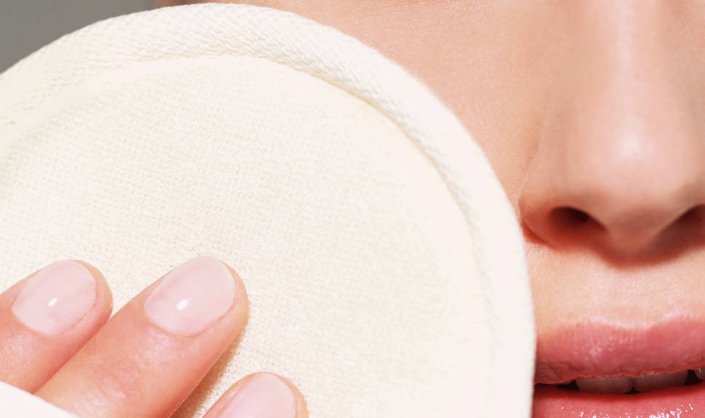 Made a self-tanning mistake and want to know how to remove self-tanner fast? From buffing out a few streaks to washing away an uneven mess, we share a step-by-step tutorial that can help guide you through self-tanner removal, ahead.
It's the day before a big event and you've decided to give yourself a sun-safe glow care of self tanner—only it didn't go on as evenly as you had hoped or the color is not what you expected. Do not panic, you can fix this! Learn how to remove self-tanner fast, below.
When applied the right way, self-tanner can help to create the illusion of a natural-looking, fresh-from-the-beach tan. That being said, self-tanner application is a bit more complex than slathering on a tinted lotion or serum and calling it a day. If you don't apply self-tanner the right way, you could be faced with faux paus such as streaks across your legs, discoloration between your fingers and toes, elbows, ankles, and knees that appear three shades darker than the rest of your body, and more. Fortunately, if you make a mistake when applying self-tanner—and don't notice it until later—you can totally fix it. Before we get into the process, let's figure out why your self-tanner may have caused you to look like anything but the tan goddess you were trying to achieve in the first place.
COMMON CAUSES OF SELF-TANNER MISTAKES
Self-tanning mistakes can happen for a number of reasons, here are a few of the most common:
Using the Wrong Shade
The most common cause of a self-tanning snafu is simply picking out a shade that was too dark or too light for your skin tone. Before starting your application, test a small amount of the product on your skin to ensure that the resulting shade is what you're after. It's easier to remove a small patch than a full-body faux pas.
Not Prepping Your Skin Before
Did you apply your self-tanner right after you took it out of the box? Wrong. To get an even-looking (and believable) glow, you'll need to prep your skin before applying the product. To help you out we created a step-by-step guide to prep your skin for a self-tanning session.
Not Moisturizing
The key to having a great looking fake tan is keeping your skin hydrated after application. If you've been skipping this all-too-important skin care step, the tan may end up looking patchy and uneven.
While knowing what caused your self-tanning mishap is great for next time, what about right now? If you've made a few self-tanner screw ups and need to fix them, here's where to start:
STEP ONE: BUFF OUT YOUR KNEES, ANKLES, ELBOWS, AND ANY OTHER AREAS THAT APPEAR DARKER THAN THE REST OF YOUR BODY
One of the most common self-tanning mistakes is ending up with darker-looking elbows, knees, and ankles. This often happens because of a lack of prep work beforehand—dead skin cell buildup in these rougher areas of skin can soak up the self-tanner the way it would moisturizer, causing the areas to appear darker than the rest of your body. To fix this self-tanner snafu, reach for a body scrub. By gently scrubbing these rough areas of skin you can help to buff out some of your mistakes plus slough away some of that dead skin cell buildup, too.
Editor's Tip: To avoid this self-tanner mistake from happening in the future, be sure to exfoliate the rougher areas of your body and apply moisturizer or body lotion to these areas before reaching for your bottle of self-tanner.
STEP TWO: FIX DISCOLORATION BETWEEN YOUR FINGERS FROM SELF-TANNER
Another common self-tanner mistake? Discoloration between your fingers. There are a few reasons why this faux paus can occur, but one of the more common reasons is not using a glove when applying self-tanner, or (if you don't use a glove) not washing your hands immediate after your self-tanner application. If you wake up with patches of self-tanner wedged in between your fingers, don't worry—you can fix it! Start with dry hands and apply a sugar or salt scrub to the tops of your hands. Now, pay close attention to the discolored areas of your hands as you massage the exfoliating scrub onto your skin. Then, rinse with lukewarm water and apply a nourishing hand cream. Repeat this process as needed, but be sure note to overdo it!
Editor's Tip: To avoid this faux paus from happening in the future, be sure to wash your hands immediately after the application process.
STEP THREE: EXFOLIATE THE STREAKS AWAY
If you need to fix the streaks caused by self-tanner from areas of your body, you're going to want to hop in the shower along with your favorite polish or scrub. Using a body scrub and gently exfoliating your skin can help you buff out the streaks caused from the self-tanner. To exfoliate these areas, apply the scrub to your body and work it onto the surface of your skin in upward circular motions, you'll want to be sure that you pay closer attention to the areas with streaks.
Editor's Tip: To avoid this from happening the next time you apply self-tanner, you'll want to ensure that you prep your skin. To do so, make sure you shave, exfoliate, and moisturize before reaching for the self-tanner. You can also try mixing your self-tanner with a regular body lotion for a more subtle result.  
STEP FOUR: MOISTURIZE YOUR SKIN
After exfoliating, it's time to moisturize! Using a nourishing body butter or body lotion, massage it onto the surface of your skin. Be sure to pay close attention to the rougher areas (read: your elbows, knees, and ankles) and any of the other parts of your body that fell victim to the faux paus.
The next time you self-tan, you may want to consider testing a small patch of your skin first to ensure that it is the right color for your skin tone—and don't forget to prep your skin beforehand. Need help? Check out our step-by-step guide for preparing your skin for self tanner!
Read more

Back to top