Here's How to Exfoliate If You Have Sensitive Skin
March 29, 2023
Exfoliation, in some shape or form, is an essential part of every skincare routine to slough away dead skin cells, clear out clogged pores and reveal a smoother, brighter complexion. But for those with sensitive skin, it can be difficult to find the right products and a technique that doesn't result in dry patches or irritation.
"Every skin type can benefit from an exfoliator, but understanding your skin type and not being too harsh or aggressive is key, especially if you have sensitive skin," says Dr. Paul Jarrod Frank, a New York City-based board-certified cosmetic dermatologist and Skincare.com consultant. Ahead, he offers tips on choosing an exfoliator for sensitive skin, how often you should exfoliate and some of his favorite gentle exfoliators specifically formulated for sensitive skin.
How to Exfoliate Sensitive Skin
There are two different types of exfoliants: physical and chemical. Physical exfoliators utilize abrasive substances like sugar or salt particles to buff away dead skin, while chemical exfoliators contain beta-hydroxy-acids (BHAs) or alpha-hydroxy-acids (AHAs) that gently dissolve buildup to reveal a smoother, brighter complexion. When it comes to choosing which form of exfoliant to use on sensitive skin, Dr. Frank recommends the latter. "It is better to use a gentle chemical exfoliator as physical exfoliants can be too abrasive and tend to cause redness and irritation for those with sensitive skin."
While chemical exfoliants are the way to go, you will still want to pay attention to the type and concentration of exfoliating ingredients in the products you choose. Dr. Frank recommends looking for products that contain lactic acid because it is one of the mildest forms of AHAs. "If you're choosing a glycolic acid, opt for one in a lotion base," he advises. Dr. Frank recommends the SkinCeuticals Glycolic 10 Renew Overnight because the unique cream formula gently exfoliates and promotes cell turnover while locking in hydration to keep your skin feeling comfortable.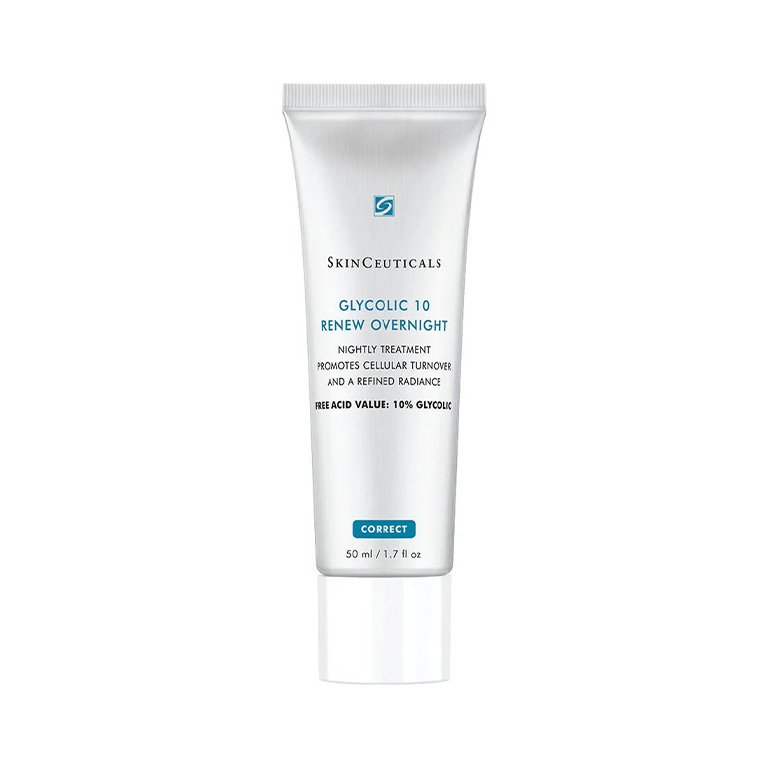 You don't necessarily need to avoid any specific exfoliating acids — instead, you should focus on the concentration of the acid. Dr. Frank suggests looking for products with a low percentage of acids (10% or lower, combining the percentage of all acids in the product). Another tip: Be sure to avoid formulas with alcohol and fragrance as both are known to irritate sensitive skin. The L'Oréal Paris Revitalift 5% Glycolic Acid Peeling Exfoliating Toner is a great option as it's free of alcohol and fragrance and contains 5% glycolic acid to reveal a brighter, glowing complexion. Keep in mind that chemical exfoliants can increase sun sensitivity, so be sure to include sunscreen and other sun protective measures in your routine.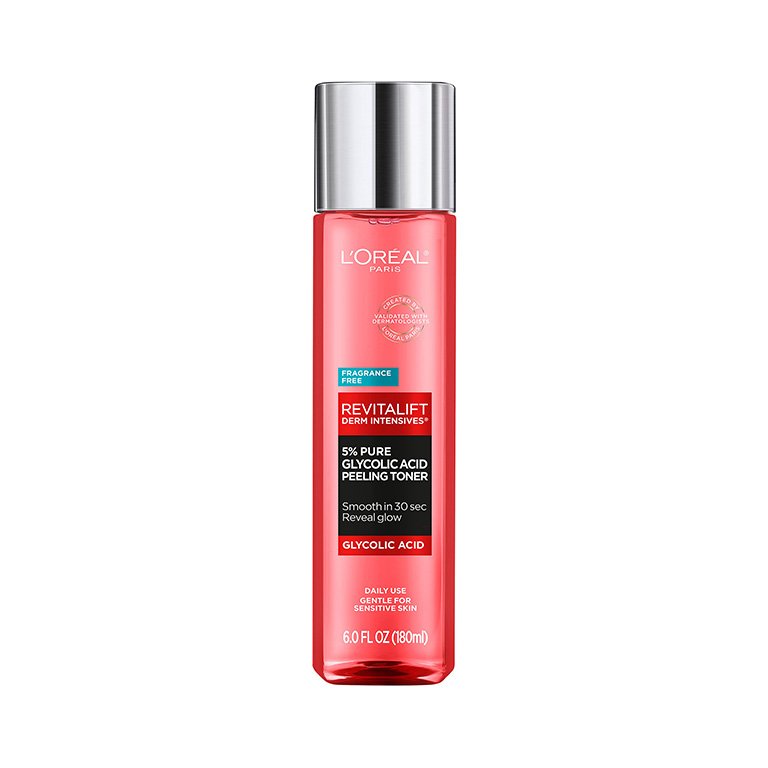 How Often to Exfoliate Sensitive Skin
There's no magic number for how often you should exfoliate, but it's smart to start with once a week if you have sensitive skin (and discontinue use and consult your dermatologist if you experience an unexpected or adverse reaction.) If your skin is tolerating the treatment and you feel like you're not achieving the results you want, you can slowly increase frequency to two or three times a week. Before you exfoliate, be sure to fully cleanse your skin of all makeup and lingering skincare. "Only exfoliate over clean skin," urges Dr. Frank. He also recommends paying attention to how hot your water is when you wash your face. "This is for all skin types, but for sensitive skin, make sure you cleanse first, with tepid or room temperature water."
If you accidentally over-exfoliate, soothe the skin with a hydrating moisturizer and layer on the sunscreen, as over-exfoliation can make your complexion more susceptible to sun damage. To promote healing "give your skin a break from active ingredients for a week or so," says Dr. Frank. Talk to your dermatologist to figure out the best exfoliation routine for your skin.
Additional Reporting: Reece Andavolgyi; Design: Juliana Campisi
Read more

Back to top