What's the Rough Skin on the Back of My Arms and How Do I Get Rid of It?
December 08, 2021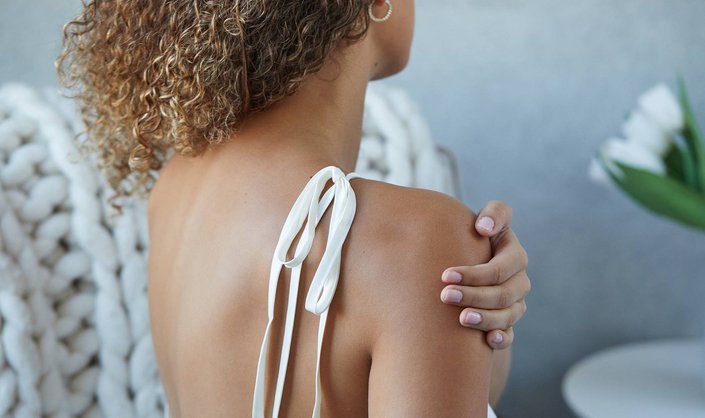 Have you noticed little bumps on the back of your arms? While it's easy to assume that it's either dry skin or acne-related, it's important to consider a few other causes. One of the most common (and harmless) is keratosis pilaris, or chicken skin. To find out what exactly chicken skin is and how to treat it, we tapped Dr. Hadley King, a board-certified dermatologist and Skincare.com expert. Find her thoughts and products that can help, ahead. 
What is Chicken Skin? 
"Keratosis pilaris, also known as chicken skin, is caused by an accumulation of keratin in hair follicles, most commonly affecting the skin on the back of the arms, the thighs, the cheeks and sometimes the lower legs," says Dr. King. "Gentle exfoliation, either physical or chemical, can help improve the texture." She also noted that chicken skin can come back if you stop treating it, so it's important to stay the course when you find a product that works for you. 
How to Treat Chicken Skin
When it comes to caring for chicken skin, Dr. King recommends using a gentle exfoliating body wash. One of our favorites is the CeraVe Body Wash for Rough and Bumpy Skin, which is formulated with salicylic acid to exfoliate and smooth rough skin, while niacinamide helps keep skin calm. Be sure to follow up with an ultra-hydrating moisturizer, like the CeraVe SA Cream for Rough and Bumpy Skin, which is formulated with salicylic acid, lactic acid, hyaluronic acid and niacinamide to lock in hydration while calming, softening and smoothing chicken skin. 
Photo: Chaunte Vaughn
Read More:
The Best Cleansers for Oily Skin, According to Our Editors
5 Face Mists to Freshen Up Acne-Prone Skin
Read more

Back to top