Got Post-Wax Problems? Follow These Tips to Avoid Irritation and Bumps
November 02, 2021
As a hair-removal method, waxing has its pros and cons. We love that after waxing you're hair-free for longer than you would be post-shaving and don't get that tell-tale stubble, but let's get serious for a minute — the pain is real! The quick yank that pulls away the hair can irritate even the most resilient of skin after the waxing session is over. Whether you're performing an at-home wax or booking an appointment at your local wax salon, read on to find out how to properly care for your skin post-removal. 
Skin Issues That Can Occur After Waxing
Once the initial pain is over, waxing can cause various skin concerns. In addition to skin irritation, red bumps, ingrown hairs and breakouts can all crop up after waxing. Following the tips below will not only make the process a more comfortable experience but will keep skin happy and healthy afterward. 
How to Care for Skin After Waxing
1. Wear Comfortable Clothing
Getting areas like your bikini line or armpits waxed might seem like a piece of cake, but if you aren't careful, these areas can become irritated from the rubbing of your jeans or wool sweater. We recommend putting on comfortable clothing post-wax — like a pair of cotton sweatpants and a soft, cotton T-shirt — to ensure that your sensitive post-wax skin doesn't get rubbed the wrong way.
2. Stay Out of the Water 
If you're planning on getting waxed before taking a dip in the ocean or pool, do so at least one day before. After a wax, your skin could experience some sensitivity — even more so if exposed to saltwater or chemicals used to chlorinate your pool or hot tub. Play it safe and stay out of the water for at least 12 hours post-wax. You may also want to rethink taking a hot bath or shower, too.
3. Apply Ice 
Not only can ice be used to help with pain relief before your wax, but it can also help temporarily soothe your recently waxed skin, too. After you wax, apply a cold compress to the area on and off for a few minutes. This will help provide the sensitive area with a welcomed cooling sensation.
4. Be Wary of the Sun 
After a wax, your skin could experience more sensitivity to the sun than usual, so be careful! We recommend applying (and re-applying) a physical sunscreen, like the La Roche-Posay Anthelios Melt-In Milk Sunscreen SPF 60, to the areas if exposed to the sun.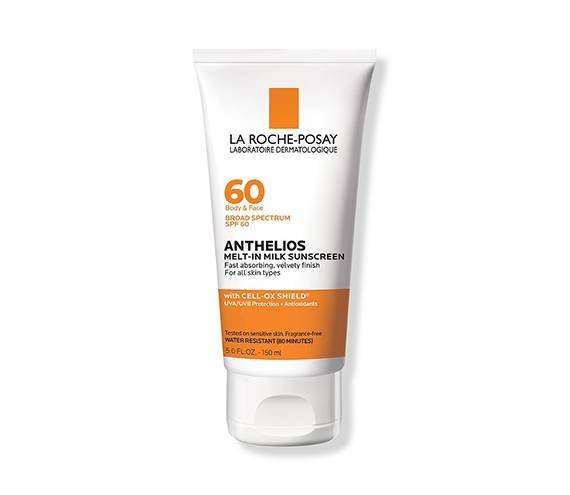 5. Avoid Anything Scented
Avoid fragranced beauty products for a few days — think: scented lotions, cleansers, and so on. We recommend having a gentle and fragrance-free cleanser, moisturizer, and body lotion on hand for all of your post-wax skincare needs.
6. Don't Touch!
You'll want to make sure that your recently waxed skin remains free of bacteria, so keep your hands away from the area —and don't try to pick at any ingrown hairs. If you wish to apply your gentle skincare products, make sure you do so with clean hands
7. Slather on the Aloe
Aloe can temporarily soothe and hydrate sensitive skin, which could make freshly-waxed skin feel more comfortable. If you are someone who experiences a lot of sensitivity, you can also use the aloe vera gel as a temporary alternative to moisturizer and body lotion.
8. Shower and Cleanse Beforehand
Because hot water and scented body wash can cause waxed skin to feel more irritated, you may want to consider rinsing off before waxing. Give your skin some time to soothe itself before jumping in again.
Photo: Chaunte Vaughn
Read More:
How to Prevent Pimples After Shaving in 5 Easy Steps
Why You Keep Getting Razor Burn and Razor Bumps and How to Avoid Them for Good
Have You Ever Heard of Orange-Peel Skin? Here's What It Means
Read more

Back to top