Prone to Ingrowns? You're Probably Shaving Wrong
November 17, 2016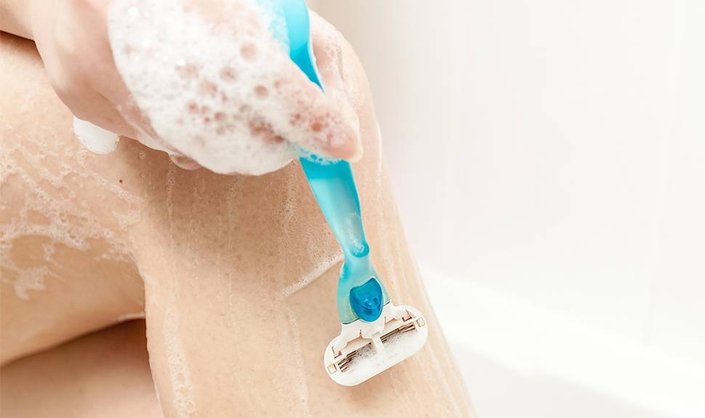 STEP #1: EXFOLIATE
One of the most common mistakes with shaving is forgetting to exfoliate skin beforehand. Doing so can help rid the skin's surface of any built up (and razor-clogging) dead skin cells, which can lead to an uneven shave and/or cuts and razor burn. Opt for a mild scrub or exfoliant.
STEP #2: MOISTEN SKIN WITH LUKEWARM WATER
We're all about saving the best things for last, and while shaving is rarely an activity to look forward to, there's good reason to leave the ritual for the very end of your shower. According to the AAD, it's best to wet your skin prior to shaving which helps to soften the hair to allow for a smoother shave. If you don't have time to hop into the shower, moisten the skin with lukewarm water for a few minutes before shaving.
STEP #3: LATHER UP WITH SHAVING CREAM
Think bar soap is a solid substitute for shaving gel or cream? Think again. Not only can shaving gels and creams help hydrate the skin, they also allow the blade to glide effortlessly over the skin to avoid nicks and cuts. Your standard bar soap won't cut it for getting just the right amount of lubrication necessary for your razor, though it is one step above using nothing at all. Whatever you do, never—ever!—shave dry, regardless of how hurried you are. Try Kiehl's Close Shavers Squadron Smooth Glider Precision Shave Lotion.
STEP #4: GRAB A CLEAN RAZOR & GET TO WORK
We can't stress the importance of using a clean razor. It's a no-brainer, but let's just say that gliding a filthy, bacteria-laden blade over your skin isn't going to do you any favors. So grab a razor that you know is clean—hint: make sure it hasn't been stored in the shower or another dark, damp environment—and begin to shave in the direction that the hair grows. Ditch your razor or change blades as soon as they get dull, or after about five to seven shaves to help minimize irritation.
STEP #5:  MOISTURIZE IMMEDIATELY AFTERWARDS
Newly-shaven skin needs some TLC post-shave. Avoid loofahs or rough washcloths and opt for a hydrating lotion . Try to moisturize with an after-shave lotion or gel such as Kiehl's Post Shave Repair Gel while your skin is still slightly damp. The formula can help refresh and soothe skin immediately thanks to a formulation with aloe vera.
Read more

Back to top