How a Pro Hand Model Keeps Her Hands Looking Young
February 07, 2017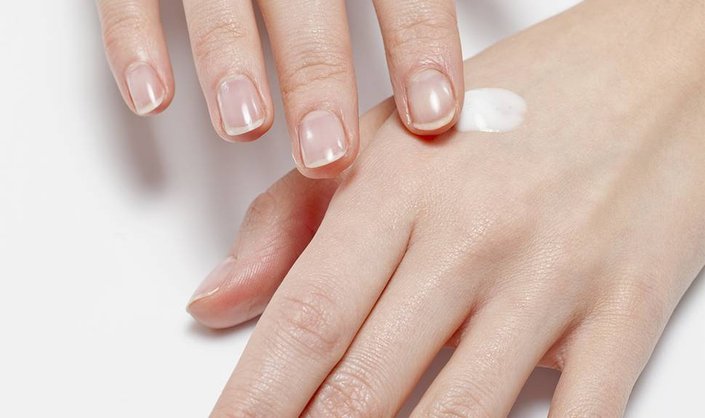 ON HER HAND CARE ROUTINE:
"First and foremost, I moisturize, moisturize, moisturize! I can't stress enough how important it is to moisturize every single time you wet the skin. Lotions, creams, and oils help lock in precious water that's essential for beautiful skin. In addition, I change moisturizers frequently and tend to stay away from formulas with fragrance, since they [can] contain a lot of alcohol."
ON SKIN CARE TIPS SHE SWEARS BY: 
"As I said, moisturizing is important. How you wash your hands and what you do so with is also key. The soap in public bathrooms and antibacterial varieties are among the most drying formulas you could ever put on your hands. Bar soaps are gentler and I carry some with me at all times, scrubbing for at least 30 seconds. I also wash my hands immediately after I use nail polish remover. Unfortunately, this is not always possible on set due to time limitations, but I try to do this as much as I can."
ON MOISTURIZING…A LOT:
"I moisturize so many times in a day that I can't even begin to think of a number."
Looking for hand model-worthy moisturizers to add to your skin care routine? We recommend: Kiehl's Ultimate Strength Hand Salve, The Body Shop Hemp Hand Protector, Lancôme Absolue Hand
ON ACTIVITIES SHE AVOIDS:
"I don't do dishes and thus always need to have a dishwasher in my apartment. Other activities like carpentry, welding, glass blowing, and pottery are also off limits. Lastly, I don't wear gloves that have black linings since these dark fibers can become trapped in the crevices between my nails and skin."
ON THE GREAT CUTICLE DEBATE:
To cut or not to cut? That is the question. "I am not a cuticle cutter. If there is a little hangnail on the side, I will trim that but I never cut cuticles around the base of my nails. I keep my cuticles in tip-top shape by moisturizing several times a day with cuticle oil."
Products We Recommend: Essie Apricot Cuticle Oil, The Body Shop Almond Nail & Cuticle Oil
ON AVOIDING DEHYDRATED NAILS:
"I always protect my hands with latex gloves when I'm straightening up the apartment and doing things like hand washing, dusting the furniture, cleaning cat litter, etc. And again, I moisturize as much as possible! Gently massaging cuticle oil into my nails helps to hydrate the area."
ON HER GO-TO MANICURE:
"I like a classic, clean, understated neutral look with a medium length squoval shape. It goes with everything and allows the natural beauty of the nails to show through. All nails are not shaped the same, so my general rule of thumb is to mirror the shape of the nail to the shape of the cuticle at the base of your nail. That's how you will find your ideal nail shape."
We recommend: L'Oreal Color Riche Nail in Sweet Nothings, Essie Nail Polish in Mademoiselle
ON TRICKS FOR SOFTER HANDS:
"Switch moisturizers frequently, and exfoliate your skin. As a special treat, I like to warm up a thick emollient cream, oil, or body butter in the microwave for a few seconds."
ON PREPPING FOR A SHOOT:
"I start with an exfoliating peel right before bed. This is followed by a super nourishing oil or cream. I also use corrector serum, foundation, and concealer to help make my skin look flawless [during the day]." 
Want more hand care tips? We also tapped a celebrity manicurist to get her to spill all her secrets! Read our interview here! 
Read more

Back to top