6 Products to Pumpkin Spice Up Your Skin Care Routine
October 30, 2017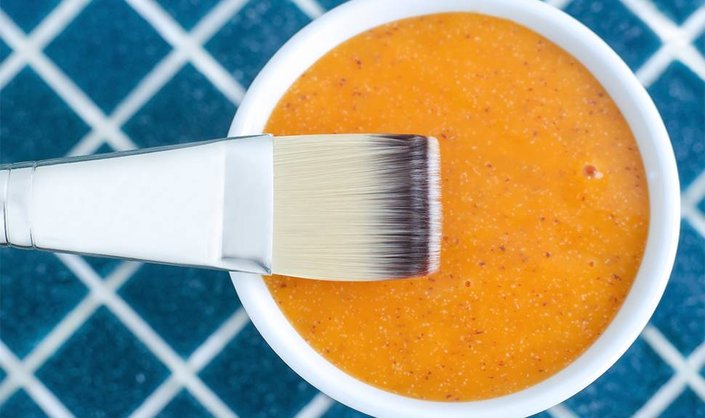 It's no secret that the scent of the season—and flavor, for that matter—is pumpkin spice. And, while that venti-sized latte is a great way to sip and celebrate, why not enjoy a few calorie-free options by way of your skin care routine? We're including a few of our favorite pumpkin skin care products below!
This beauty editor-favorite exfoliating facial mask is formulated with pumpkin enzyme and helps to exfoliate the surface of the skin. Plus, its rich orange hue is a perfect addition to your shelfie this fall.
For the ultimate skin treat, reach for this deeply hydrating face mask formulated with pumpkin puree and pumpkin seed oil. It's only available for a limited time, so be sure to snag one (or more!) while you still can.
Show surface skin impurities who's boss with this thick, nutrient-rich pot of pumpkin puree, bentonite clays, and active yogurt cultures. The orange hue may frighten your S.O. once on, but it's a small price to pay for a wide range of benefits. Besides, with a name like Splendid Dirt, it's hard not to be totally intrigued!
Help exfoliate dead surface cells and reveal brighter-looking skin with this face mask formulated with vitamin C, pumpkin puree, manuka honey, and glycolic acid. If the nearly 5-star online reviews are any indication of this mask's popularity, we'd say it's a sure fan favorite.
Infused with pumpkin enzyme combined with gentle exfoliation particles, this formula can help remove dead cells on the skin's surface. What's more, the polish can be applied to both facial and body skin. You know what that means, right? Less products to purchase, and more room in your beauty cabinet to store other goodies.
Your paws do so much for you on a daily basis. They deserve some pumpkin-infused TLC as well, and this hydrating (and wonderfully-scented) hand cream could be your new go-to. Simply smooth the formula onto your hands as needed. It doesn't get easier than that!  
Dull skin got you down? Reach for this clarifying mask—formulated with pumpkin enzymes—to help promote a clear and radiant-looking complexion.
Notice a common denominator for many of these formulas? If you guessed pumpkin enzyme, you'd be right! Products formulated with this fruit enzyme are known to help exfoliate the surface of the skin, which is why it's often found in masks, cleansers, and at-home facial peels. 
Read more

Back to top