5 Products for Beach-Worthy Legs
June 19, 2017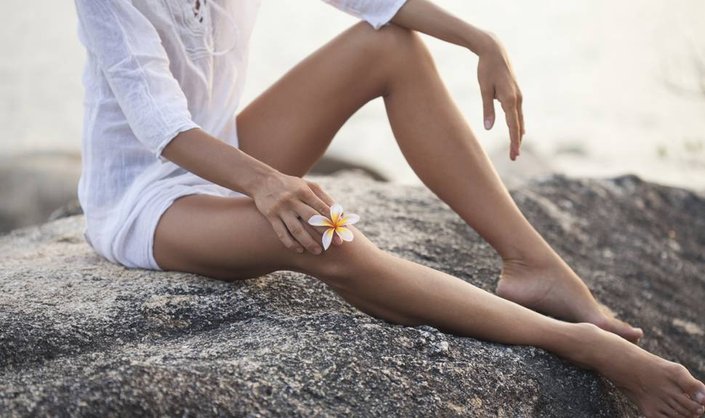 Spending a day at the beach can require a little skin prep beforehand to ensure that your summer glow is on fleek and ready for you to show off. From exfoliating to moisturizing to a faux "base tan," these products can give you beach-worthy legs, even if you are nowhere near the ocean.
THE BODY SHOP CACTUS SCRUB MITT
If you love dry brushing, you'll love this Scrub Mitt from The Body Shop. You can use this just on your legs or all over your body with your favorite body wash for an exfoliation that can leave your skin feeling soft, renewed, and ready for a day at the beach. The Body Shop sources these mitts from the YaMunts'l B'ehña co-operative in Mexico, which provides around 220 indigenous Ñahñu women with regular work, income, and an opportunity to develop business skills. In addition, they are helping to preserve age-old mitt-making skills and techniques. Skin care and a good cause? Sign us up!
The Body Shop Cactus Scrub Mitt, $10 MSRP
THE BODY SHOP SPA OF THE WORLD AFRICAN XIMENA SCRUB
Speaking of exfoliation: check out this body scrub from The Body Shop's Spa of the World line. It's formulated with shea butter, beeswax, and oil from the fruit seed of the Ximenia Tree—also known as "The Tree of Life." Did your ears perk up? So did ours. The scrub can even help moisturize the skin while it sloughs away dead skin cells from the skin's surface.
The Body Shop Spa of the World African Ximenia Scrub, $32 MSRP
VICHY IDEAL BODY BALM
After you've exfoliated, treat your legs to this award-winning body balm from Vichy. The body balm is formulated with hyaluronic acid and 10 essential oils, including jojoba oil, which is frequently used in hydrating formulas for skin and hair thanks to its moisturizing fatty acids, and rosehip oil, which can help replenish moisture on dry skin. Using this ultra-hydrating balm before, during, and after a day at the beach can not only leave your skin feeling soft and hydrated, it can give the surface of the skin a youthful-looking appearance, too!
Vichy Ideal Body Balm, $27.50 MSRP
L'ORÉAL PARIS SUBLIME SUN ADVANCED SUNSCREEN CRYSTAL CLEAR MIST
It wouldn't be a day at the beach without a Broad Spectrum sunscreen and this Crystal Clear Mist from L'Oréal Paris is your perfect outdoor accessory. Whether you plan to lay out in the sand, swim in the surf, or take a crack at beach volleyball—how hard could it be?—a water-proof, spray-on Broad Spectrum SPF is just what you need…plus, it's super easy to apply on hard-to-reach places like the backs of your legs!
L'Oréal Paris Sublime Sun Advanced Sunscreen Crystal Clear Mist, $10.99 MSRP
DECLÉOR AROMA SUN EXPERT SELF TANNING MILK NATURAL GLOW
If you're looking for a self tanner that can give your skin a gradual tan and help reduce the appearance of skin aging, look no further than Decléor's Aroma Sun Expert Tanning Milk Natural Glow. Formulated with jasmine and rose essential oils, this self tanner can work great for the face and the body, as it can provide the skin with a nice, natural-looking glow that is ideal for a day at the beach or, well…every day, really!
Decléor Aroma Sun Expert Self Tanning Milk Natural Glow, $38 MSRP
Read more

Back to top