The Best Moisturizers & Lotions For Tattooed Skin
December 14, 2017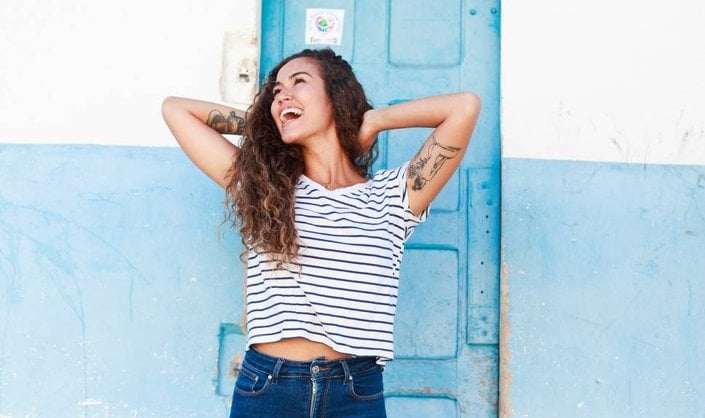 For some, getting tattooed is a symbolic way to commemorate something near and dear to their hearts—whether that be an experience, a person, or a place. Whatever your reason for getting inked, if you are freshly tattooed you know that making sure the skin around your new tattoo is moisturized and well-nourished is a necessary step in the aftercare process. After all, you want that new body art to stay fresh and healthy above anything else. Ahead, we share five of our favorite hydrating tattoo aftercare products that can condition and comfort your skin post-ink.
Editor's note: The moisturizers we list here are for long-term care, after your new tat has healed. Immediately after getting a tattoo be sure to follow the advice of your artist—i.e how long to keep the ink under wraps, what to wash with, and the types of creams you should use in the short-term. And, in addition to the moisturizers above, to keep your ink looking fresh—and to simply protect your skin—remember to always layer on a broad-spectrum SPF of 30 or more.
NYX PROFESSIONAL MAKEUP ALL OVER BALM IN COCONUT OIL

 
At Skincare.com, we're big fans of incorporating coconut oil into our body care routines. When it comes to keeping our tattooed skin hydrated while on the go, we turn to NYX Professional Makeup's All Over Balm in—you guessed it—coconut oil. This all-purpose body balm is formulated with natural oils and can help to provide the skin around your ink with hydration and comfort. Feel free to apply some to your dry, uncomfortable lips, your cuticles, or anywhere else that might need some extra hydration.
NYX Professional Makeup All Over Balm Coconut Oil, $6.50
KIEHL'S CENTELLA RECOVERY SKIN SALVE

 
When it comes to soothing dry skin, we always reach for Kiehl's and its selection of hand and skin salves. As far as caring for—read: hydrating—tatted skin, we love their Centella Recovery Skin Salve. Formulated with sensitive skin in mind, the Centella Recovery Skin Salve can help to soothe and condition your freshly inked skin thanks to its formula rich in aloe vera, honey, and tiger herb. 
Kiehl's Centella Recovery Skin Salve, $43
CERAVE HEALING OINTMENT
Your newly tatted skin needs time to heal, and what better way to expedite healing than with a healing ointment? CeraVe's Healing Ointment is non-greasy, soothing and can help temporarily protect and relieve chapped, chafed, or cracked skin. 
CeraVe Healing Ointment, $13 MSRP
KIEHL'S SKIN RESCUER STRESS-MINIMIZING DAILY HYDRATOR
Formulated with rosa gallica botanical extract, mannose, and chamomile, this lightweight hydrator reduces visible signs of stress, such as skin fatigue and redness. Plus, it's known to soothe even temperamental skin. 
Kiehl's Skin Rescuer Stress-Minimizing Daily Hydrator, $40 MSRP
CAROL'S DAUGHTER ECSTASY FRAPPE BODY LOTION
Skin that has been newly inked will feel incredibly refreshed after getting a dose of Carol's Daughter Ecstasy Frappé Body Lotion. Formulated with grapeseed and rice bran oil, aloe leaf juice, and shea and cocoa butters, slather this lightweight lotion onto your inked skin and embrace the wonderfully hydrating sensation, as well as its delightful smell.
Read more

Back to top