The Founder of The Perfect V Dishes on Body Confidence and Why Everyone Needs a Vanicure
January 15, 2020
Avonda Urben is a life-long beauty boss making moves in the self-care space. Armed with a mission and a luxury line, she's changing the way we talk about and treat our vagina, one "vanicure" at a time. Yes; that's right, she's created a whole line specifically designed to support the skin down there. Enter The Perfect V, an ultra-chic line of washes, exfoliators, VV creams and more that give your 'V' the specialized skin care it actually needs. Ahead, find out everything from what inspired Urben to found her brand and fill the gap in the market to how she promotes body confidence and what's next for The Perfect V.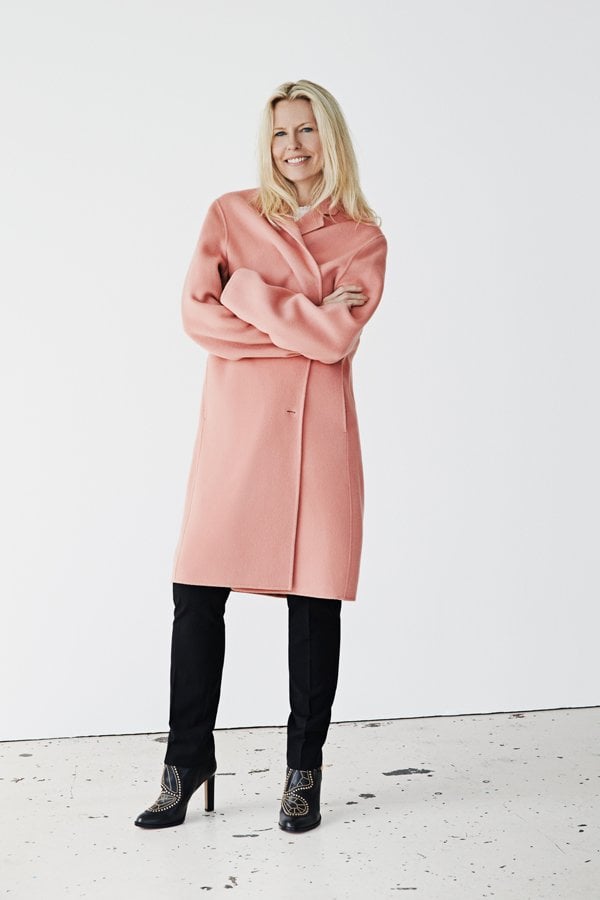 You've pretty much always been in the beauty space. Can you give a little background on your career before The Perfect V? 
I've been in beauty for over 20 years. I just love being in cosmetics. I love skin care, I love new products. I've worked on all different color cosmetics and some skinc are. I started at Revlon, worked for an independent company, and then I was at L'Oréal in charge of the drugstore brands. So, I've always been in marketing and sales. Then, my husband had this really unique opportunity to move overseas. When we moved to Belgium, and later Copenhagen, I became a marketing consultant.
You came up with the idea for The Perfect V while you were living abroad. What inspired you to start your own brand at that time?
I made a lot of friends in Denmark. Danish women are very confident about their body in a non-exhibitionist way. They just carry a kind of quiet confidence. And at the same time I was making these friends, I got into winter bathing, which is a very old custom in Scandinavia. If you don't know much about it, you basically jump into the Oresund (a body of water) for literally one minute, and it's really cold and you're nude. You just jump in, you get out, you put your robe on and then you go into the sauna. At first I thought it was weird and then I started doing it. It is so refreshing and it just feels great. 
Being around that opened me up to the idea of body confidence a little bit more. And then I started to look at trends; all the trends kind of pointed to this area of, you know, women removing [body] hair. Those categories like lasers, sugaring and waxing were super big and culturally accepted all over the world, so I started thinking about skin-care needs. When I started looking at what was available to women, and not to put those brands down, but everything available was at the drugstore, at the bottom of the shelf, in the back of the store, under an outdated category called feminine care. So the message that resonated with me was: Why isn't there beauty for the V? 
How did you decide what products would go into the line and how you would market it to the consumer? 
I didn't want to just do one or two products because that's not how you approach skin care, right? You have to look at a regimen. That's really what I did. You don't need all the products, but I wanted to present a nice offering for women, so that you have the basics, which is, hygiene. I just wanted to have different forms, like sheets, washes and mists, that women could enjoy for different reasons. The wash is in your shower, the sheets and mist are for on the go or for fitness. 
That was the other thing, no one really called it anything. They call it "down under, down there." All different kinds of names. And they always show fruit, you know, pieces of grapefruit. The name The Perfect V was really because of a feeling that you get. I don't dictate how you should look, whether you should have hair, no hair. It's just about skin care for that area. I went to some dermatologists and they said that your skin is different down there. You have more sweat glands, the pH balance is different and the skin is very delicate. I just saw this opportunity to approach it in a way that meant beauty." 
We spend a lot of money on waxing and lasers, so why not take care of the skin with something as simple as a skin-care item? The beauty regimen for the V is what we termed the vanicure. You have a manicure for your hands, pedicure for the feet and, now, the vanicure for the V.  Everyone gets it! Even in Hong Kong and Thailand. It's not cutesy, it's not degrading, it just is and it's fun. You don't have to hide behind it, you don't have some of the play on words, and it's just very matter of fact.
What's been the biggest challenge for you since you started The Perfect V? 
It does look like skin care — that's the idea. But my biggest challenge is explaining to the consumer that it's skin care for the bikini area. Because when they pick it up, they think it's face care. I wanted it to look like skin care so that it's sitting in your bathroom or your shower and not being a big deal, but it needs some education.
If you could go back and tell your 20-year-old self anything, what would you say?
It's just so corny, but like really dream big and tackle your dream a little every day. It's not going to happen overnight. You really have to think big and go after it. And, while you feel insecurities and obstacles, you have to have self-motivation and self-confidence. Keep your eye on the prize.
What's next for the brand? 
We're still in the beginning stages, but I would like to see it in many more salons and spas because that's really where we do services. Because when you go for wax, if you go for any of those services, there's no real after-care. That's why salon owners love our product; we elevate that whole waxing experience. My dream would be a Perfect V salon or pop-up. It would be all about the V. You could get a wax or laser — whatever you want. You would get a vanicure"
Fill in the blanks. 
My self-care routine is: The one thing I think I do pretty religiously is get up and stretch every morning before I get the kids off to school and take a great shower just to start the day.
My three desert island products are: YSL Touche Éclat High Cover Radiant Concealer, Rodial Chin & Neck Lift and Sunday Riley CEO Glow.
A beauty trend I regret trying is: Acrylic nails. 
My first memory of beauty is: My grandmother selling Avon. Every birthday, every Christmas, we would get all the beautiful things from Avon. I thought it was amazing! Ha! They had these fragrance dolls and she'd let me come over to her house and play with the little lipstick samples. That's a big time memory. She was the Avon lady! 
To me, beauty means: Confidence. It's really about recognizing your own beauty, figuring out what attributes you love about yourself and just thinking about that when you start to feel insecure. 
Read More:
Skin Sleuth: What Is Rosehip Oil? 
Vichy Minéral 89 Hyaluronic Face Moisturizer Is Getting Me Through the Dry Winter
The Vitamin C Serum You Need in Your Anti-Aging Arsenal
Read more

Back to top