5 Vitamin D Myths That Are Completely False
May 22, 2017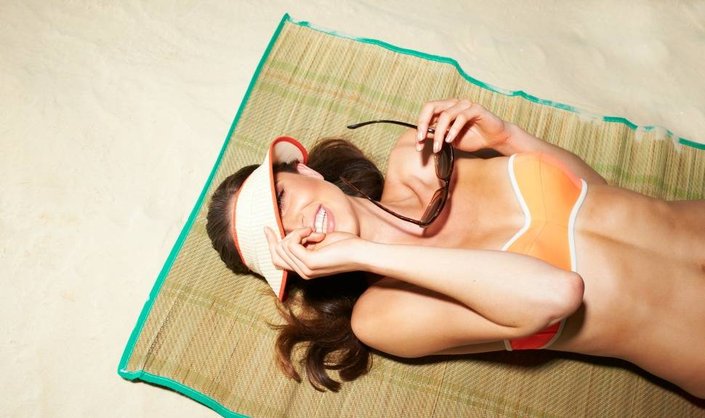 Nobody wants thin, brittle bones—what can happen when the level of vitamin D in your body is too low—which is why the conversation around vitamin D is so important. One way we can get vitamin D is from exposure to sunlight, but it's not as simple as laying out in the sun all day. After all, strong bones shouldn't have to come at the expense of healthy, radiant skin. That's why we're clearing up five common vitamin D myths—that just so happen to be completely false—below. Think sunscreen blocks out vitamin D? You definitely want to read this. 
MYTH #1: UVB RADIATION IS A GOOD SOURCE OF VITAMIN D
There's a common misconception that sun exposure is the optimal source of vitamin D, but the Skin Cancer Foundation says not so. Only a limited amount of vitamin D is produced from UVB radiation, which for Caucasians is reached after just five to ten minutes of midday sun exposure. Surpassing that limit does not increase the amount of vitamin D in the body, they say, but rather begins to break down the vitamin D already stored in the body. Not to mention, too much sun exposure can increase the risk of premature skin aging and skin cancer. Make sure that you're wearing a sunscreen with broad-spectrum SPF of at least 15 daily—yes, even if you're planning to spend your time indoors. If you're planning on spending a little more time in the sun, reach for SPF 30 or higher and reapply regularly! 
MYTH #2: YOU CAN ONLY OBTAIN VITAMIN D THROUGH SUN EXPOSURE
Oily fish—think: salmon, fresh tuna, trout, and sardines—contain vitamin D, as well as fortified orange juice and milk, yogurts, and some cereals. Vitamin D supplements are also widely used and easy to obtain. Diet and nutritional supplements rather than sun exposure are a good option to get your daily vitamin D, according to the Skin Cancer Foundation. 
MYTH #3: TANNING BEDS ARE RECOMMENDED FOR BOOSTING VITAMIN D LEVELS
Vitamin D is received through exposure to UVB rays, and the bulbs used in tanning beds mainly emit UVA rays. (More information on the difference between UVA and UVB rays, here.) Thus, the Skin Cancer Foundation advises against indoor tanning as a means for obtaining vitamin D, and in general, as tanning beds are a known carcinogen. The Skin Cancer Foundation states that just one indoor UV tanning session increases ones' chances of developing melanoma—the most dangerous form of skin cancer—by 20 percent.
MYTH #4: THERE'S NO SUCH THING AS HAVING TOO MUCH VITAMIN D 
It is possible to obtain too much vitamin D. Symptoms of too much vitamin D can include nausea, vomiting, weight loss, poor appetite, and more. Want to know more? The Mayo Clinic provides in-depth details on adequate vitamin D dosages. If you have any questions, discuss your individual needs with your doctor.
MYTH #5: YOU CAN'T GET VITAMIN D IF YOU'RE WEARING SUNSCREEN
Wrong…so, so wrong. Wearing sunscreen is necessary to protect your skin from harmful UV rays. What wearing sunscreen won't do is lead to a vitamin D deficiency. Board-certified dermatologist, and Skincare.com consultant, Dr. Lisa Ginn confirms: "There's no good data that shows that routine application of sunscreen promotes this."
And there you have it.
Read more

Back to top