Desi Perkins on Creating Dezi Skin and the Skincare Tips Passed Down Through Her Family
June 23, 2022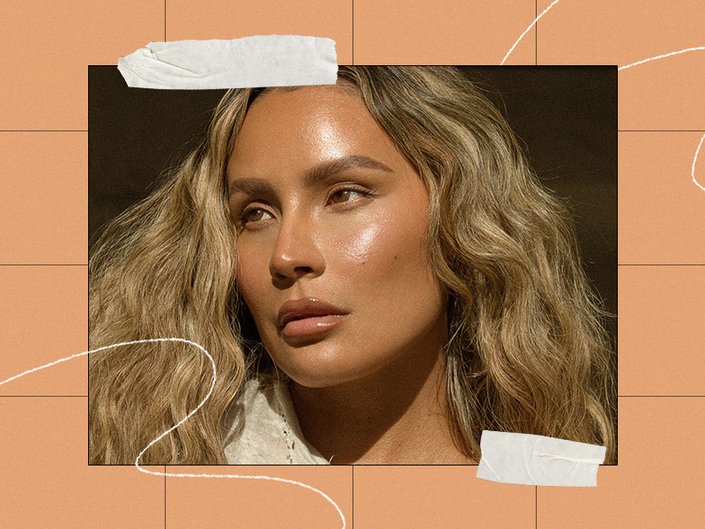 You probably know her from her ultra-popular social platforms where she creates beauty and lifestyle content, but Desi Perkins is working hard on creating a skincare brand that can thrive regardless of her mega-influencer status. Like many makeup artists and beauty enthusiasts believe, a solid skincare routine is the key to any great makeup look, and Perkins agrees. So, she set off to create efficacious products that truly work. We recently had the opportunity to chat with her about her journey in doing so, plus so much more.
Below, find out what she has to say about founding Dezi Skin, her experience with skincare as part of her culture, and the challenges that come along with being an influencer turned brand founder.
You're arguably most known for creating beautiful makeup looks on social media. So, what inspired you to start Dezi Skin? Why skincare over makeup?
As my makeup career started taking off and I was applying a full face every day, I realized that makeup application was so much easier when I was taking care of my skin. Everyone struggles with skin issues, and one of my most popular videos was about how to cover blemishes in the most natural way. After I made that video, I slowly started showing solutions from both sides: the skin side and the makeup side. Instead of only showing how to cover blemishes, I began showing how to reduce them with a healthy skin regimen. It really resonated with my audience, and I quickly realized that I was hooked on skincare and would someday create a line.
Who taught you what you know about skincare? Did you have a skincare regimen growing up?
Growing up in my family, I was surrounded by cultural skincare tips from the time that I was very young. I loved learning about self-care and could see that beauty regimens were really meaningful to my family. Specifically, I found inspiration from my mom. She has always been a strong influence in regards to inner and outer beauty.
I remember aloe vera was the answer to everything. We always had them growing somewhere in the backyard and we would simply cut them open to use on our faces and bodies. My family also used to boil guava leaves and use the water on our skin. When my mom was little and they were growing up in Mexico, obviously there was always a family member who was really into herbs. Some of my uncles and aunts were dealing with a lot of acne, so they told them to boil some guava leaves and put it on their skin as it would help with the acne — and their skin got so much better. It actually worked! I never really asked [about the root of this practice] as it's very much a Mexican thing — they tell you to do something and you don't ask questions, you just do it.
It's also really good for your hair with any
dandruff
and dryness, and it is an anti-inflammatory. I love that trick and I actually do that now with rosemary for my son's hair. I have a guava tree in our backyard that we planted, and we have yet to see any guavas, but we use the leaves often!
How has your career as an influencer helped you transition into your role as a brand founder? Have you utilized the power of social media to inform decisions about Dezi Skin?
Being an influencer has definitely helped me transition into my role as a founder. I really understand the importance of transparency and 'realness.' As an influencer, I never took a brand deal with products I didn't love and use regularly. Most of my collaborations came to fruition because I was using the products organically. People can always tell when influencers are not being genuine.
As a founder, I never want to release products until they're absolutely perfect. My team and I are very conscious that there are certain stigmas to overcome when you're an influencer turned founder. People are highly critical and suspicious of the formulas. But I can guarantee that every product we release is extremely efficacious!
The power of social media is a double-edged sword. On the positive side, we definitely listen to our customers and implement their feedback. However, we are very cautious not to fall into the 'trend trap.' There is a lot of misinformation on social media, and we never want to participate in anything that is not thoroughly vetted or proven.
How has your skincare routine changed since creating your own brand? What skincare dos or don'ts have you learned through the process?
My skincare routine has changed mostly because I'm testing potential products all the time. We are constantly searching for powerful ingredients and formulas, and it takes a lot of time to test!
I have learned that if you're trying a new (powerful) formula, make sure it's the only thing you are using on your skin. Sometimes formulas can react with each other and cause irritation. You might think that irritation is from the new product because you've always used the other product and it couldn't possibly be the problem. However, it might not be the new formula. It could be the reaction of the products together, which doesn't mean either product is 'bad' on their own.
What advice do you have for someone who's struggling with their skin?
That's such a hard question because it depends on why they feel like they're struggling. But overall, my advice would be to make sure you're cleansing well and hydrating (inner and outer hydration). Don't skip cleansing at night because you're too tired, and don't drink coffee all day and pretend you're hydrated!
What's next for Dezi Skin? Give us a preview of what's to come!
We have so many great projects in the works. I don't want to give too much away, but I can tell you that skincare isn't just for your face!

Photos Courtesy of Desi Perkins, Design: Juliana Campisi
Read more

Back to top