5 Things to Give Up for Better-Looking Skin
January 25, 2019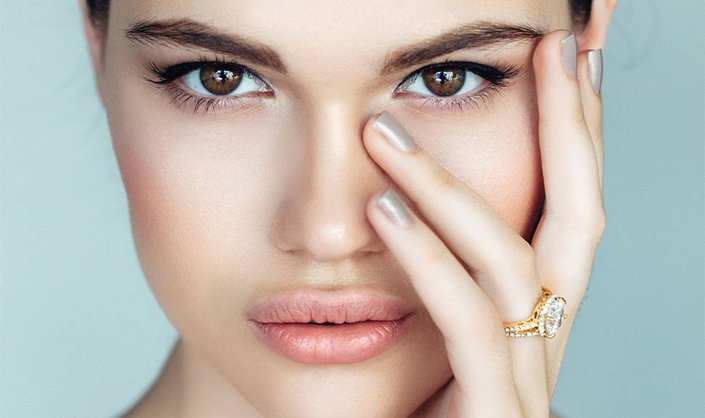 1. HARSH CLEANSERS
Cleansers with harsh ingredients can strip the skin of natural oils. The result? Skin that's dull, irritated and DRY. Reach for gentle cleansers, like micellar water, that can remove makeup, dirt, and impurities without irritation.
2. TALKING ON YOUR CELLPHONE…WITHOUT WIPING IT DOWN FIRST
Our cellphones have become an extension of ourselves, coming everywhere with us and being used constantly. While these devices certainly keep us in the loop with family and friends, have you ever thought about how they may be sabotaging our skin? Bacteria on our cellphones can mix with the oils and makeup on our faces and lead to blemishes. Long story short is your cellphone could be to blame for your pimples, especially those around the chin and jawline. To help keep phone-related breakouts at bay, make sure you wipe down your device to remove pore-clogging debris. It's a simple step that can make a big difference. 
3. BREAKING A SWEAT WITH MAKEUP ON
We all want to look and feel our best. Makeup—for all its imperfection-hiding capabilities—can certainly make us feel more confident, which is why you may be tempted to wear it everywhere…even at the gym. Unfortunately, doing so can do more harm than good. Sweat can mix with makeup and residual impurities on your skin's surface and clog pores, which can eventually lead to unwanted breakouts. To help keep zits at bay after your next sweat session, be sure to cleanse your skin before and after the workout.
Need more motivation to embrace makeup-free workouts? Read this.
4. SMOKING
Smoking can speed up the normal aging process of your skin, contributing to fine lines and wrinkles. How? Many of the chemicals in tobacco smoke have been shown to damage collagen and elastin, the fibers that give your skin its strength and elasticity. As a result, skin can begin to sag and wrinkle prematurely. And that's not all. Those wrinkles aren't only limited to your face, but can affect other parts of your body as well, including your inner arms. While these skin wrinkles may not be reversible, the earlier you quit, the better. According to the Mayo Clinic, the more cigarettes you smoke and the longer you smoke, the more skin wrinkling you're likely to have. You may not notice these side effects right away, but they'll surely creep up on you over time. 
5. PICKING AT YOUR SKIN
Picking at your pimples can be tempting, but you're best keeping your hands off your blemishes. Interfering with your skin's natural recovery process can make things worse. Not only do you risk cross contamination (your fingers are probably covered in germs), but also skin discoloration and even permanent scarring. Why leave your skin looking worse off? Reach for a spot treatment formulated with acne-fighting ingredients, like salicylic acid or benzoyl peroxide, instead. Dab a small amount over your blemishes and be patient.
Can't seem to kick the bad habit? Check out some of our tips that may help you quit prying at your skin once and for all, here.
Read more

Back to top