From Coffee Grounds to Skincare: How Sustainable Skincare Brand UpCircle Beauty Came to Be
December 07, 2021
UpCircle Beauty, founded by sibling duo Anna and William Brightman, began as an idea to repurpose coffee grounds from local London roastaries into effective skincare products. In just five years, the brand has grown to incorporate byproducts from various forms of food waste — including fruit waters and spices — and has expanded into Ulta stores in the U.S. Here, Anna talks about why sustainability is so important to her and how the beauty industry as a whole can continue to take steps in the right direction. 
What originally inspired you to recycle coffee grounds into skincare products?
UpCircle was founded by myself and my brother William and he was always looking for that moment of inspiration. On his way to work at his previous job, he stopped by a local coffee shop and asked a barista what happens to the used coffee grounds at the end of the day. The guy behind the bar told him that they have to pay the local council — like the state or the government — to dispose of these coffee grounds at landfill sites. William was really shocked when he found that out. So, you know how people often talk about having a problem and providing a solution when it comes to starting a business? All of a sudden coffee waste was our problem. 
I knew that coffee had fantastic skincare benefits. And I thought, 'Well, okay, I'm not sure if this is too crazy an idea, but why don't we start collecting the coffee grounds from cafes and restaurants and bars and start turning it into sustainable skincare products instead.' And that is pretty much exactly what we did. 
This started as a bit of a passion project/side hustle, but when did you decide to quit your jobs and pursue UpCircle full time?
We actually did this pretty quickly to be honest. The turning point for us was when we took our products to the London Coffee Festival. It's a celebration of all things coffee, and they have this innovation zone, which is for startup brands. William and I took hundreds of our products that we had made ourselves. We had a very 'in the kitchen vibe' at that point, because we were very new.
We thought the amount of products we brought would last us for the full duration of the show, which was five days, but we actually sold out before the end of day one. So this showed us that, not only do people love the effects of the products on their skin, but they also weren't turning their noses up at the actual concepts — the fact that these were made with byproduct ingredients, they thought it was really cool. Our customers thought it was forward-thinking and very innovative, particularly for the beauty industry. So it was at that show that I decided to put my notice in at my job.
It was a good thing that I did, because after the show on Monday morning we got an email from Urban Outfitters saying that they wanted to launch our product. So things moved very, very quickly for us from the very beginning. 
It's one thing to launch a brand in your home country, but what was it like to take UpCircle international with its expansion into the U.S.?
We always had very bold ambitions for our brand, so we wanted this to be as far reaching as possible. We really believe in what we're doing and we believe in the quality of our products and also what the products stand for in regards to sustainability and price point. One of my biggest frustrations is that sustainable, ethical products always cost about three or four times more than less ethical products. It frustrated me so much that it seemed like an elite privilege to be able to afford these things. So one of our goals was to create a brand that was more accessible, and I think we've done that.
So launching in America was extremely exciting. We were taken on by Ulta who launched us into just under 800 stores, which was a huge opportunity for us. And then as soon as we had a big name like that behind us, it kind of snowballed into some of the other American retailers. It's definitely a different audience and we have to tailor things accordingly. But it's all been extremely exciting. We're just trying to grab it with both hands and take any opportunity that comes our way.
What is the collection and cleaning process for your repurposed coffee grounds?
It was very important to us that we got this process right and that we figured out how we were going to make it work so that our ingredients are incredibly fresh and hygienic. When it comes to the coffee collecting, we visit the local coffee shops we've partnered with to collect the coffee that is produced that day. The shops have separate containers where the coffee grounds go. So it's never mixed in with any other organic waste. 
We then take it to one of our local London manufacturers where the coffee is thoroughly filtered. In this process, we're looking for whole beans that can sometimes slip through coffee machines — obviously you don't want the whole bean in your face cream or something. Then once filtered, our manufacturers add in the rest of the natural ingredients to make our products.
Sustainability is such a huge part of UpCircle's brand identity. How do yours differ from other skincare brands?
I think it's become kind of an entry level expectation that you have, you know, natural, vegan, cruelty-free, organic or sustainable packaging, kinds of things. That is no longer a gold standard. So what you really need to do is have a clear defining feature of your brand that is not shared by anyone else. For UpCircle, the clue in the name: that's our commitment to the circular economy and the fact that we infuse byproduct ingredients into every single product that we make. 
We've centered every part of our brand on circularity from the logo to the hierarchy of the messaging, the fact that on the front of each package, we are highlighting the repurposed ingredients that are in each product. The fact that we have very sustainable packaging as well. In the UK, we have a full refill system — so the packaging is also circular. Those are the sustainability credentials that are built into our brand DNA. And I think it's something that grants us a lot of respect with consumers because it's all very, very transparent from top to bottom. We try to keep the integrity at every level of the business. 
Do you think the beauty industry as a whole is on the right track to becoming more sustainable? 
I definitely think that moves are being made in the right direction, but there's a lot more progress to be made. The beauty industry doesn't have a great reputation with regards to sustainability and I do think that a lot of it comes down to packaging. The issue with the packaging is that it's often made up of multiple elements that are all different materials and that those elements are so small, making them difficult to recycle. So take a pipette or a dropper on a face serum, for example. That's got rubber, plastic and glass. And because each element of that dropper is so small, it is quite challenging to recycle. 
So what brands need to do in my opinion is to look at simple but effective ways to keep that packaging in use as long as possible. With UpCircle, we never want the decisions that we make to be to the detriment of the user experience. So for example, most customers want to apply the serum to their face with the dropper, however, it is one of those pieces of packaging that has complicated elements to it. What we do, is if a product of ours is refillable, we offer it with an aluminum cap. So on our website, you can buy a serum with a dropper, but then every other time that you repurchase you can get it with an aluminum cap. Once you receive the new refill bottle you just swap the dropper over from your first bottle into your second. 
It's the most simple idea, but it means that we are minimizing our requirements for those bits of plastic packaging as much as possible because they are staying in use over and over again. That's the sort of thing where I don't see much effort from other brands to make those sorts of changes and I think that that's where most beauty brands could really improve.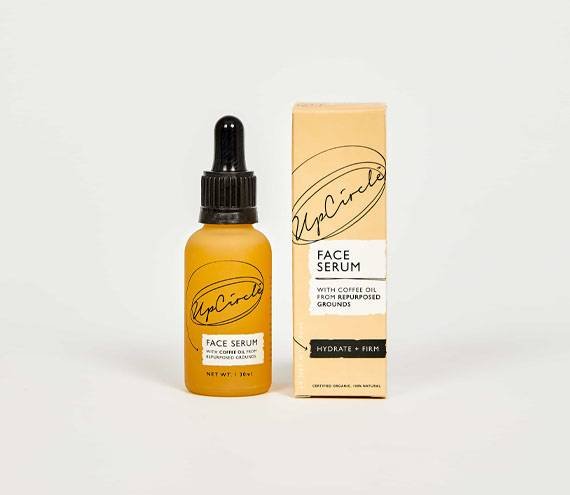 What's next for UpCircle?
We have actually got five products launching before the end of this year. Those include soy candles in espresso martini and chai latte scents. We've got a night cream, which is made with repurposed blueberry extract — we're really excited about it because it's a source of pro-retinol and it also contains niacinamide, so I think that's going to be super popular. Then we've got a hand and body wash and hand and body lotion duo set — the sorts of things that you would keep by your sinks or in your shower. They come in these big glass green bottles which just look super premium and they're infused with fruit waters. So, the hand wash has repurposed kiwi water in it, and the lotion has a repurposed bergamot water. All of those are launching in December.
Do you have any advice for people who want to start their own brand?
I would say, figure out what your non-negotiables are and then don't compromise on those — but don't expect for everything to be perfect right at the start. Growing a brand really is a journey, and as you get bigger and you have more resources (and hopefully more money) you'll be able to bring things into place that you weren't necessarily able to do at the beginning. It's unrealistic to expect everything to be perfect on the first day. 
What is your favorite beauty trend of the moment?
Waterless beauty. I just think it's genius because in terms of environmental footprint, the transportation of water is something that is very costly. So I think if we can find ways for consumers to add their own water to the other ingredients that come in a dry format it would be very clever and it's something that's got a lot of potential. We're currently working on developing a waterless shampoo and I find it exciting. 
Photo: Courtesy of UpCircle Beauty, Design: Juliana Campisi
Read More: 
In My Skin: Skinfluencer and Sacheu Beauty Founder Sarah Cheung on the Biggest Beauty Lessons She's Learned
Beauty Magnet Founder Liz Kennedy on Creating the Ultimate On-the-Go Skincare Tools
Career Diaries: How Saint Jane Beauty Founder Casey Georgeson Became a Pioneer of the CBD Beauty Space
Read more

Back to top