Want to Deep Clean Your Pores? This Detox Mask Can Help
August 23, 2018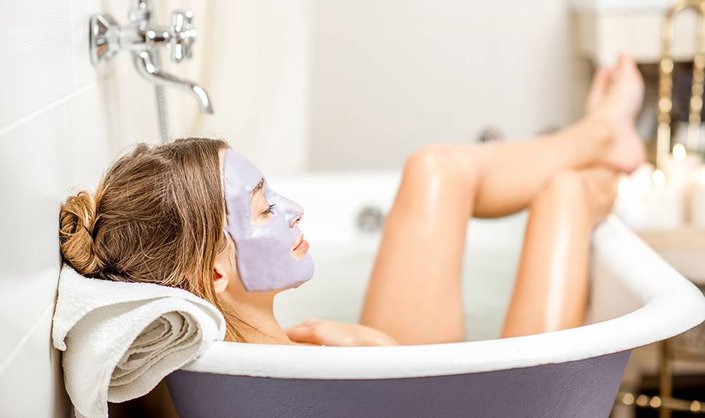 When you take a look at the clay masks on the market today, you'll surely find kaolin clay to be among the ingredients list for many of them. It's not surprising, considering kaolin clay is among the gentlest of all clays used in skin care and can absorb excess oil on the skin's surface. Because of this benefit, kaolin clay masks are particularly beneficial for oily and/or acne-prone skin types.
If you're looking to try a kaolin clay mask, consider AcneFree's new Kaolin Clay Detox Mask. Our friends at AcneFree sent over a complimentary sample for the Skincare.com team to review, and we're confident you'll enjoy it as much as we do. Read on for our review of the new AcneFree Kaolin Clay Detox Mask!
The Benefits AcneFree's Kaolin Clay Detox Mask 
Some clay masks can be thick and difficult to apply evenly, but the same cannot be said for Kaolin Clay Detox Mask. The gray-hued formula is creamy and easy to spread across your facial contours. It's formulated with not just kaolin clay but charcoal, vitamin E, and zinc as well. Perhaps the most impressive benefit of Kaolin Clay Detox Mask is its versatility. It can be used as both a cleanser or a mask to deeply clean pores and refine the skin. No matter how you intend to use it, you can expect the formula to draw out impurities for a fresh-faced look. It's also - and oil-free, as well as non-comedogenic (won't clog pores) and allergy tested.
AcneFree Kaolin Clay Detox Mask Review
Recommended for: Oily and/or acne-prone skin types.
Why We Love It: My skin is no stranger to pesky breakouts and a shiny T-Zone, so I've become accustomed to tailoring my skin care routine with products that are formulated to cleanse my skin of pore-clogging dirt and impurities to help keep breakouts at bay. In other words, my arsenal is stock with pore purifying products, some of which I swear by. But since there's always room for more products, especially those that deliver results, I wanted to give AcneFree's new Kaolin Clay Detox Mask a try. Maybe it would become my new favorite, but I'd never know without testing it.
I decided to take advantage of the dual-purpose of this product—trying it first as a facial cleanser and a few days later as a purifying mask. Upon initial application, I immediately loved the creamy, smooth texture of this mask/cleanser. While both forms of application made my skin feel clean and refined, I personally prefer to use it as a mask moving forward. This allows the product to sit on my skin for a longer period of time, allowing me to multi-task or kick my feet up on the couch at the same time.
How to Use AcneFree's Kaolin Clay Detox Mask
As a Cleanser: Wet your hands and face. Gently massage the formula onto your skin but make sure to avoid your eye area. Thoroughly rinse your skin with lukewarm water. 
As a Detox Mask: Wet your hands and face. Evenly spread a thin layer of the mask onto your skin, avoiding your eye area. Wait five minutes to let the mask dry then rinse thoroughly with lukewarm water. Use twice per week.
AcneFree Kaolin Clay Detox Mask, $7.99 MSRP
Read more

Back to top