Allure Best of Beauty Awards: Our Favorite Skin Care Products on the Winners List
September 14, 2018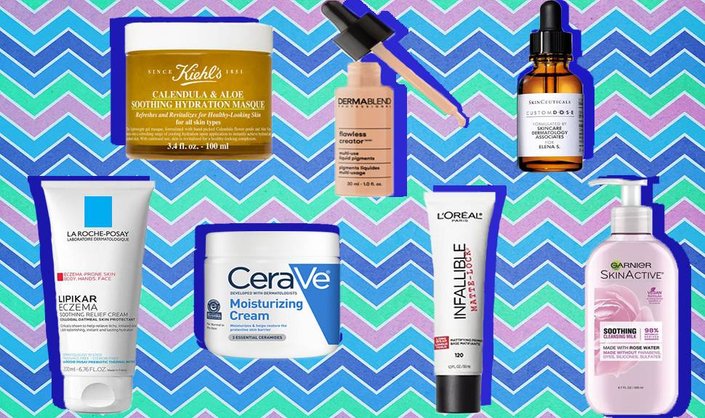 After testing out a countless number of beauty products across all categories, editors at Allure narrowed down a list of their absolute favorites in honor of their annual Best of Beauty Awards. While all of the products on the winners list deserve the praise, there are a handful—from the L'Oreal portfolio of brands—that are especially near and dear to our hearts. So, if you're looking for a new holy grail skin care product, keep reading. We're sharing our favorite Allure Best of Beauty winners in the skin care category ahead.
Cleanser: Garnier SkinActive Soothing Rose Water Cleansing Milk
Formulated with rose water, this gentle cleansing milk cleanser seamlessly removes makeup and debris without stripping your skin dry. As a result, skin is left feeling calm, soothed and, of course, clean.  
Garnier SkinActive Soothing Rose Water Cleansing Milk, $8.99
Mask: Kiehl's Calendula Aloe & Soothing Hydrating Masque 
We all want a healthier-looking complexion, but sometimes finding the right products to help revitalize skin is tricky—that is until you're introduced to Kiehl's Calendula & Aloe Soothing Hydration Mask. Formulated with hand-picked Calendula flower petals and Aloe Vera, this hydrating mask can help soothe, refresh and revitalize skin to help restore a healthy-looking complexion.
Kiehl's Calendula & Aloe Soothing Hydration Mask, $45 MSRP
Serum: SkinCeuticals Custom D.O.S.E. Precision-Compounded Corrective Serum
Allure editors aren't only giving accolades to products that are tried-and-true, but also those that are truly changing the beauty sphere—for the better. As part of their Best of Beauty Breakthrough Awards, they're recognizing the beauty products that are truly innovative and revolutionary. On that list landed SkinCeuticals' breakthrough customizable serum: Custom D.O.S.E. It's a small machine that can mix specific ingredients—led by a dermatologist or skin care professional and a diagnostic tool—in order to create a personalized serum that can target your specific skin issues whether that be wrinkles or discoloration. Operating at 1,200 rotations per minute to combine the ingredients, what you're left with is a serum that's perfect for your skin and your skin only. To learn more, visit skinceuticals.com/customdose
Moisturizer: CeraVe Moisturizing Cream
This dermatologist developed moisturizer effectively hydrates skin while simultaneously helping to restore the protective skin barrier. It's formulated with no shortage of hydrating ingredients, including 3 essential ceramides and hyaluronic acid, to help deliver all-day hydration with every use.
CeraVe Moisturizing Cream, $15 MSRP
Moisturizer: La Roche-Posay Lipikar Eczema Cream
Eczema can be a difficult skin condition to manage. From dry patches to uncomfortable itching, it's no surprise that sufferers are eager to find relief from associated symptoms. If you haven't yet found the right product to help keep your eczema under control, this clinically-tested cream could just be your solution. The formula can not only help relieve itchy, irritated skin but can also help reduce the signs of eczema.
La Roche-Posay Lipikar Eczema Cream, $14.99 MSRP
Primer: L'Oréal Paris Infallible Matte-Lock Mattifying Primer
Achieving a matte look with makeup starts with the first step: primer. Allure recognized L'Oréal Paris' Infallible Matte-Lock Mattifying Primer as one of the best primers for long-wear matte makeup. As it preps your canvas for an effortless makeup application, it also helps to keep any excess oil under control.
L'Oréal Paris Infallible Matte-Lock Mattifying Primer, $12.99 MSRP
Foundation: Dermablend Flawless Creator Foundation Drops
These weightless liquid foundation drops allow for buildable and customizable coverage. Water-free and oil-free, these liquid makeup pigments can be used alone or mixed with your other favorite skin care products for a lightweight finish.
Dermablend Flawless Creator Foundation Drops, $40 MSRP
Read more

Back to top