This Is How You Can Target 15 Key Signs of Aging with a Clarisonic
August 24, 2018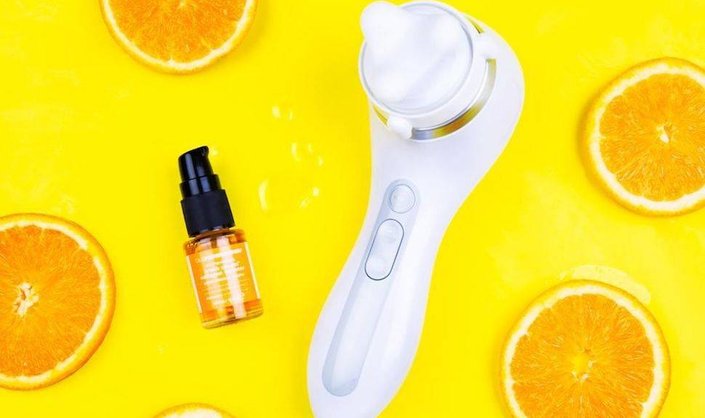 In the quest to keep premature signs of aging at bay, many experts recommend pairing your beloved skin care products with devices and tools that can help take your results to the next level. These facial-firming tools are not only relaxing to use, but also boast anti-aging benefits that ultimately make them too good to pass up.  
At-home anti-aging tools are nothing new in the world of skin care, but admittedly not all are created equal. Our friends at Clarisonic shared a complimentary sample of their Firming Massage Head for the Skincare.com team to review, and so we did just that. Spoiler alert: This massage head truly puts our hands to shame.
CLARISONIC FIRMING MASSAGE HEAD BENEFITS
We were first introduced to the Firming Massage Head back during the launch of the brand's Smart Profile Uplift but now there's another Clarisonic device you can pair the Firming Massage Head with: Mia Smart. Mia Smart is Clarisonic's smartest skin device to date, and syncs up with every brush head in the brand's portfolio. Depending on your skin concerns, you can rely on the Mia Smart to help apply your makeup, cleanse your skin, or—in the case of the Firming Massage Head—address the appearance of visible signs of aging.  
If the latter is what you'd like to target, you'll be happy to discover that the Firming Massage Head can deliver 27,000 micro-firming massages per use to help target the appearance of 15 different signs of aging. The massage head's action on sagging is particularly noteworthy, as it is a very difficult sign of aging to target, according to board-certified dermatologist, and Clarisonic ambassador, Dr. Doris Day. "Sagging is one sign of aging that you can't really address with creams," she says. "It's something that you actually need to stimulate." And luckily for everyone, the Clarisonic Firming Massage Head helps redefine the look of sagging and wrinkling skin contours. "After 12 weeks of use, we saw significant improvement in sagging," Dr. Day says.
HOW TO USE THE CLARISONIC FIRMING MASSAGE HEAD
For a truly personalized routine, pair the Firming Massage Head with the new Clarisonic Mia Smart. It's the only device in the Clarisonic portfolio that is Bluetooth compatible, able to sync up with the Clarisonic app where you can track your skin's progress, adjust the strength of your firming facial massage, and more.
To use the Clarisonic Firming Massage Head, Dr. Day recommends starting at the neck. Then, work your way around the jawline in upward movements and up to the forehead. While the device is programmed by default for a 3-minute massage, Dr. Day notes that with the Mia Smart, you can adjust your timing to fit your schedule and skin needs. "With this smart device, you can actually program it the way you want," she says. "If you only have a minute every day to address your skin, spend that minute. You don't need to spend all three. That's what makes this smart device option so fantastic, you can customize what you want to do." Once you're done massaging your skin, Dr. Day recommends applying your favorite anti-aging cream. You can also apply the cream to your skin first and use the Firming Massage Head in tandem to help drive absorption.
Want to give the Mia Smart and Firming Massage Head a try? Head over to clarisonic.com to place your order. If you're a pre-existing Clarisonic owner, for a limited time you can trade in your current device in exchange for the Mia Smart and receive $25 off that order. Some competitor devices qualify as well. Learn more about the Clarisonic Trade-In Program here!
Clarisonic Firming Massage Head, $59 MSRP
Read more

Back to top