The Top Skin Concerns Dermatologists See Once a Day
December 26, 2017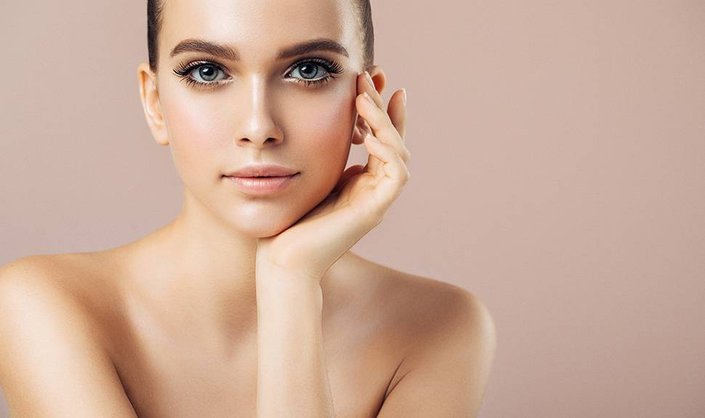 From discoloration to signs of aging, there's no shortage of skin care concerns out there. But of them all, have you ever wondered which of them dermatologists see on a daily basis? We tapped into three of our consulting dermatologists to find out the skin issues that reign supreme among their patients. Read on to discover the top skin concerns these dermatologists see at least once per day.
Adult Acne
You may have had blemish-free skin throughout your youth, but if your complexion is now laden in acne as an adult, you may find comfort in knowing that you're most certainly not alone. "We don't fully understand why, but acne is on the rise among women over 25, even if they never dealt with breakouts as a teen," says New York-based dermatologist Dr. Joshua Zeichner. In fact, Dr. Zeichner isn't the only dermatologist who addresses adult acne on patients at least once per day. Board-certified dermatologist, and Skincare.com consultant, Dr. Dhaval Bhanusali mentioned that he sees adult acne concerns on patients daily as well, often more than 10 times per day.
So, what gives? Why are men and women breaking out well into their adult years, or experiencing acne for the first time as adults? According to the American Academy of Dermatology (AAD), there are a few factors that could be at play. Fluctuating hormones (during menstrual flow, pregnancy, and menopause for example), stress, family history, even certain skin care products could be causing adult acne. The good news is that there are ways to help address the issue. Dr. Bhanusali recommends exfoliating your skin no more than 3-5 times per week. "Also, be sure to wash your makeup off each and every night," he says. Here are a few more tips to follow to help keep breakouts at bay:
1. Wash your face up to twice per day with a gentle cleanser. If sweating excessively (post-workout for instance), cleanse your skin immediately or within minutes of concluding the exercise.
2. Read the labels on your hair and skin care products. Scan for words like "non-comedogenic," "non-acnegenic," "oil-free," and "won't clog pores."
3. Never pop or squeeze a pimple. This can not introduce new bacteria to the affected skin and make matters worse, but it can also cause permanent scarring.
4. Researchers have found a relationship between stress and acne. Stress can cause your body to product more androgens which can stimulate the oil glands and lead to acne. Do your best to eliminate the stressors in your life.
Skin Cancer
Over the past three decades, more people have had skin cancer than all other cancers combined. Even scarier? One in five Americans will develop skin cancer in the course of a lifetime. These facts from the Skin Cancer Foundation prove that it's time we all truly understand what it means to be at risk, and how to help protect our skin.
Skin cancer is the most common form of cancer in the U.S., and melanoma is the deadliest type of skin cancer," says Dr. Dendy Engelman, board-certified dermatologist, and Skincare.com consultant. "More than 90 percent of melanoma skin cancers are due to skin cell damage from ultraviolet (UV) radiation exposure. It takes decades to educate and re-educate a generation, and another for people to adapt and form habits." A good place to start is simply opening up the conversation with your doctor. "I think there needs to be more conversations with your dermatologist, more regular skin checks, and more education about the symptoms and risks involved," says Engelman. To that end, go ahead and schedule that skin check you've been meaning to get to, and read up on ways to help protect yourself from skin cancer.
1. Wear broad-spectrum SPF 15 or higher sunscreen every single day, no matter the forecast. If you're outdoors, reapply every 2 hours and make sure your sunscreen is water resistant.
2. Seek shade during the sun's peak hours: 10 a.m. to 4 p.m.
3. Wear protective clothing to shield your skin from the sun, such as long-sleeved shirts, pants, and wide-brimmed hats to cover your face and eyes.
4. Do not use tanning beds.
5. Do not assume you are safe when you're around water, sand, or snow, or even in a window seat. The sun never takes a break, and neither should your protection against it.  
Read more

Back to top