We Tried All of the Dermablend Foundations — Here Are Our Thoughts
May 14, 2020
From enhancing your complexion and covering blemishes to evening out your tone, foundation can make a huge difference in your skin's appearance. But finding the right coverage, texture and formula for your skin can be overwhelming. Dermablend's extensive lineup of formulas is a great place to start. Our parent company, L'Oréal, sent over complimentary samples of the range for our team to review and share with our readers. From lightweight options that provide full coverage to mattifying powders great for oily skin, we're sharing our thoughts on each foundation, ahead. 
Getting full coverage with a lightweight texture is possible. Dermablend's Flawless Creator is proof. The foundation drops are formulated with high-performance pigments in a lightweight, smooth liquid. The formula is oil-free, never cakey and gives a smooth, soft finish. We loved that it felt weightless but was still able to cover discoloration, acne scars and redness. What's more, it's a great option if you have oily skin but still prefer a liquid texture. 
How to Use 
Make sure to shake the bottle well before use. Then use the dropper to put a few drops in your hand. Apply the liquid to your face and buff out the product using either a damp beauty sponge or a foundation brush. Finish everything off with setting powder and you're good to go.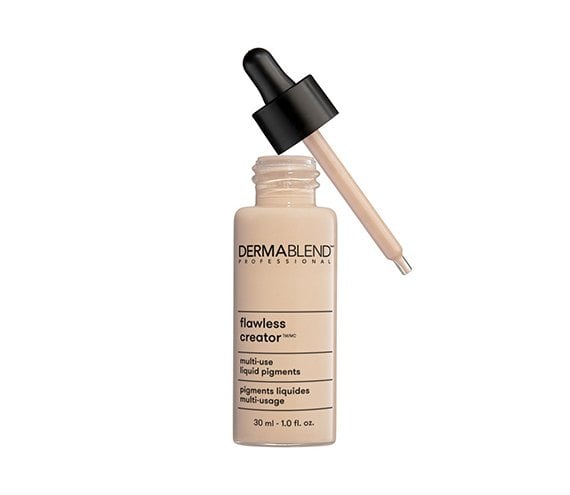 Cover Creme is a fan-favorite and after trying it for ourselves, we understand why. The full-coverage cream foundation can cover almost everything from birthmarks and bruising to burns, hyperpigmentation, post-operative concerns, scars and vitiligo. Cover Creme comes in a pot with a small spatula to remove the product. This minimizes your chances of contaminating the product with any lingering germs on your hands. It's a thick formula, so a little bit goes a long way. It spreads out smoothly and the finish is velvety. When worn with the Dermablend Loose Setting Powder, this foundation stays on for up to 16 hours. It's also non-comedogenic and fragrance-free, so it's a great option for those with sensitive skin. What's more, it is formulated with SPF 30. We love knowing that our foundation is working as an added layer of protection to the sun's damaging rays. Need something to cover your dark circles, too? Reach for the Dermablend Cover Care Concealer — it's amazing. 
How to Use
Remove a small amount of the Cover Creme from the pot and heat the product with your fingertip to soften the cream and make it more blendable. Apply directly over any visible imperfection and use a tapping motion to cover. If needed, allow the foundation to dry and apply an additional layer. Finish up with a generous amount of setting powder, let sit for two minutes and then brush away excess.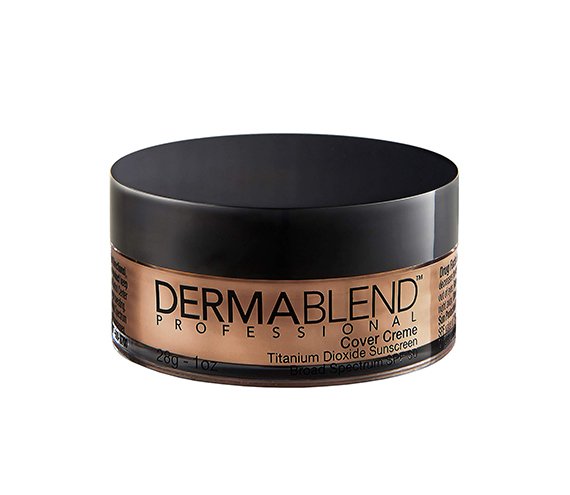 If you have dry skin, a hydrating liquid foundation is a great option. That's where the Smooth Liquid Camo Hydrating Foundation comes in. It's medium coverage, but easily concealed everything from our redness and blemishes to uneven tone and freckles. Plus, it left a super smooth finish. The breathable formula lasted up to 16 hours when worn with Dermablend Loose Setting Powder. Overall, it gave our skin a nice dewy glow.
How to Use 
When using liquid foundation, we always opt for a damp makeup sponge, but you can use a foundation brush as well. Starting at the inside of your face, tap the sponge outward, blending the foundation as you go. If you need additional coverage you can always apply a little more foundation to the sponge. To set, reach for Dermablend's Setting Powder, apply a generous amount, let it sit for two minutes and then brush away the excess.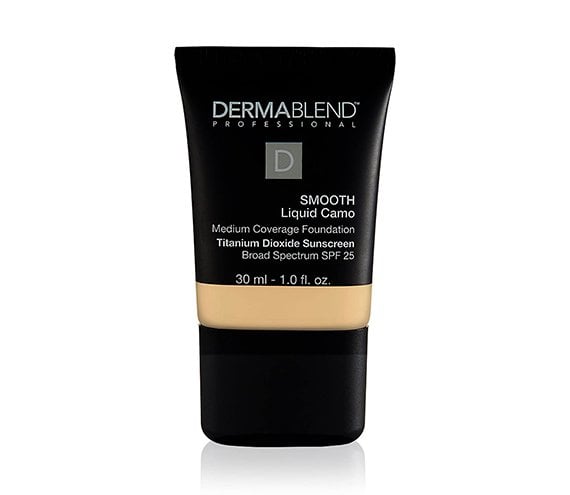 If you prefer a powder foundation and a matte option, give this Dermablend option a try. When we reviewed this powder foundation, we found that it was truly buildable from medium to full coverage. We loved the natural finish it gave our skin and its ability to camouflage redness, acne, uneven skin tone and birthmarks. The best part? It feels plush and looks smooth, not cakey. 
How to Use 
After using a primer, apply the foundation with a fluffy powder brush, buffing and blending from the inside of your face to the outer corners. If you prefer a dewy finish, take a damp blender sponge and gently tap it over your face.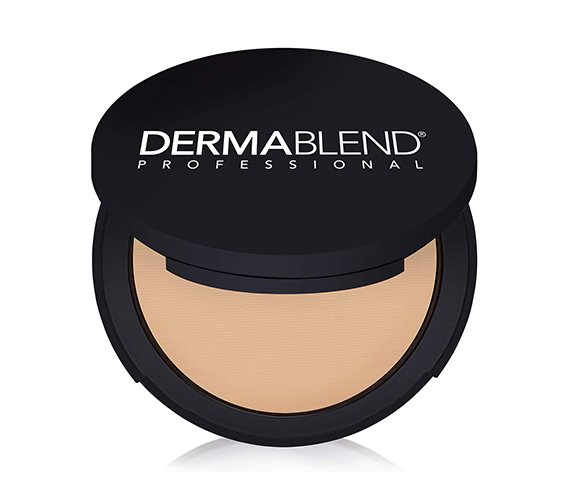 Read More:
SOS! Why Did I Break Out After My Facial? 
What Is Sallow Skin? Your Questions, Answered
What Is Sebum and Why Does Your Skin Need It?
Read more

Back to top