These Liquid Highlighter Drops Will Make Your Glowing Skin Dreams Come True
October 02, 2017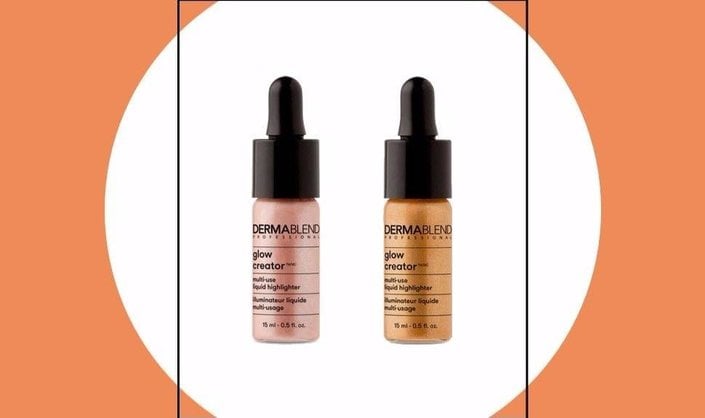 Every so often a new highlighter launches that makes our heart skip a beat, and—thanks to Dermablend—that time is now. The brand recently debuted liquid highlighter drops dubbed Glow Creator and gave us a complimentary sample to take for a test-drive. Read on for everything you need to know about Dermablend Glow Creator, including why we love the product and the best ways to incorporate it into your routine!
It doesn't take much to know that highlighter is one of the hottest beauty products around as of late. Highlighters have the power to reshape the face, drawing attention the high points of the cheekbones, the narrow of the nose, and the brow bones, all while creating that coveted, dewy glow in seconds. To help you get the look, highlighters are available in a wide range of formulas, from sticks to powders to liquid illuminators, each boasting their own unique perks and benefits.
Aside from highlighter, it's fair to say that drop-formulas are also all the rage in the beauty industry, so why not combine both into one stellar product? Well, that's just what Dermablend did for their latest launch, Dermablend Glow Creator. Think: everything you love about their Flawless Creator Foundation Drops, but with all the perks and possibilities of a highlighter. Ready to find out more? We're sharing the full rundown on Dermablend's Glow Creator, ahead! 
Dermablend Glow Creator
A perfect union of the liquid formula of Flawless Creator Foundation Drops and the versatility of a highlighter, Dermablend Glow Creator is a multi-use liquid highlighter makeup for the face and body. Its silky liquid formula—with 20% pigmented pearls—gives the skin an instant, lit-from-within glow that can last all day. What's more? This formula is water- and oil-free, safe for all skin types, and completely buildable and customizable so you can achieve your ideal glow.
No matter your glow goals— whether it be strobing, targeted highlighting, or an all-over glow, Glow Creator can help you get there. These highlighting drops are available in two shades, pearl and gold, that are suitable for all skin tones. Complexions with warmer undertones may prefer Gold, while pale, cool complexions might find Pearl a better match. Regardless of your skin tone, both varieties blend seamlessly to deliver glowing skin.
Who Can Use Dermablend Glow Creator
We're glad you asked! One of our favorite things about Dermablend is that their products are formulated to dermatologists' standards and developed for safety. Dermablend Glow Creator is safe for all skin types, even the most sensitive, because it's fragrance-free, allergy-tested, non-comedogenic, and non-acnegic.
How to Use Dermablend Glow Creator
Like Dermablend Flawless Creator Foundation Drops, the possibilities are seemingly endless with Glow Creator. Of course, there's no harm in keeping things basic, dabbing a few drops in to the high-points of the cheeks, along the brow bone, and down the bridge of the nose. If you're interested, there are also a few non-traditional ways to use this product. Here are a few of our favorite ways to get creative with Glow Creator:
DIY Illuminating Moisturizer
For an all-over glow, add two drops of Dermablend Glow Creator to your favorite moisturizer. Smooth over skin for an instant subtle radiance.
Create Your Own Shade
What's better than gold? Rose gold, but of course! Mix Pearl and Gold together to create a one-of-a-kind rose gold highlighter that's sure to bring out all your natural features.
Make Your Eyes Shine
So you've highlighted your cheeks, your brow bones, your cupid's bow… but what about your eyes? Apply one drop of Gold or Pearl to your finger and dab onto your eyelid to mimic eyeshadow.  
Radiant Foundation
Tired of that flat, matte-finish foundation you've got lying around? No problem. Add two drops of Dermablend Glow Creator to your foundation to give it a radiant, luminous finish— all your friends will be asking what new formula you're using!
Need some visual guidance? For a video tutorial on a how to use Dermablend's Glow Creator, watch this:
Now that you know exactly how and where to use Dermablend's Glow Creator, it's time to make things official. Ready to seal the deal? Glow Creator is available online now (yes, right now!) on Dermablend.com. Plus, there's free ground shipping on all foundation orders, just in case you needed some extra inspiration to add the brand's Flawless Creator foundation drops into your shopping cart too. 
Dermablend Glow Creator, $33.00 MSRP
Read more

Back to top