One Editor Puts Five Giorgio Armani Foundations to the Test
May 25, 2021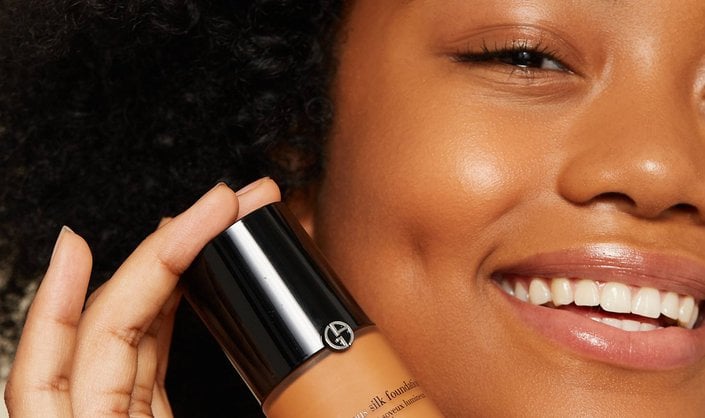 As a skincare enthusiast, I'm always on the hunt for makeup products that can enhance my natural complexion. So, when one of my favorite luxury beauty brands — Giorgio Armani — sent me a box of some of the brand's most coveted foundations for testing, I was like a moth to a flame. From the brand's award-winning Luminous Silk Foundation to the new Luminous Silk Glow Setting Powder, I'm sharing my thoughts on five Giorgio Armani foundations below. 
Recommended For: All skin types
Coverage: Light-to-medium coverage 
SPF: None  
Formulated with charmeuse silk, the Luminous Silk Foundation is a lightweight liquid foundation that gives your complexion a lit-from-within glow. On top of that, it's enriched with the brand's exclusive micro-fil technology to sculpt, improve the look of skin texture, visibly blur imperfections and leave your complexion looking brighter. 
Why I Love It: As someone who sticks to mostly lightweight BB creams and sheer foundations, I was eager to try (and review!) the Luminous Silk Foundation to see for myself if it lived up to its hype — and let's just say, it exceeded all of my expectations. First and foremost: the product description does not lie. The award-winning foundation is as light as a feather and works to blur imperfections, illuminate the complexion, give the illusion of silky skin and keep the skin looking and feeling hydrated all day long — even in dry weather. On top of all that, the iconic formula  is available in 30 shades.
How to Use It: Apply a small amount of the Giorgio Armani Luminous Silk Foundation to your foundation brush or sponge and blend onto freshly cleansed and moisturized skin. For buildable coverage, add more layers of the foundation as needed.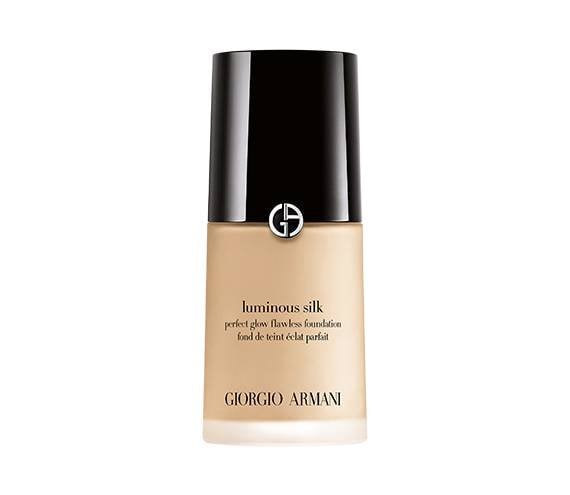 Recommended For: Dry skin
Coverage: Light
SPF: None
With sheer, lightweight coverage, the Neo Nude True-to-Skin Foundation is more like a tinted moisturizer than a traditional foundation. It's infused with hyaluronic acid and glycerin to attract and seal in moisture and comes in 22 shades.
Why We Love It: This is a stellar product for those of us with dry skin. It contains hyaluronic acid and glycerin  to keep skin dewy and hydrated. The sheer, glowy finish is especially great for no-makeup makeup days. 
How to Use It: Press into skin with fingertips or a sponge for sheer, dewy coverage.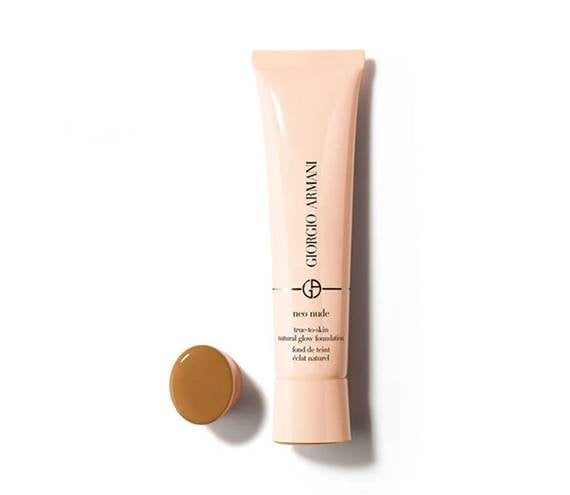 Recommended For: All skin types 
Coverage: Full coverage 
SPF: 25
The Giorgio Armani Power Fabric Foundation is a liquid formula that offers a lightweight, matte finish. With SPF 25, the foundation offers added UV protection. It comes in 22 shades.
Why I Love It: Multipurpose products are always a plus in my book, and the Giorgio Armani Powder Fabric Foundation certainly fits into the double-duty mold. I wore it on a particularly sunny day to give my skin an added layer of protection. I was impressed by how the matte finish held up over the course of the day. The shade I had chosen — 5, light, neutral — also matched my skin flawlessly without a stark difference between my face and my neck.    
How to Use It: Apply with either a foundation brush or your fingertips. Start with the center of your face and begin to blend outward, dabbing lightly with your fingertips when necessary for a flawless finish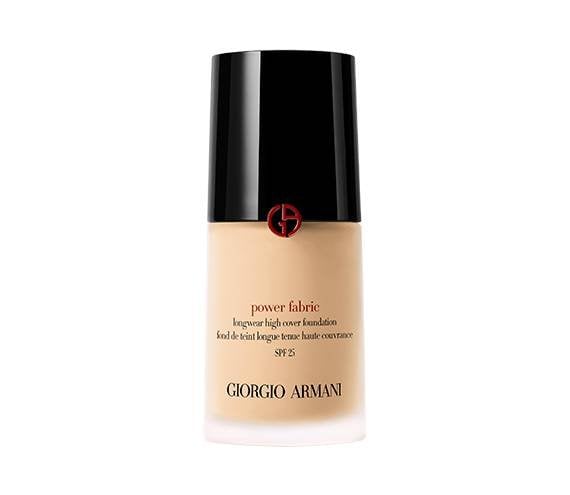 Recommended For: All skin types
Coverage: Sheer
SPF: None
While not a foundation, the new Giorgio Armani Luminous Silk Glow Setting Powder is the perfect accompaniment to one. Formulated with the same micro-fil technology as the original Luminous silk foundation, this glowy powder blends seamlessly into skin and sets the makeup underneath without causing flashback. Upon contact with a skin, the powder turns into a lightweight, flexible liquid that doesn't cake or settle into fine lines and wrinkle. Available in 10 shades, you can dust it on as an allover setting powder, or use it as radiant bronzer.
Why We Love It: As someone with normal to dry skin, I don't always feel the need to set my foundation, but I love the radiant finish the Luminous Silk Glow Setting Powder imparts — it doesn't leave my skin looking like I just applied a fresh dusting of powder, but it still locks in my makeup. If you have a fair to medium complexion, the deeper shades also serve as the perfect sheer brozers.
How to Use It: As an allover face powder, swirl a large fluffy brush and tap off any excess before setting the face, paying extra attention to any areas you produce excess oil, such as the T-zone. To use as a bronzer, pick up the product with a smaller fluffy brush and sweep it along the cheekbones, temples, nose and chin.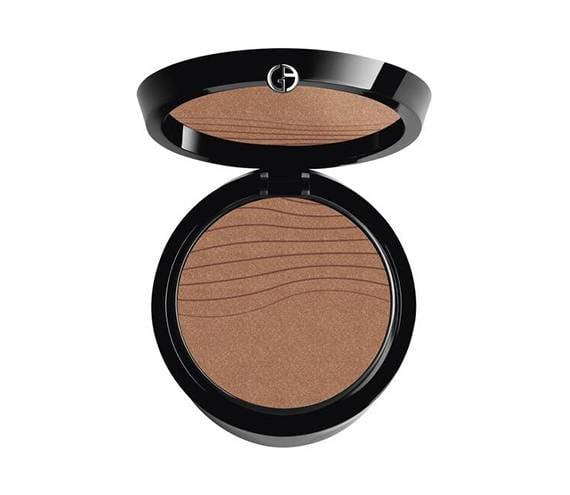 Recommended For: All skin types
Coverage: Light-to-medium coverage
SPF: None 
"Nuda cream" translates from Italian into "nude cream," which is essentially what the Giorgio Armani Crema Nuda is. A step above a BB cream or a CC cream, the Giorgio Armani Crema Nuda helps to dress up your skin without feeling as if it's too bundled up. Using a specially blended formula that helps to enhance the skin's moisture, this lightweight cream allows the skin to glow on its own while helping to cover up any imperfections present.
Why I Love It: It's hard not to feel bogged down by too many layers of foundation sometimes. With the Giorgio Armani Crema Nuda, though, I was pleasantly surprised by how unaffected my skin felt post-product application. It looked more even, and the dark circles I had under my eyes were very much covered, but I didn't feel as if I was walking around with heavy makeup on.
How to Use It: In order to get the full effect of the Giorgio Armani Crema Nuda Foundation, simply go through the motions of your usual skincare routine. Then, apply the cream evenly across your face for an enhanced complexion, either by itself or under a foundation of your choosing.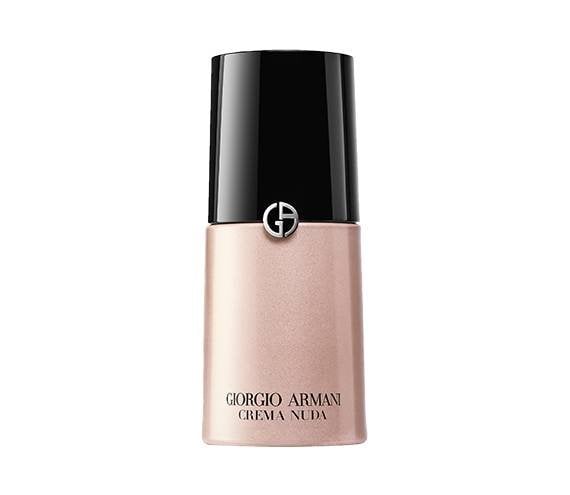 Photo Credit: Chaunte Vaughn
Read More:
What the Dermablend Continuous Correction CC Cream Looks Like on 4 Editors
5 Water-Based Foundations That Look Like Skin
 Which SkinCeuticals Sunscreen Is Right for You?
Read more

Back to top