I Woke Up With Glowy Skin After Trying the IT Cosmetics Confidence in Your Beauty Sleep Serum
March 22, 2023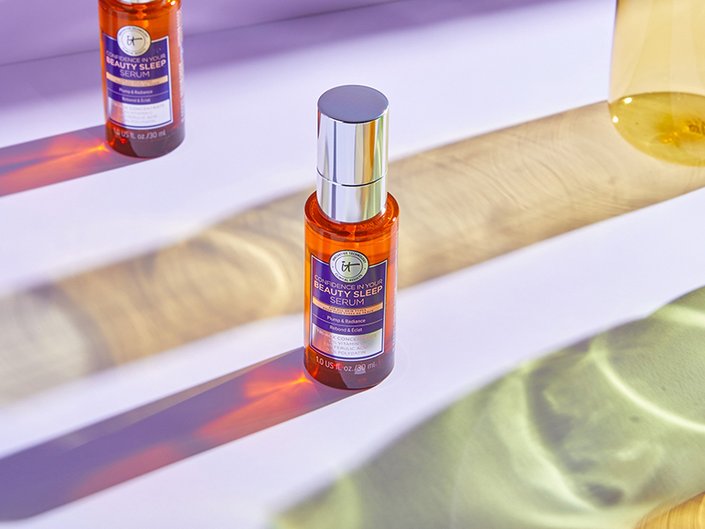 Serums are a great way to address specific skincare concerns and needs that may not be covered by your basic routine. From dark spots to fine lines, serums can help target many different issues depending on their ingredients. Since my complexion can get somewhat dull during the winter months, I decided to try the IT Cosmetics Confidence in Your Beauty Sleep Triple Antioxidant Brightening Serum, which was gifted to me by the brand.
The IT Cosmetics Confidence in Your Beauty Sleep Triple Antioxidant Brightening Serum Formula
This efficacious formula is infused with a patented blend of three powerful antioxidants — vitamin C, ferulic acid and polydatin — and delivers both brightening and anti-aging benefits. In addition to locking in hydration, it works while you sleep to fight dullness, leaving you with more plumped, glowy skin. With continued use over time, it also tackles signs of aging, visibly improving the appearance of fine lines and wrinkles.
For the best results, use it as a second step in your nighttime skincare routine. After prepping your skin by cleansing, apply one full pump to your fingertips. Rub the serum between your fingertips to warm it up before pressing it into your skin and gently massaging. Finish with your favorite moisturizer and then you're ready to head to bed!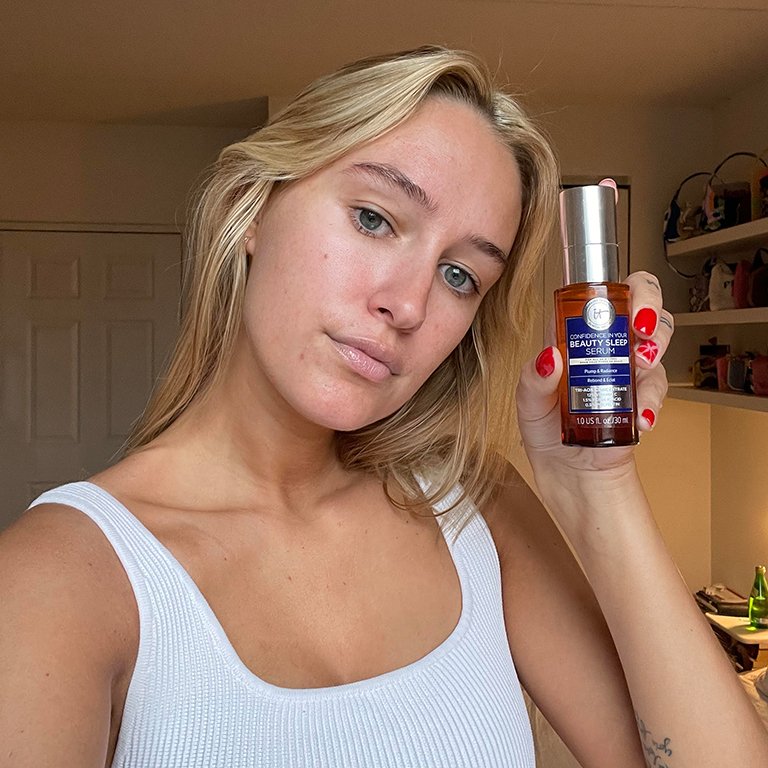 My Review of the IT Cosmetics Confidence in Your Beauty Sleep Serum
From the first pump, I was impressed with this serum. The pump applicator made dispensing the serum onto my fingers easy and mess-free — I didn't have to worry about any of the product spilling or going to waste. As I rubbed it between my fingertips, the texture was rich. As I began to press and massage it into my skin, it absorbed nicely. The formula hugged my skin without feeling too heavy, and felt luxurious and indulgent on my skin.
The next morning, my skin looked radiant and glowy. It also felt hydrated, which is not always the case for me. (I tend to dry out easily during the winter months.) While it's too soon for me to speak to the anti-aging benefits, I am excited to continue using this product. Since I'm in my mid-20s, I feel like it's a good time for me to start using vitamin C and incorporating anti-aging products, like this serum, into my routine.
Photographer: Chaunte Vaughn
Art Director: Hannah Packer
Creative Producer: Becca Solovay
Visual Designer: Juliana Campisi
Prop Stylist: Catherine Pearson
Prop Assistant: Lindsay Jones
Read more

Back to top