Editor's Pick: Kiehl's Buttermask for Lips Overnight Lip Treatment Review
October 18, 2019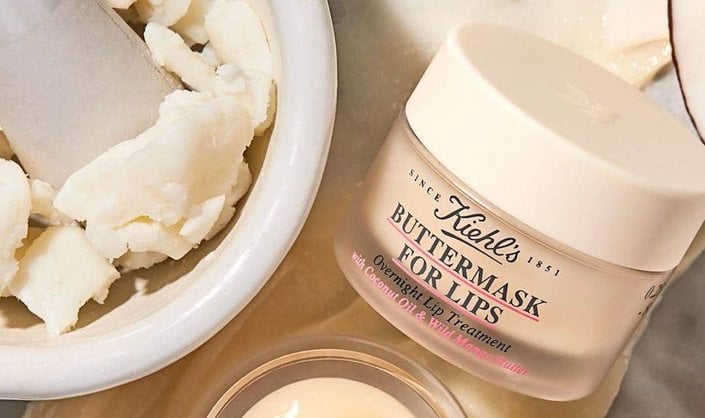 Dry, flaky lips are the absolute worst. Not only are they unattractive, but they're also pretty annoying to deal with. But, your lips don't have to stay that way for long. A little TLC on your pout can help them look healthier and plumped with moisture. If you've been loading up on lip balms, conditioners, and salves with no luck, consider giving your pucker a moisture boost with a lip treatment, like the Kiehl's Buttermask for Lips Overnight Lip Treatment. The newly-launched formula feels nourishing to delicate lip skin, and can help repair lips' moisture barrier overnight. Peep our review of the formula below!
The Benefits of Kiehl's Buttermask for Lips Overnight Lip Treatment
If you have consistently parched lips, then you should grab this nourishing moisture product ASAP. Inspired by the brand's widely popular Butterstick Lip Treatments, this lip conditioner can give your lips a hydration boost while you sleep. It's formulated with coconut oil and wild mango butter, and works overnight to deliver soft, hydrated lips by morning. What's not to love about that?
Now that we know the basics of this product, it's time to put it to the test. We took this formula for a spin, so read on for our review of the Kiehl's Buttermask for Lips Overnight Lip Treatment! 
Kiehl's Buttermask for Lips Overnight Lip Treatment Review
The Formula
When I first dabbed on the lip treatment, I was instantly attracted to the creaminess of it. It was rich, yet didn't feel overbearing on my lips.
The Smell
One of the last things you want to do before bed is apply product with a pungent smell that'll disrupt you from catching Zzz's. That's why I am happy to report that this lip treatment boasts a nice, subtle scent. 
The Results
So, it may feel and smell nice, but does it truly work? My answer: yes! After applying this lip treatment before bed, I noticed that my lips felt noticeably softer and more hydrated by morning. I also didn't notice any sticky residue left behind.
How To Use Kiehl's Buttermask for Lips Overnight Lip Treatment
It's pretty simple to use this product. All you have to do is sweep a generous amount of the formula onto your lips before bed and then get some shut-eye as you normally would. By morning, your lips should feel more hydrated. The good news is that you don't have to reserve this product solely for nighttime use. If your lips feel like they need some hydration during the day, then dab a small amount of this treatment on as you would a lip balm or conditioner. Want to prep your lips before lipstick? You can even apply some of the treatment and leave it on for 15 minutes to give your lips some moisture before following with your liquid lipstick.
Read More:
Derm DMs: Does Shaving Really Make Hair Grow Thicker?
I Gave Myself an At-Home Facial Massage With the Clarisonic Firming Head Every Day for Two Weeks
5 Eye Creams With Retinol to Add to Your Arsenal
Read more

Back to top